The Queen's Award for Enterprise recognises those in business who have achieved outstanding results in their various sectors, and helps to promote newer business within the United Kingdom. With hundreds of applicants for the award every year, to win this particular accolade can help to shine a spotlight on some of the UK's best businesses and start-ups.
This year saw female entrepreneurs honoured, most prominently in the world of fashion and beauty. Given the prominence of the UK in the fashion world, to have this honour bestowed shows true recognition of a company's efforts nationally and globally, and can result in international news coverage for the business.
Nails Inc.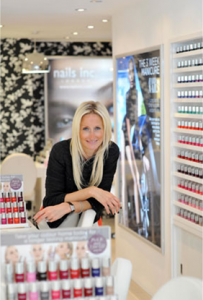 Founded by Thea Green in 1999, Nails Inc.was given the honour of The Queen's Award for Enterprise, which is added to the huge array of awards the company has received over the years.
Working as a fashion editor, Green aimed to fill a gap in the market and effectively transformed the beauty industry as we now know it. Using seasonal fashion and creating the '15-minute manicure', the manicure transformed from a high-end only treatment, to something office workers around the country could treat themselves to on a lunchtime.
The company is now a national institution, with nail bars all across the UK. Meanwhile, the products have gone international with beauty fans the world over taking advantage of the innovative and creative options on offer.
Tiffany Rose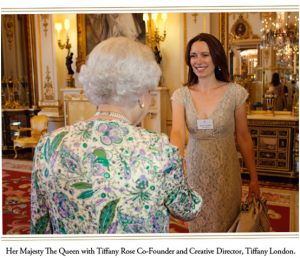 Established in 2003, Tiffany Rose aimed to provide pregnant women with stunning occasion wear that made them feel elegant and glamorous during their pregnancy.Combining the season's most beautiful trends with classic, vintage style, the fashion company has gained an international celebrity fan base for their affordable but beautiful dresses.
Tiffany London, founder and Creative Director of Tiffany Rose, has spoken about her sense of achievement in winning the award:
"I always loved the idea of one day having my own business…It seemed like a bit of a pipe dream then, especially when I started from the kitchen table with less than £1000 start-up capital. I didn't dare dream it would one day grow to the size it is now.
"Given our 100% commitment to quality manufacturing in Britain it's a huge honour for us to receive this award from Her Majesty the Queen. There is no higher support we could wish for and we could not be more thrilled with what we have achieved to date, or more excited about the opportunities for future growth."
Cambridge Satchel Company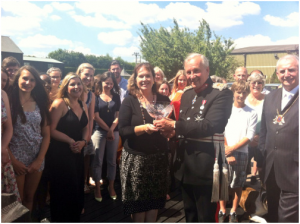 Founded as recently as 2008 by mother and daughter Freda Thomas and Julie Deane, the relatively young company has grown incredibly quickly, drawing in international trade for the United Kingdom from all corners of the world.
With a signature range combined with fresh, innovative designs which alter season by season, the Cambridge Satchel Company began with only £600 start-up, and has gone on to employ 80 people and have an established fan base including ZooeyDeschanel and Alexa Chung.
The company is thrilled to have been awarded, and have called the award a "huge honour".
Honourable mention: I Love Cosmetics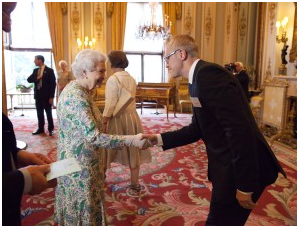 Founded by James Brown in 2008, I Love Cosmetics may not have been founded by a woman, but has brought in international trade for the UK for many years and has helped to shine a spotlight on the country for affordable, high quality beauty products.
Over the past three years, I Love Cosmetics overseas sales have risen by an incredible 560%, with clients such as Walgreens and Walmart stocking their products for customers all over the world.
Related articles