Online B2B marketplaces are websites where buyers and sellers meet to trade. The beautiful thing about online marketplaces is that people are there just to buy and sell. There is no social media or marketing content that you have to create. They are just big markets, and this is why they are so useful.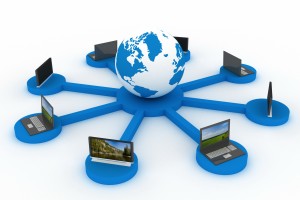 The only problem is that the world of such platforms can be messy, and you should know in advance where to look. Some marketplaces are industry-specific, others are focused only on certain countries, yet others differ on the type of deal you are going to close.
Therefore, the first thing to do is to find the best possible market for your business. Then, choose a large marketplace focused on that market that offers the type of deal that you are looking for. That could be a standard sale contract, i.e. buy and sell single items or batches, or a partnership agreement, i.e. contract manufacturing, sales agency, or distribution agreement.
B2B Marketplaces in Asia
If you are looking to export to Asia, I have good news for you: Asia is definitely the place where online marketplaces are more consolidated.
The largest ones are Alibaba, Global Sources, DHgate, EC21, Tradekey, Asia Trade Hub, and go4WorldBusiness.
These marketplaces work more or less in the same way: just have a look at their websites and you will find a staggering similarity.
Essentially, suppliers put up their profiles and products, setting prices and minimum quantities. Buyers just have to place orders in the desired amounts and the deal is done.
While similar from a process perspective, Asian marketplaces differ on their geographical focus.
Asia Trade Hub, based in India, Tradekey, based in Saudi Arabia, and EC21, based in South Korea, are the only pan-Asia marketplaces.
Alibaba and DHgate are both based and focused on mainland China. Global Sources, once listed in Bermuda and now owned by the private equity giant Blackstone, has been active in Hong Kong since the 1970s and focuses on trade in and out of the former British colony. Interestingly, Global Sources has also maintained its legacy business and, except for now, still organizes physical trade fairs, always in Hong Kong.
Go4WorldBusiness is a huge marketplace with a consolidated position in India.
B2B Platforms in the United States
Instead of Asia, you may want to target the largest market on the planet, i.e. the United States.
Although America has plenty of opportunities on widely used social media and marketing campaigns (for examples, LinkedIn and Apollo work at their best in the U.S.), you can still use B2B marketplaces to take a shortcut.
The most relevant are Thomasnet, eWorld Trade, Wholesale Central, and Kinnek.
Thomasnet is essentially a business directory. It was founded more than 120 years ago as Thomas, a printed register of American suppliers. Because of its long heritage, it contains a list of 500,000 businesses and it is widely used. It also offers marketing services for contacting selected buyers.
eWorld Trade is the most Asian of the American marketplaces: again, have a look at their website and you will see what I mean.
It is actually half Chinese: while based in Dallas, Texas, it has main offices also in Wuhan and Shanghai.
eWorld Trade works exactly like the other Asian platforms and it is a great tool for connecting to both American and Chinese firms.
Wholesale Central is the most buyer-friendly of the four, at least from an economic perspective. In fact, the Connecticut-based firm does not charge any fee for buyers willing to place orders. Instead, it redirects the user to the supplier's website so that they can deal with each other directly.
This works great as long as you have an updated website with a proper e-store or responsive export managers. Otherwise, it is better to pay a fee and remain within the middleman's website.
Kinnek is the newcomer. Founded in New York City in 2012, Kinnek bases its business model on quality over quantity. In fact, while smaller than its competitors, Kinnek collects information about buyers and sellers, such as reviews and business data, and attaches a score to each user.
Not all businesses like that. You will not find a massive volume of users, but maybe you will find better partners.
B2B Websites in Europe
Last but not least, there is Europe, the world's largest trading bloc. Although initially European businesses were not fond of such online B2B marketplaces, in recent years some B2B platforms have been growing nicely.
An interesting feature about European marketplaces is that they focus on deals instead of products.
What does it mean? Well, you will not find items and quantities, rather business opportunities. One company may be looking for a distributor, another for a contract manufacturer, yet another for a partner in a joint venture.
You will find European manufacturers and distributors on Globartis, Enterprise Europe Network, Opportunity Network, and UpinSales.
Enterprise Europe Network (EEN) is the oldest one and is backed by the European Commission. This makes it completely free, but it works with partners, i.e. government agencies that somehow act as middlemen.
Opportunity Network is a marketplace backed by banks. The beauty of this platform is that users are carefully selected by partner banks, yet it is difficult to join and requires a minimum deal of one million euros, so not really for a small business.
Globartis was founded only in 2018 but has been growing rapidly since then. It acts as a 100% digital marketplace, screening its users at registration and letting them connect freely once they are admitted.
Based in the United Kingdom, UpinSales focuses solely on connecting companies with agents. Companies post what they want to sell and what commission they pay. Registered agents (thousands, according to the platform) apply to the job depending on their geography.
Conclusions
The current pandemic and the limitations that it entails may have made international trade as we once knew more difficult.
While we cannot wait to return to our usual habits, including flying abroad in search of business opportunities and new contacts, there is no reason to pause your business expansion.
On the contrary, with the tools that I have described, you can immediately start looking for new buyers or manufacturing businesses and outperform competitors that are slow to adapt to this new environment.