I arrived in Carmel, California with more than a few doubts. I was attending the 12th annual EG Conference, a 3-day event that takes place at the beginning of May and attracts talented innovators from every conceivable industry around the world. My cynicism, however, had me imagining yet another corporate event rife with narcissism, self-righteousness, and boredom.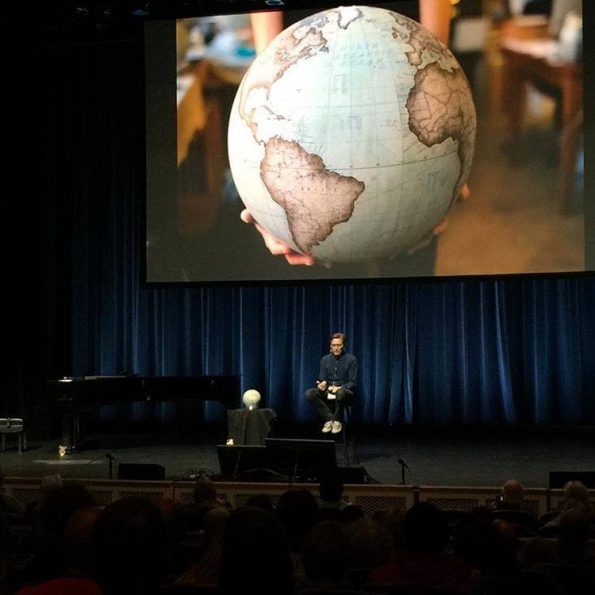 I'd initially learned about the conference through word of mouth. I'd been to TED and TEDx talks and had found that over the years, they had grown from laid back, unique gatherings into behemoths where stiff corporate culture reigned supreme. Consequently, I had little hope, although my sources assured me that, unlike most conventions, EG was a relatively intimate affair, with some 300 individuals attending the event and 40 speakers giving presentations that were also streamed online (for those who cannot attend).
Wanting to get to the heart of the matter, I contacted the EG Conference director, Michael Hawley. Hawley spoke to me while driving across the country—from Boston to Carmel, to be exact. Having just passed Marfa, he was racing in a Tesla across the high desert of western Texas, dodging armadillos and tumbleweeds.
Friendly and enthusiastic, Hawley is the impresario who started EG. Previously a professor at MIT's Media Laboratory, he's also an educator, artist, and researcher working in the field of digital media. Hawley's work has been featured in media outlets such as National Geographic, Time, and the New York Times, as well as on numerous television networks. He claimed that the EG Conference was just one of those things that "have to be experienced to be believed."
Still, I remained unconvinced until I arrived and recognized the unparalleled ability of Hawley and his team to create a welcoming atmosphere. I found myself rubbing shoulders with remarkable individuals, drinking at sunset in a picturesque seaside town, and conversing about the state of the world, I couldn't have been happier that my preconceptions were proven wrong. I witnessed the barrier between stage and audience being removed. During lunch breaks or dinner gatherings, attendees freely intermingled with the speakers without feeling as if they were interrupting or imposing on anyone. I threw my introvert self into conversation with everyone I could, especially the speakers who struck a chord. Some were well-known figures, while others were on the rise to stardom, and all were incredibly engaging, phenomenal people.
A few of the speakers included Pete Souza, former Chief Official White House Photographer, who reviewed his extraordinary experiences of photographing Reagan and Obama's presidency. I was brought to tears by his account of America today and displaying the current political divide. Souza was followed by Carol Guzy, an American news photographer for The Washington Post. She has won the Pulitzer Prize four times, and is one of only four people to do so. She reflected on a series of evocative photographs illustrating the crisis in Haiti and its aftermath, the plight of the Kosovo refugees, and other humanitarian disasters.
Another keynoter was Garrett Brown, inventor of the Oscar-winning Steadicam stabilizer used in making nearly 100 movies, beginning with Rocky. With more than 60 patents for devices such as Zeen, an elevated walker chair, Brown and Chris Fawcett are working to advance geriatric care and rehab mobility for those battling age, injury, and disease.
A diver and natural history producer, Rachel Butler took the audience through her attempts to develop extraordinary underwater stories for Blue Planet II. She explained why there has never been a more important moment to explore and understand Earth's imperiled oceans.
Speaker Lee-Anne Walters is an advocate for public health, using her voice to bring about change. In 2015, as a full-time mom, she took on the US government in her small town of Flint, Michigan. Walters helped expose the toxic water nightmare and fought for safe drinking water for her community. Last was Peter Sagal, author, journalist and radio show host, speaking on the American Constitution (on which he previously did a PBS special). I was starry eyed to shake the hand of a media personality who has been a part of my life for so long.
My experience revealed that the EG Conference is more than a venue for the corporate elite to share ideas. EG provides an opportunity to learn from the world's most creative minds—an opportunity to think differently and be inspired by innovators who have made their ideas real.
Words by Shelby Welinder