In a pre-COVID-19 world, people may not have thought twice about the hygiene measures and safety practices that service providers put in place to keep them safe. However, much has changed in a short space of time, and the average person may be more inclined to question methods to learn if everything is being done to protect their well-being.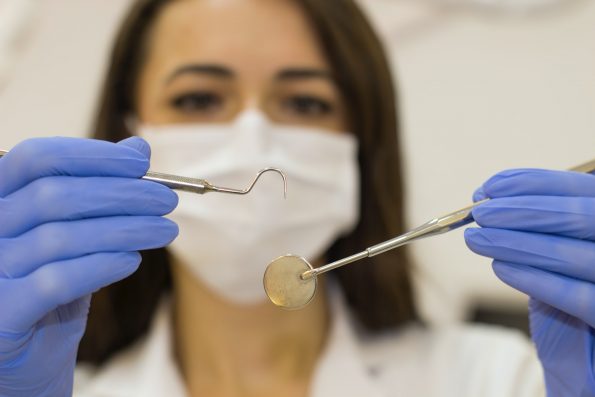 The same goes for the dental industry. When mouths and close contact are involved in a treatment, it's only natural for patients to want to find out more about the protective measures put in place. If you desire peace of mind before your next dental visit, you can learn more about how dentists keep their patients safe during each appointment with the latest dental practice patient safety innovations below.
Instrument Cleaning and Sterilization
Many dental clinics follow a patient safety checklist to ensure they can provide a safe dental treatment experience. At the top of that list, you may see mention of instrument cleaning and sterilization.
Non-fragile instruments are generally cleaned in ultrasonic baths before sterilization takes place in autoclaves. Autoclaves are steam-producing machines that can disinfect equipment and break down the proteins in microorganisms. While they are common in the dental industry, these machines are also used in laboratory and healthcare settings.
Once the instruments are cleaned and sterilized, they are placed in steri-pouches that allow them to remain sterilized until they are needed once more.
Single-Use Items
While a significant number of dental tools are cleaned, sterilized, and reused, the average dental clinic prioritizes single-use items as much as possible for safety. A number of disposable products are used for each patient, including gloves, paper hand towels, masks, face shields, and rinsing cups. Even items that look like they can be reused are often single-use, such as syringe needles, scalpel blades, dental burs, and saliva injectors.
Medical History
When you visit a dentist for the first time, you're often required to fill out forms regarding your medical history. Dental practice clinics want to know if you've got heart disease, cancer, glaucoma, or even an eating disorder.
You might also need to list any medications you're on, such as oral contraceptives, blood thinners, and antibiotics. These questions might seem unusual and possibly even invasive when you're only receiving a dental checkup. However, they can be essential for keeping you safe.
Many different medications and conditions can interact with the equipment and products that dentists use to perform various treatments. For example, if you have diabetes, you may require additional care due to the challenges associated with extended healing times.
Radiation therapy for cancer can result in reduced saliva flow that increases decay, which means dentists may recommend artificial saliva and fluoride rinses. Even high blood pressure needs to be mentioned since epinephrine can be added to dental anesthetics, which may increase your blood pressure.
By outlining your entire medical history, your dental team can take all practical steps to keep you safe during and after your oral treatment.
Disinfection Practices
Many people question why it can take so long to be welcomed into the dental clinic when the last patient left several minutes earlier. Disinfection processes may be part of the reason.
Dentists and their teams use a virus and bacteria-killing chemical solution to disinfect all surfaces such as the dentist chair and countertops before a new patient visits. They also take the opportunity to remove all used tools and replace them with new, single-use, and sterilized equipment.
Sterilization Monitoring
Dentists rely on sterilization equipment to be effective for the safety of their patients, but they can't just assume that it works as it should. Sterilization equipment needs to be monitored with biological, chemical, and mechanical indicators.
Mechanical and chemical indicators help detect errors like equipment malfunctions, an overloaded sterilizer, and incorrect packaging and should be used for each sterilization cycle. When dental teams perform mechanical monitoring, they check sterilizer gauges, computer displays, and sterilization records that measure exposure time, temperature, and pressure.
Chemical monitoring requires the use of chemicals that change color when exposed to high temperatures. They often come as tapes, tabs, and strips with markings visible from the outside to ensure enough time has passed with the sterilizer at a high enough temperature.
Trained Staff
Dental clinics can have the most advanced equipment available, but that doesn't mean they automatically provide a safe environment for patients. Trained staff who know how to follow health and safety practices and infection control protocols play an integral part in patient safety.
When you make an appointment with your dentist, you can generally rest assured that your dental team consists of skilled professionals who have undergone the appropriate training to provide a safe and high-quality service using the latest patient safety innovations.
However, their skills can often extend far beyond knowing how to perform oral procedures and sterilize equipment. Many dental workers are trained in first aid to monitor blood pressure, oxygen levels, and heart rates if required. Often, automated external defibrillators are on-site if needed, with dental staff trained in their use to potentially save lives.
OSHA Standards for Bloodborne Pathogens
Bloodborne pathogens are infectious microorganisms in human blood that can cause diseases like hepatitis B, hepatitis C, and HIV. One of the most crucial ways in which dentists can keep their patients and themselves safe is by following OSHA standards for bloodborne pathogens. These standards include:
Staff training
Appropriate disposal of hazardous waste materials
A written plan on control measures
PPE like eye protection, gowns, masks, and gloves
Infection control documentation
Sharps and needlestick injuries are among the most widely reported exposure events in the dental industry, so having these measures in place can be crucial.
High-Quality Equipment
Many of the tools and equipment in use in the average dental facility are required for their precision and accuracy. If those tools and equipment aren't functioning at their best, they may not be safe to use for specific procedures.
While it can be a costly exercise to upgrade dentist equipment, it can be necessary for dentist and patient safety. Dental business owners also have the option to lease equipment if purchasing it is going to be a significant investment they can't commit to.
Visiting the dentist can be daunting enough without wondering whether your health and safety needs are going to be taken care of. These dental practice patient safety innovations above are just a few of the many you can expect when you make an appointment with your local dental specialist.