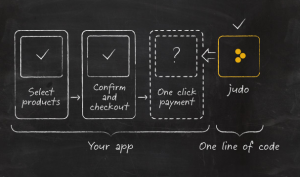 judo is the UK's leading provider of simple, secure payment solutions for mobile apps. Our patent pending technology is built specifically for native apps, which allows for faster transactions, higher completion rates and lower checkout abandonment. We combine technology and design to deliver a flawless mobile payments experience to thousands of customers across the UK.
Funding came from the US- but why did judo  set up in the UK instead of the US?
Choosing our first market was based on the size of the opportunity and the unmet needs we serve.  The UK is the second largest card payment market in the world after the US.  At judo, we solve two large problems: 1) we optimise card payments for mobile and 2) we simplify the process of getting a merchant account.  The second problem has largely been solved in the US while in the UK it generally takes 3-6 weeks to get a Merchant Account.  judo provides merchant accounts in less than 5 minutes.
Where is the app mobile processing market heading next
Businesses with apps will move towards integrating native payment options (e.g. not being redirected to a website) with solutions like judo's.  Given conversion on a mobile device is 6 times more likely with judo vs. redirecting to a mobile optimised website, the increase in sales is driving businesses to quickly shift to a better mobile approach.
How does your startup stand out against your competitors?
judo is the only company in the UK that is dedicated to mobile app payments. Our technology and user-friendly interface are optimised for smartphones and designed to maximise conversions.
We specialise in streamlining the checkout process for mobile users, which has been proven to gain consumer loyalty, increase repeat customers and establish positive brand image.  Our clients see a 6tim (yes, 6 times) increase in conversion compared to their previous provider.
Where did the idea for the startup come from?
I was working in the payments industry in the Bay Area when I came to visit family in Kent.  Talking with my cousin who owns her own e-commerce business, I saw how difficult it was to set up payments in the UK.  Because the world is rapidly moving mobile, we decided to build the first payments company dedicated to mobile and base it in the UK to help businesses focus on what they do best and leave the payments to us.
What is your business background, and what got you interested in startups?
I've been an entrepreneur since I can remember.  From lemonade stands to selling mixed tapes as a young student to a boys clothing company and a medtech company and now judo as an adult, I've always loved building my own businesses.  I did, however, realize that I needed to get structured business training in order to maximise my chances at building a £1 Billion business. After University, I joined GE Capital while running my clothing company before moving into Technology and Finance consulting with Bain & Co and then attending Stanford's MBA program. While at Stanford I launched and sold my medtech business before searching out my next opportunity (judo).
How long has the your startup been in the making, and who is the team behind the business?
We've moved really quickly.  From original idea in early 2012, we filed for patents and received our seed funding in May 2012, with our first live transaction only two months later.  My co-founders (Jan Farrarons and George Karibian) have had multiple successful startups in the UK including XLN Telecom, Euroffice, and PaymentSense.  Their deep experience in the UK market coupled with my background in mobile and payments has allowed us to go from idea to thousands of customers in less than two years.
What has been your biggest challenge so far as a startup owner?
Finding enough talented team members, particularly in our development/technology team.
In the coming year, what would you like to achieve with your business?
Continue growing our client base and expanding our product offering internationally while maintaining the exceptional level of service that has been instrumental in our early success.  We expect to grow over 1,000% over the coming 12 months on a reasonably large base.
If you could give one piece of advice to someone thinking about starting a business, what would it be?
Just start it.  As Goethe said, 'If you can do something, or dream you can, begin it.  Boldness has genius, power, and magic in it.'
Related articles