The Startup Magazine was proud to be a media sponsor at this year's E-Cell, IIM Kashipur flagship entrepreneurship event, Uttishtha'18, on 6th October, 2018. The theme of this year's event was, A decade of Disruption – Future Scope.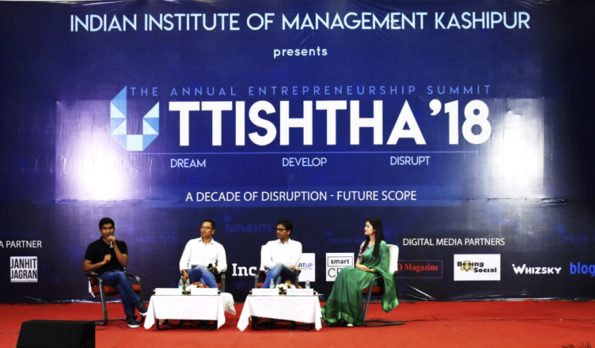 In the past decade we have seen several start-ups disrupting the way we see and conduct businesses. The Olas, Facebooks and Airbnbs of the world have shown us how start-ups can become unicorns without investing in actual assets. Uber, the world's largest taxi company does not own any vehicle; Facebook, the world's most popular media owner does not create any content; Alibaba, the world's most valuable retailer has no inventory.
These startups have relied on network effects to build their worth and have succeeded with that model. A panel discussion was conducted on this topic and esteemed guests of the event discussed how budding entrepreneurs can also take advantage of network effects and create valuable businesses.
Another highlight of the event was keynote speakers. Esteemed guests from all over India, who have found success in their entrepreneurial journey, were invited to the event to share valuable insights on their disruption journey and the problems they faced on their way to becoming a successful entrepreneur. The guest list included heavyweights such as Das Gautam, Co-Founder – Oorjan; Jasveer Singh, Founder – Qik Rooms (Forbes 30 under 30); Preksha Kaparwan, Co-Founder & CMO – RealBox.ai; Rishikesh S R, Co-Founder – Rapido; Shineel, Founder – The House of Artisans; Suresh Reddy, Founder – BrightCom Group.
E-Cell, IIM Kashipur embodies the entrepreneurial spirit of IIM Kashipur. It has evolved over the years with great success stories and is credited with having more than 15 successful startups under its wing. They recently registered their very own Incubation Centre – Foundation for Innovation & Entrepreneurship Development (FIED) at IIM Kashipur. The six thrust areas of the incubation center are Agritech, Cleantech, Logistics, Travel and Tourism, Social Entrepreneurship and Fintech. With the setting up of their own Incubation Centre, E-cell, IIM Kashipur looks forward to help more budding entrepreneurs and incubate more startups in the future.
This time, E-Cell collaborated with Janhit Jagran for its B-Plan competition. It's an initiative by Dainik Jagran and is currently accepting entries for ideas and social enterprises that address the disruption challenges in 7 key development domains – education, health, women empowerment, poverty alleviation, water, environment and human resource management.
To apply, visit www.janhitjagran.com; applications close October 30th, 2018.