Every year millions of new students head for college. Most of these students will be attending college or university full-time, but many will also be studying on a part-time basis, perhaps while working. What both these groups of students have in common is that their studies will need to be paid for. Unless the individual is lucky enough to have all the finances in place for tuition fees, the normal route would be to get a student loan cosigner and take out a student loan.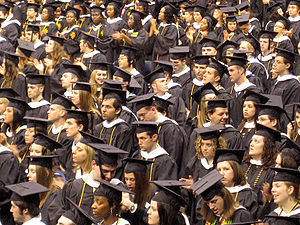 Clearly then, money is a big worry for students, and knowing how to budget and save is important. However, securing some form of loan is likely to be necessary before studies can commence.
What types of loans are available for students, and how do they acquire one for their tuition fees when they most likely do not have any credit score? 
What type of student loans are available?
There are basically three types of student loans available, although there are many options available for each of these. 
Student loans come in three types. These come from private or federal funds. The third type is called a refinancing loan. However, the first two are the only ones that new students would, and should, be interested in. 
Refinancing loans are for graduates who would like to consolidate all their borrowing into one lower interest loan. This is designed for those who have shown a good track record of payments, and have a good credit score. It allows the graduate to pay off all their debt with one payment at a lower rate than normal. If you recently graduated from medical school and are feeling bogged down by debt, then medical student loan refinancing is a great option.
The other two types are the federal student loan, which comes from the government, and the second comes from private institutions such as banks.
While federal government loans come with many benefits, there are times that private loans are needed by a student. The problem with obtaining one of these may lie in passing a credit check. 
Why do students need private loans, and how do they get one?
You may well know that student debt is a big talking point in the USA, and other countries too. It has become such a hot issue right now that even Ivanka Trump has tried to get involved in the recent past. Unfortunately, though, tuition fees need to be paid for, and the choices are federal or private loans.
A federal student loan may be the preferred route for many individuals. They carry many benefits with them, not least the deferred interest and payments.
Federal loans do not accrue any interest until the student graduates or leaves college. Payments are also deferred normally for six months, sometimes longer. However, sometimes, students need to look at private funding. 
The reason that a student may need to take out a private loan is that they have already had one federal loan but have run out of funds. Alternatively, they may not qualify for a federal student loan for other reasons.
When this happens, private student loans may be the best option. The student may also find themselves in need of a cosigner though. 
What is a cosigner, and why might you need one?
The definition of a cosigner is someone who signs alongside the student taking out the loan, and takes equal responsibility for the debt. This means that if a student applies for a loan along with their cosigner, the latter will be liable for the repayment of the debt if the former defaults.
Because of this, there is a huge obligation for the cosigner, and they should take this seriously before signing. The reason that many students need to find a student loan cosigner is that very often they will not have a strong credit rating.
Students are often just too young to have built up a good credit score by the time they hit college. They also may have charged various purchases, and missed payments. All of this affects their credit score, and the ability to receive a student loan. 
If someone is willing to be a cosigner, what do they need?
Firstly, you might say that a cosigner needs trust. There is over $1.7 trillion of student debt in the US alone. Then there is the unemployment situation to consider. Over 50% of students who graduated recently are still unemployed, or at least working short hours. This means there is a high chance of defaulting on the loan.
A cosigner also needs the complete opposite to what many student loan applicants have; a good credit score, and a history of making payments on time.
They will need to prove their income, employment status, marital status, and other information so that they can qualify to be a student loan cosigner. 
How do you find a cosigner?
A cosigner would most often be a family member. There can only be one cosigner for a student loan, and this is very often either a parent or a spouse.
Very often, the parents of a student are unable to fund them fully through their college education so one of them agrees instead to cosign a private loan. To do this, they need to be able to meet the lender's qualifying requirements.
What are the dangers of being a cosigner to a student loan?
The most obvious danger is that the student in question will fail to make the repayments on time. This will mean the student loan cosigner is now liable for the outstanding debt. When you consider that the average student debt is around $30,000, this is something worth considering.
There is also the possibility that the loan provider will not release the cosigner after graduation, regardless of the loan being serviced properly. According to the Consumer Financial Protection Bureau, nearly all the people who applied for cosigner release were rejected.
These figures are worrying from both the cosigner's point of view and the graduate who took out the loan in good faith and is repaying it. However, there are other options. 
Can you find a student loan without a cosigner?
Fortunately, some lenders understand that a student's credit history shouldn't exclude them from studying. There are many private student loans available for those who cannot get, or do not want, a student loan cosigner.
Some of these lenders will defer payments while the student is in college or university, and will offer lower interest rates. Others will require payments while the student is studying but will accept smaller amounts.
These loan companies can be useful for anyone studying at medical, law, or dental school. It is not unusual for a student to rack up debts of six figures while taking lengthy studies at these schools. Of course, many potential cosigners might balk at being responsible for this. 
Summary
If a student cannot qualify for a federal student loan or has already had one, then a cosigned private loan is a normal route to take. However, there are lenders available who will consider a student's situation and not request a cosigner.
These may be a good option for any student who cannot find a suitable student loan cosigner or prefers not to have one. These can suit students who require further funding to complete their tuition, but it should also be remembered that responsible borrowing is important. 
If you are having any problems with student debt then contact your lender to discuss your situation.