"When morality comes up against profit, it is seldom that profit loses."
-Congresswoman Shirley Chisholm
American companies are crafty and misleading entities that hold excessive profits on the highest regard. They can often times been viewed as small cogs in a greedy, terrible machine. When launching a startup it's crucially important to understand the so called model for business and consider breaking this corrupt mold.
Brands behind other brands
Companies aren't always as independent, benevolent, or community-oriented as they seem. In fact, many popular companies are actually owned and operated by much larger (and often less popular) corporations.
I was once in the body care store "The Body Shop" and overheard a conversation between a customer and employee. They were talking about how they only use cruelty free products and only support companies that have that overall mindset, no excuses! I quickly picked up on a flaw in their logic.
While the Body Shop itself may represent a brand that is cruelty free, as a whole the company that backs them does not. That company is oddly enough Nestle which also owns the controversial brand L'oreal.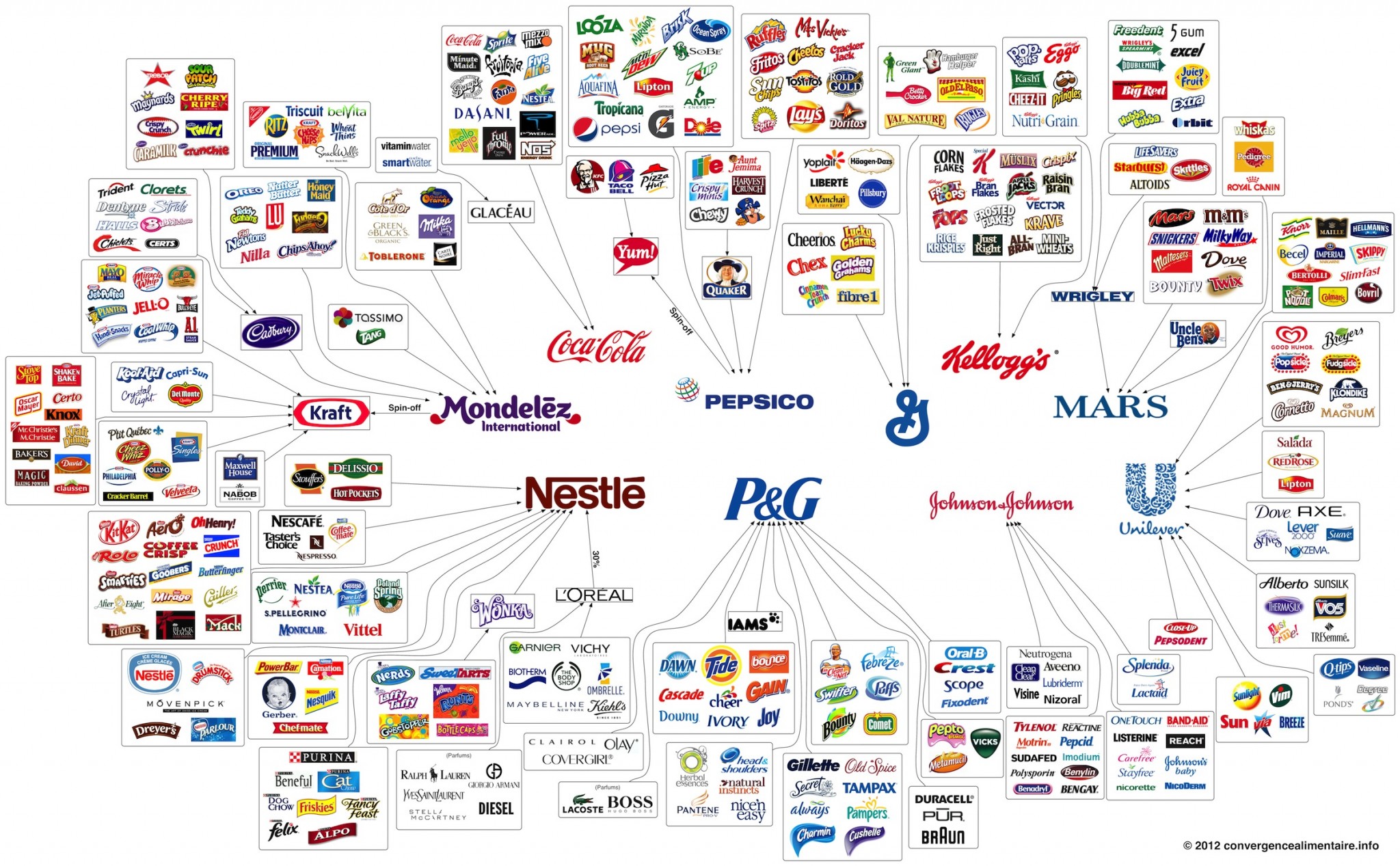 Related: an infographic from the Huffington Post that shows centralised brands.
Another example of this occurs within the coffee world. Starbucks, Seattle's Best Coffee, and the Tazo Tea brand all have something in common: they are all produced by the same company. A lot of people don't realise that when they buy Seattle's Best Coffee or Tazo Tea, they are directly supporting Starbucks. The company has even been opening 'stealth Starbucks' locations for over five years now. If your favourite local coffee house has an oddly vague name, there's a chance it's run by Starbucks.
Brand names replacing actual product names
You probably don't even realise it, but the marketing machine has filled your vocabulary with brand names. This is a subconscious phenomenon that you probably don't even realise you are using. Consider the following story, in which common brand names are replaced with generic products:
It was a great day at on the beach with the family. Off in the distance people soared on personal stand up watercrafts (Jetskis), and tossed around flying discs (Frisbees). We brought a delicious lunch in our plastic food storage containers (Tupperware) and ate off extruded polystyrene foam (styrofoam) plates.
Then disaster struck. The hook and loop fasteners (velcro) on Grandpa's shoes failed, and he tripped and cut his knee very deeply. Grandpa needed some self-adhesive bandages (Band-Aids) or possibly some cyanoacrylate adhesive (Super Glue) to close the wound. Luckily, she came to the rescue with a facial tissue (Kleenex) to clean the wound and dry Grandpa's tears.
While it may be much more convenient to call lip balm, Chapstick, the fact is that big businesses thrive off of this type of thing. Brand recognition hits its peak when a name for something has been replaced by a brand name, and people do this subconsciously. 
Here are some terms given for everyday products and the actual names for the product:
-Chapstick - lip balm
-Jacuzzi - hot tub
-Kleenex - tissue
-Post-It Note - sticky note
-Q-Tips - cotton tipped ear cleaner
-Sharpie - permanent marker
The brand names for these items are arguably more identifiable than the items themselves. On to more extreme examples of this:
-Velcro - hook and loop fastener
-Tupperware - plastic storage containers
-Super Glue - Cyanoacrylate adhesive
-Styrofoam - Extruded polystyrene foam
-Jetski - Stand-up personal watercraft
-Formica - decorative laminate
Don't forget the kids
The assault of the brands is almost unavoidable when you consider that the marketing starts in earnest--before you are even conscious of what advertising is.
Children are easily one of the most highly-targeted marketing demographic, and have been for some time. The idea of corporations brainwashing your children is not a new one. Cereal box tactics create subconscious brand recognition and who could forget the 'happy meal effect'? These are shady tactics. A great example of this is a behaviour I noticed my friend's child.
One of my childhood best friends has two kids now. I've picked up on this type of thing just by observing some odd behaviour. His oldest kin enjoys pushing the limits of how much cartoon binge watching she can get away with.
One morning as she was about to start eating breakfast, she turned up her nose at the idea of her morning apple juice.
"I want Kool Aid instead!" she exclaimed.
My friend was surprised by this because the young child usually loves any type of juice.
"The Kool Aid guy is cool. Him and all the kids on TV have fun. I want Kool Aid instead!" she elaborated.
This was troublesome, and showed me how easily swayed a child can be. But this is just the tip of the iceberg.
Now turn your attention to the extreme bastardisation of the food industry within fast food. They tug at children's heartstrings with their colourful play places, kid specific meals, and complimentary toys. While they do this, they cut every possible cost to make their food so arguably affordable that parents look past the countless synthetic chemicals, additives and preservatives at 'play'.
Kids are innocent and naive. They are persuadable creatures that are easily manipulated by big business and the Kool Aid man alike.
An Honest Approach to a Startup
How does this relate to a fresh startup idea or unique business platform? Take a lesson from the world's most valuable brand, Apple. Steve Jobs had many unique leadership skills, as does the new CEO Tim Cook.
Apple relies on these main leadership ideologies:
-Innovations
-Leadership
-High Expectations
-Perfectionism
-Transparency
-Teamwork
The main takeaway is that Apple doesn't settle. Transparency is one of their core values, all while keeping their customers in the loop, and delivering a series of high quality, user friendly products. From Mac computers to Apple TVs, all the products Apple creates serve a legitimate applicable purpose.
Corporate America, albeit successful, is very sneaky in nature. Will you be on the side of the corrupt or will your business sparkle as a diamond in the rough?