At this point, you probably have at least some idea of the of what Influencer marketing is all about. But it can be a little intimidating to know how to start implementing it into your own strategy. You need to know where to find and how to contact Instagram influencers that are going to make the biggest impact for your brand.
You've seen other brands getting impactful shoutouts, but now it's your turn to get in on the action and leverage the powers of influencers for your own benefit.
Here's our go-to guide on how to contact Instagram Influencers in 4 simple steps!
Step 1: How to Define Your Niche
Your influencer marketing strategy requires some planning. Before you can determine how to contact Instagram Influencers, you need to determine who you want to contact in the first place. You need to clearly define your niche and address what communities you are trying to tap into.
For example, if you sell organic hand soap and your ideal target audience consists of 30-50 year old women, a "mommy blogger" might be your ideal type of influencer.
On the other hand, if you sell luxury watches, you might look into more of a "business coach" type of influencer who's entrepreneurial followers have your desired income.
Step 2: How to Qualify Prospective Candidates
It's important to understand that not every influencer will be the perfect partnership for your brand.
The most obvious qualifier to keep in mind is your industry. Who is in the same niche as you and has already built a community around your specific interests? With a simple keyword search in the Explore tab, you can easily find relevant influencers.
Try searching hashtags and keywords related to your niche and you'll quickly populate a list of potential influencer candidates. A good old-fashioned Google search can also do the trick.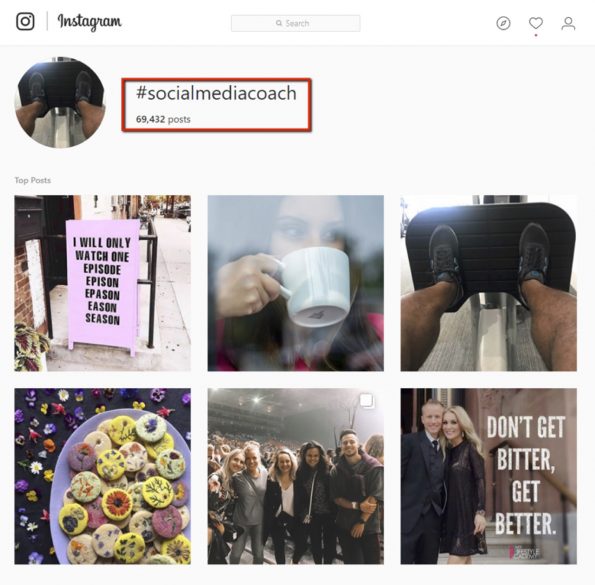 Next look at their number of followers and their engagement. You'll want to make sure they have grown an active and engaged following to ensure that they don't have any fake followers. After all, you're trying to turn these users into your own followers so you'll need to be able to spot real vs. fake followers on Instagram.
Step 3: How to Contact Instagram Influencers
Now, the moment you've been waiting for.
Once you have your qualified list, you'll want to determine how to contact Instagram Influencers.
First, let's determine where to contact them:
Direct Message: Your first option is to keep in the app and start sliding into those DM's. Easy, simple and free.
Email: If the influencer lists their email in their bio, this can be another great option or a back up if they don't respond right away to your DM.
Influencer Platform: If you are unsatisfied with your organic search, you can also try an Influencer platform, like Intellifluence, and conduct messages directly through their app.
Now, what should you say? When approaching an influencer, it's important to keep it short, descriptive, and to the point. Here's what to include:
Personal Introduction: Let the influencer know who you are as a brand and what you stand for.
Why You Love Their Instagram: Insert a specific reason why you are a fan of what they do.
Why You'd Be a Great Fit for a Collab: Highlight why working together would be mutually beneficial for both parties.
Call-to-Action: Include contact information and tell them exactly how you want to be followed up with. You might also invite their feedback if you are open to different types of collaborations.
Step 4: How to Set up a Partnership
You can execute an influencer marketing campaign with a couple of approaches that fit a variety of budgets.
Macro-influencers: Influencers with a high following will most likely understand the authority they hold in your niche and as such will generally ask for a paid promotion.
You'll want to keep in mind that your budget may directly influence who you should contact. Prices vary by industry, but according to Yahoo! Tech, it is common for Influencers with over 100K followers to charge around $900 per sponsors post.
The substantial brand expose may very well be worth the investment, but don't be afraid to negotiate the price or suggest a different type of collab. Just be sure that you're both on the same page so you can get your desired results.
Micro-influencers: If you're on a tight budget, that doesn't mean you should give up on Instagram influencers altogether.
While micro-influencers have fewer followers and therefore less reach, they typically have an even more engaged, niche-focused audience. They are also often more willing to do a trade of good for a post or shoutout for shoutout type promotion.

To build an authentic relationship with these types of influencers, you'll want to actively engage with them before you reach out. No, we don't mean blasting them with spammy contacts.
Give them a follow, gradually like images, and leave genuine comments on their post. In determining how to contact Instagram influencers, consistency is key.
When you engage in authentic, meaningful ways, influencers are much more likely to notice you and be receptive to a collaboration. Influencer marketing requires using your own influence to pull in the right partners.
Conclusion
Regardless of the method you decide to use in how to contact Instagram influencers, one thing is for sure in influencer marketing. Influencers were well might be the missing link to you gaining real followers for Instagram and generating more sales for your business. Simply put, if you're trying to boost your Instagram account and brand awareness, you need to be collaborating with Instagram influencers.