When we think of web accessibility, we think of the design aspect and its applications. But content accessibility is the most essential element on the website because the content gets updated more frequently compared to other elements.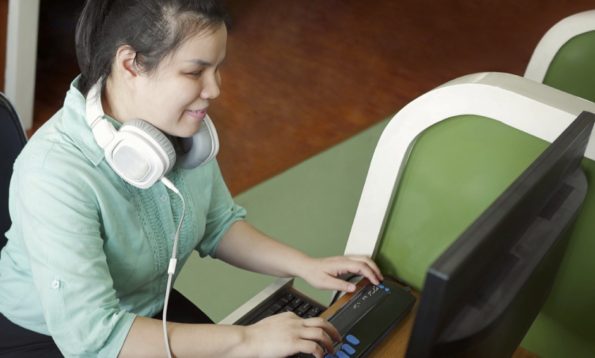 Image Credit: Chansom Pantip / Shutterstock.com
The blog posts, infographics, videos, and other informational content is what affects a user and a potential customer. Making them accessible to people with disabilities should be a priority to enrich user experience.
In this article, we are going to discuss how your content can be made more accessible.
The strategies of web accessibility must get applied to all your written content, be it your website, social media, communication, or applications. Web accessibility laws deem a website fully compliant with all of its web pages are accessible.
Link Text
There should be link text attributed to all links that identify its target in detail. Otherwise, screen readers will simply read out the link as click here or learn more. It would be out of the context and difficult for users to follow. The link text attribute must describe the target page and a brief description of the page so that the user can decide if he wants to go to the page or not.
Images
All images used in any content should either be for ornamental purposes or they should have alt text that makes sense. If an image has an HTML code without a description, the screen reader will merely read the file name, which will confuse the users. If the image is for decorative purposes, mark the alt text attribute to null. If you use a message on your images such as infographics, make sure that the alt text has details of the information so that the users understand that it is an infographic. Pictures posted on social media can be supported with the information added with the description box. The screen reader should convey what you want the users to know, instead of just a description, so modify the text accordingly.
Abbreviations
Abreviations should always be placed in parentheses and supported with the full name before it. For example, if you want to talk about Web Content Accessibility Guidelines (WCAG), you should write it like this. After writing the full name once, you can use the acronym as many times as you want on the same page. That is particularly applicable to jargon or other terms that are not commonly known. But you can use acronyms that are well known without the full name, such as KFC or FBI. Using the full name in such cases can sound pedantic.
Language
It is essential to use basic and commonly used speech for the audience. Never assume that the users will know something particular. If you are ever in doubt about a term, use simple and clear language to explain it. The use of difficult terminologies without explanation can be frustrating for people who rely on web accessibility. It can also mean that you will lose the business. These are some of the points to keep in mind about language.
Avoid making assumptions about the users.
Provide ample definitions for the screen readers.
If you feel the need, explain things clearly.
Provide links for background information instead of stuffing all the descriptions on one page.
Page Layout
The success of web accessibility can be dependent on the layout and structure of the page. It will have a significant impact on how your audience will interact with your accessible websites. Well organized content should get broken down into smaller sections. It will allow users to access a piece of information without scrolling through the entire page. Provide adequate headings, points for navigation, and sections. Do not forget a description of the structure of your web page to ease content accessibility.
PDF
Ensure that any PDF provided is accessible by assistive technologies. Enhancing web accessibility of PDF files can be very complicated. Several parameters must get met. So before you add a PDF content, ask your content team if it is essential.
Videos
Videos should always contain captions. Not only does it enhance web content accessibility, but it will also improve your marketing. People are more likely to watch videos if they have captions. It also broadens your audience because captions make them accessible to people who are not fluent in English. Make sure you so provide a transcript of any conversation on the video. The transcription enhances accessibility, and it can be generated easily with a transcription software. It also makes the video easy to crawl through for search bots.
Bottomline
Your content is what drives your website forward. It creates the first and the impression. Having an accessible website for people with disabilities can only help your business.
It has an impact on a large audience who are connected and sympathetic to people who need content accessibility.