Whatever type of photos you take, there are plenty of tools that are used by all photographers that will help you really make your images pop. These are photographer tools used to improve your photography, they can make capturing the shot easier than before, help the image clarity, get rid of glare, and ensure that editing only needs to be simple.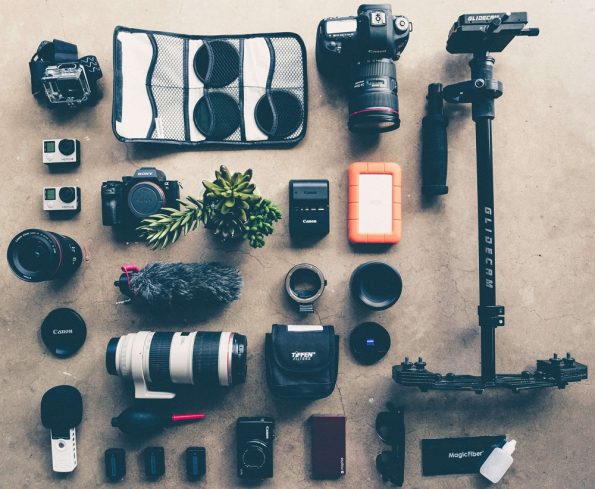 What tools should every photographer have?
There is so much fancy gear, high-tech editing programs, and fancy accessories, it can be hard to pick which ones are the best, and what will best suit you. You may want to look at what is hottest in the photography world right now, but the truth is, all photographers will use generally the same stuff, and the variation between the tools they use will only be down to personal taste. 
So, the best thing we can tell you to do is experiment with these tools, and find out which you prefer, what takes your preference and keys into your personal tastes as a photographer. 
Don't deny the validity of Photoshop and Lightroom
Adobe has many photographer tools to offer for the whole of the media industry. For photography, they mainly have two programs, Photoshop and Lightroom. Editing images is definitely the fastest way to get the end result you want. Just make some edits to color and exposure, and you can totally transform the mood of the photo. 
Lightroom is fantastic for photographers who want easy and effective ways to edit their images. Its layout is easy to understand, and it provides a natural feeling even for first-timers. We definitely recommend looking at professional Lightroom presets, as these can give you a real chance to explore how far your photos can go, and just how much you can do to your photography to level it up. 
Of course, there is also Photoshop, Photoshop has a lot to offer, and it takes your editing even further with limitless control and manipulation. It is known for its ability to manipulate and enhance images. With this you get adjustments that you would not find in Lightroom. There is always a way to take your photos to another level. It is also capable of graphic designing, and so much more. You can get these two together in the Adobe Photoshop Photography package, most of the time. 
Lens filters
Getting lens filters is one of the best things a photographer can do. Whatever type of photography you do, these accessories come in a variety of types that will help you to get a specific result. You can use them to protect your lens, capture long exposure, improve colors, and so on. 
If you were a beginner photographer, you can still take advantage of these filters to experiment and get a feel for how commercial photographers work. There are so many types of lens filters, every photographer will have their favorite photographer tools. 
We have a favorite type of lens filter, though.
Polarized lens filters
Our favorite lens filter is a polarized lens. It is much like the polarized lens on your sunglasses. A polarized lens filter on your camera will work to cut glare and enhance the colors. They work to eliminate horizontal light waves that create glare in any scene. 
This can improve image clarity, getting rid of a glare can keep the image focused where you want it to be, as clear as you want it to be, without having to over edit in post. Without bright highlights and reflections, you gain added contrast and richer colors, and this is why polarizers are often a favorite photography tool, and why it's our favorite lens! 
Off-camera flash
Similar to how too much light can create issues in an image and polarized lenses help that, a lack of light in other images can make them look blurry or dull. An off camera flash is a powerful and customizable version of your in camera flash, and it is one of the photographer tools that will help fix this problem. 
These can be used to create a more interesting lighting set up, or to brighten up a dark scene. They are great in many types of photography, from action photography to model based photography. The added light will help to boost your exposure while illuminating the subject of your photo. If you were to shoot an image of someone against a sunset, typically they would be silhouetted, but with the help of the flash, you can illuminate them and show off more detail.