You love money and numbers but you also want to help people by working in healthcare. Consider combining your two passions with a job in healthcare accounting. Do you want a job that is lucrative, rewarding, and has great potential for upward movement? Then, yes, you should look at healthcare accounting as a career choice.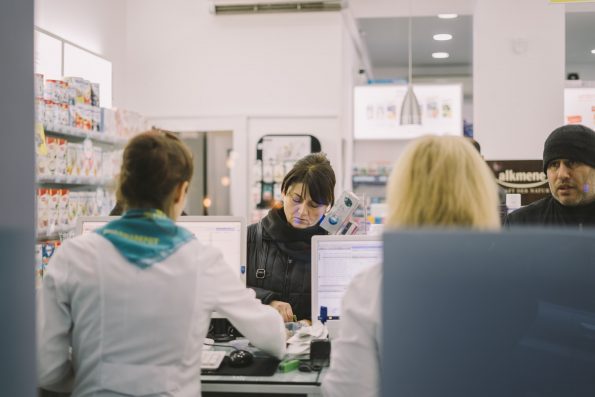 The simple fact is that healthcare jobs are only continuing to grow. And as they grow, healthcare accounting jobs grow with the rest of them. Healthcare accountants make sure that hospitals are able to run smoothly by taking care of all the nitty-gritty financial operations that allow medical institutions to do business.
If you're interested in a healthcare accounting career, then you're in the right place. In this article, we'll take a look at how you can start carving out a path for yourself in this competitive career.
Go to School
The first step to getting a good healthcare accounting job is unfortunately also the most difficult and time-consuming one: going to school.
There are just no two ways about it. If you want to give your career the very best possible chance for upward growth, then you are going to have to get a bachelor's degree in accounting at the very minimum.
However, there's some good news. One, many higher ed institutions offer accounting degrees. You should have no difficulty finding a program that fits your location requirements.
Another important thing to consider is that you can reduce the cost of your degree by taking as many of the general education courses as possible at a community college. Community colleges offer practically the same level of education as a traditional four-year institution at a fraction of the cost.
If you want to cut down on student loans, then community college will be a lifesaver for you.
While you are in school, be sure to be an active student. Not only will this help your social life, but it will also help to give your healthcare accounting resume a kickstart.
Join any accounting or finance-related clubs at your university. If there aren't any already, then start one.
Talk to your pre-professional advisor and career services to get even more niche advice on how to prepare for a career in healthcare accounting. The more you put into your college experience, the more prepped you'll be for a good career.
Get started at ultimatemedical.edu.
Get Practical Experience With Internships
As you complete your degree, you should use your summer holiday period to get practical experience with internships. When it comes to the job market, nothing really shows potential employers that you are a safe bet than having some experience on your resume already.
That's why internships are so crucial to those who want to get a good starting offer in healthcare accounting right out of the gate.
The good news is that because of the expanding job market, healthcare accounting internships can be fairly plentiful. These institutions are eager to hire young talent that they could potentially groom for a full-time role for a fraction of the price.
There are several different ways for you to get internships, but perhaps the most common path is to go through your university's career services department. They may have some kind of job board or employer portal where internships are posted. Talk to your administration to find out what options exist for you.
If that path does not turn up any success, then it's time for you to start leveraging your network. Talk to friends and family that work in the industry and see if they're hiring any interns. People will be glad to see that you take initiative, and will go out of their way to help you get hired on.
Arm Yourself With Certifications
Once you have a college degree and internship experience, there is one final piece of the puzzle to maximize your employability. That piece is certifications.
It's important to remember that the accounting world is a technical one. After all, accounting itself is a very technical practice. You're working with numbers in various software programs all day.
One consequence of it being such a technical industry is that certificates abound. These certificates help you to prove expertise in certain accounting principles and practices to your potential employers.
As someone early in their career, it's important to use these certificates to add some credibility to your resume. By going out of your way to arm yourself with as many healthcare accounting-related certificates as possible, you will show your prospective employers that you have the ability to do what it takes to be successful in this field.
Leverage Your Network
Last but certainly not least, once you have your degree, certificates, and internship experience, it's time for you to leverage your network to get that first job that should kick off your healthcare accounting career.
They say that the first full-time job is always the hardest to get, and that is very true. However, at this point, you should have been able to build up an army of people that will be ready and willing to help you.
The first people in your network that you should talk to are those who managed you at your internship.
These people have a good idea of your expertise, experience, and ability to succeed. They will often go out of their way to ensure that the company hires you on full-time.
Your next resource is the number of college professors who helped you in your educational journey. Your professor will likely have a lot of industry connections themselves and may be able to set you up with a great job.
Last but certainly not least, you can always turn to friends and family once again for references and recommendations.
Building a Healthcare Accounting Career, Made Simple
There you have it. Now that you know the basic steps in building a healthcare accounting career, all that remains is for you to take the first step and apply to a degree program to start your journey!
For more career advice, be sure to take some time to check out the rest of the articles on the website before you leave!