In the workplace it is important to have an environment that is productive and enjoyable for everyone to work in. To build a friendly and welcoming environment for employees to work in, you have to focus on building team spirit. When you have a good, strong team spirit your employees work together with strength and unity, which is ideal for ensuring that your business goes from strength to strength.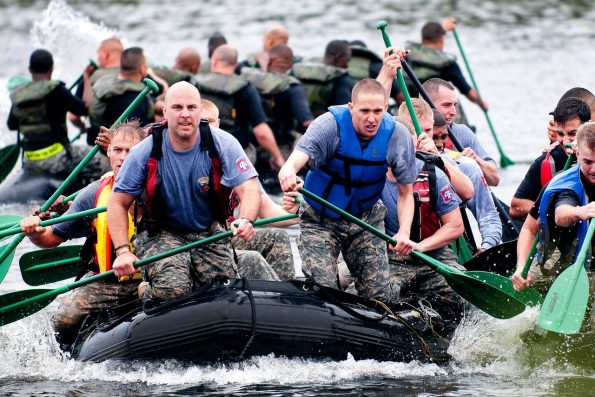 Operate with Openness and Honesty
Employees appreciate openness and honesty at all times. Pay may differ as do responsibilities, but if there is no secret meetings taking place, and information is being freely shared and not held back then employees will be happy and positive. A positive, more upbeat workforce is much more productive, works well as a team and wants the whole team and therefore business to succeed. Team spirit can be built if all employees including management are open and honest and if there are no communication problems. Team spirit is easy to build if employees feel safe and content within their place of work.
Make Sure Everyone Is In Branded Clothing
When everyone is in the same branded clothing you get unity and the feeling of being equal. Having employees within the workplace in branded clothing and accessories including caps and t-shirts, from somewhere such as anthembranding.com, ensures that all employees look the same. When there is unity in uniforms and work wear, then there is no competition to look the best or dress better and less feeling of competitiveness overall. When everyone dresses as an equal it is easier for building team spirit as everyone will instantly feel more connected to each other simply because they are wearing the same attire.
Encourage Respect
When employees and team members respect each other, no matter what their position within the workplace, then you will find it is easier to build team spirit. Team spirit thrives on respect and if there is no mutual respect between individuals then you will have no team spirit. People will not be bothered or interested in working hard for the team if they do not respect who the team is. Building respect for others should be one of the first things you do within your workplace to encourage and foster team spirit.
Be Inclusive As Much As Possible
An inclusive environment where everyone is valued, included and appreciated is going to enhance and build team spirit. Where employees and team members feel valued and included in how the business is run they will naturally want to work harder for the collective and for the business. Being inclusive is not easy, but if you regularly focus on staff training and in ensuring you are using the skills within a team then you will ensure that you are being as inclusive as you can be.
Team spirit depends on the attitudes and feelings of others, so for building team spirit you have to ensure employees are happy and engaged. When other team members feel the love and respect for your place of work then they can share and encourage those feelings with other less receptive employees.