If you are an entrepreneur looking for the perfect getaway home to remove all of your business distractions, the Whalesback Estate in Canada, which once served as a World War II observation tour, will be auctioned in late August.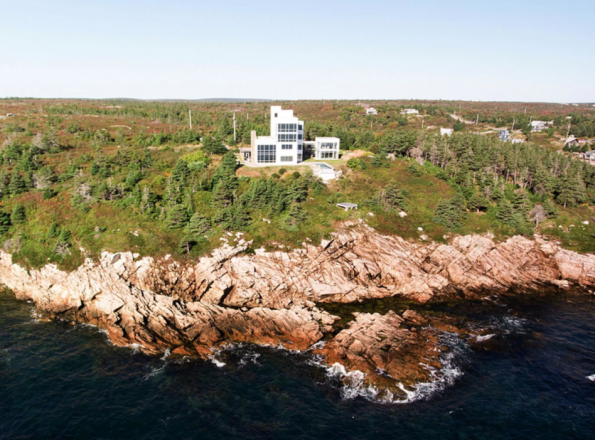 The estate, located at 137 Gannet Lane, Duncan's Cove, is located 11 miles south of Halifax, Nova Scotia, Canada. It is listed for $4.395 CAD and will sell with a $2.6 million CAD reserve to the highest bidder. The sale is being managed by Concierge Auctions, the world's premier online auction house for high-end properties.
Whalesback Estate sits atop granite cliffs with an extraordinary vantage point to view the Atlantic Ocean. Bidding is scheduled for August 26-30 via the Concierge Auctions platform, which allows buyers to bid on exclusive properties from anywhere in the world.
The former observation tower has been reimagined by noted designer Erla Laurie, who discovered the abandoned tower and transformed it, with work completed in 2007. The estate is a 6,790-square-foot residence that features a contemporary feel with concrete, glass, steel, and stone features throughout. The property is 2.7 acres that offer a 360-degree view of the land and ocean and is adjacent to 1,800 acres of preserved land, including a nature reserve with some of Nova Scotia's best coastal hiking trails.
The estate's foyer opens into a great room with massive ceilings and walls of windows 20 feet high. The chef's kitchen features modern appliances, an expansive island with an additional prep island, cabinets made of light cherry wood and steel, and soapstone countertops. A tasting room adjoins a wine cellar.
The formal dining room also has ocean views, along with modern lighting and a marble feature wall. Throughout the estate, there is Portuguese limestone flooring.
The primary bedroom suite occupies an entire floor and has unobstructed ocean views, along with a fireplace and terrace with a sitting area, outdoor kitchen, hot tub for seven, and fire pit. The bedroom also features a wet bar and a five-piece en suite with a sunken circular soaker tub for two designed with Japanese inspirations. The main suite also includes a cedar sauna room with a 3-sink vanity hand sink made of stainless steel and a concealed laundry space.
Two additional bedroom suites also feature ocean views.
Other features for the estate include an office with built-in features overlooking the great room, a private elevator to all five floors, a built-in audio system, in-floor radiant heat, LED foot lighting on all staircases, and an observation deck area that was part of the original observation tower. There is an infinity pool with an ocean view with a second recirculating pool below. A secluded gazebo offers tranquil privacy.
Throughout the property, there are terraces with ocean views, outdoor fireplaces, a meditation deck, and an infinity pool that overlooks the ocean. A guesthouse with a fully equipped kitchen, bedroom suite, and sitting area is connected via a walkway on the second floor and has a separate entrance.
Duncan's Cove is a rural coastline community with an active nightlife, many restaurants, and a rich history. The Halifax Citadel National Historic Site is one of the most visited historic landmarks in Canada. Halifax and its harbor feature the white sands of Crystal Crescent Beach, a 2.5-mile boardwalk with shops and dining options, sailing cruises, and whales and seals in abundance.
About Concierge Auctions
Concierge Auctions is the world's largest high-end real estate auction platform, connecting buyers with some of the world's most coveted exclusive properties. Since its founding, Concierge Auctions has managed auctions throughout Canada, the United States and 29 other countries.