With the average transaction price at $36,000 as of early 2020, paying cash for a new car is out of reach for a lot of people. This means loan financing is required, which can be tough to get if your credit record is less-than-acceptable to lenders. For startup founders, the sacrifices add up and don't leave much for personal expenditures.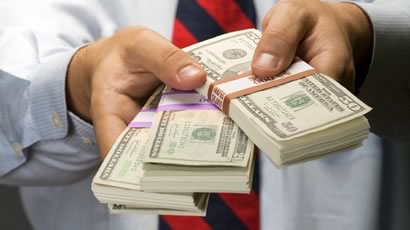 One way around this is to borrow another person's history. As you might well imagine, though, that's a huge commitment for anyone to make on your behalf. If you're to have any hope of success, you'll need to know how to ask someone to co-sign a car loan. Just like asking for capital for your business, the conversations need to be handled delicately.
Why Can't You Get the Loan on Your Own?
The first question you'll encounter will usually be, "Why?" It's best to be truthful. If this is the first time you've tried to make a purchase of this magnitude, odds are you won't have any credit history and the lender is looking for someone to backstop you through your first credit experience.
The best play is to be honest, whatever your situation.
When all is said and done, you're asking this person to trust you. If they discover you're lying, you'll lose their consideration.
If you're young and just getting started, say so. If your credit score is extremely low because of cash flow problems you've had in the past, be forthcoming and be ready to present  — in writing — why things are different now. Show how you've been more responsible and explain how helping you will prevent you from ever needing this kind of assistance again.
Be Ready to Provide Details
Explain the mechanics of the deal as well as whether you're trying to lease or buy a car. Disclose the purchase price, the amount of your down payment and the interest rate. You should also explain the length of the loan, the amount of the monthly payment and what the total purchase price will be with interest applied.
Most of all, you'll need to present a detailed plan to show how you will make the monthly payments. In some cases, you might be able to get the loan on your own, but a co-signer with a better history can help you get a more favorable deal.
Whatever it is, be ready to show how it will work out.
Be Honest Abut the Nature of the Obligation
This is a legal obligation the co-signer will be required to fulfill if you fail.
In most cases, anyone capable of co-signing a loan already knows what it means for them. However, it bolsters your case to tell them you know what you're asking and explain it in no uncertain terms.
Openly disclosing this indicates you understand the gravity of the situation and proves you are being considerate of their hard-earned status — and money. You should also make them aware the loan will be reflected as part of their credit report.
Talk About What You'll Do if You Can't Pay
In most cases, you'll likely sell the car and use the proceeds to pay off as much of the loan as possible if you hit hard times and can't make the payments. If you get a good deal and maintain the car well, you should be able to do this with relative ease.
Therefore, it's important to have an adequate down payment and a reasonable loan term to avoid owing more than the car is worth. Explain how cosigning will help you accomplish this and illustrate how their exposure will be minimal if things go sideways.
The main thing to keep in mind when considering how to ask someone to co-sign a car loan is thinking things through carefully and developing a solid plan to deal with unforeseen circumstances. Most people want to help — they just want to be sure they won't get hurt in the process. Demonstrate how you've worked to prevent that and you'll have a good shot at finding a backer.