Some of you may have dreamt about starting your own restaurant business. You may have dreamt big and had your restaurant located in Manhattan. The few of you that have slightly more realistic ambitions of setting up your own restaurant, please read on.
This 8-step guide will help you turn that dream into a reality.
Decide on a Concept
The first big decision that you need to make is to decide what type of restaurant you would like to set up. Will you be looking at the high-end market? Or are your intentions to create a more casual dining experience?
Another element that you need to consider at this point is the type of food that will be served. Will it be traditional Italian? French? Or will you be looking at creating your own fusion brand? Are you looking at providing Kosher production food? If so, then Earth Kosher provides kosher certification that you can use within your restaurant.
Location, Location, Location
The location of your restaurant can be the difference between its success and its failure. There are plenty of questions that need to be answered before you sign on the dotted lease agreement sign.
Do your research and make a note of how busy the area is. Does the area have plenty of passing traffic (road and footfall)? Is there ample parking on-site? What other restaurants are within the local area? What type of restaurants are these?
Naming Your Restaurant
Choosing a name for your restaurant can be a lot of fun. There are no rules behind choosing the perfect name apart from that it needs to mean something. This meaning can either be associated to you, as the business owner or based around the theme of the restaurant.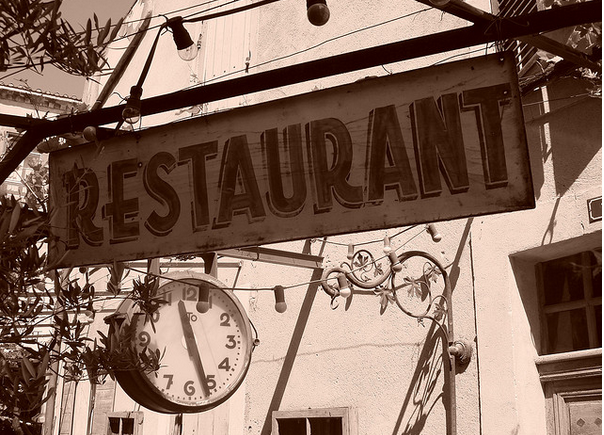 Image has been provided by Martin Abegglen via Flickr
Create Your Business Plan
Any great idea needs a great accompanying plan. You need to create a business plan for two very important reasons;
Upon completion, you will be able to see both the benefits and risks of setting up your restaurant.
Upon completion do you believe that you will receive the funding required for your business venture?
Money, Money, Money
After creating your business plan, you will know if you have a great business proposition. This will help, especially when it comes to looking at ways in which you can finance your restaurant. You can look at private funding from individuals and groups, as well as your bank.
Apply for Credentials
Once you have your funding in place, you will need to apply for the various licenses and permits you require.
Design Your Restaurant
You may have been told that it is best to look at an empty space, compared to one that is full. An empty space can quickly become a full space if you are not careful. You will need to consider your commercial elements (kitchen and bar) as well as the seating and other accessories.
Design Your Menu
You may already have a good idea on what you want your menu to consist of. If not, now is the time to think about it. Once you have your food and drink items agreed upon, you will have to go and design it. Add your logo and contact details, but avoid the use of cheap graphics as these will age quickly.
A restaurant business is a big undertaking. But planning and passion can make it a reality.
Related articles