If you want to take your business to the next level, you should consider app development. Are you are a startup that needs to market your products and services? Or, are you an established business that wants to secure your future? Either way, custom software development is an effective way to build brand awareness and give your business a competitive edge. In order to bring the most value to your business, it's important you explore ways to enhance your customer experience.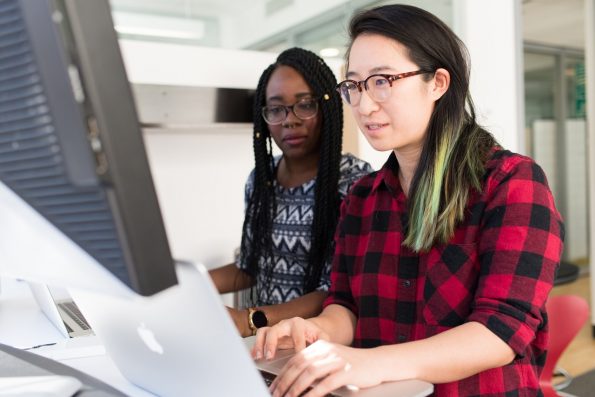 While app development can be very beneficial, that's only true if it's done the right way. As the technology industry continues to grow, the tech talent pool has expanded exponentially. The introduction of remote employees opens your business to an influx of new talents and skill sets. If you want app development that is both affordable and efficient, you need to know how to hire programmers to do the job. Let's take a closer look at and how to fill the job position for your next development project in a way that brings your business the most value.
The Rise of App Development in the Business World
Businesses are constantly looking for new ways to get ahead of the competition. In today's technology-driven world, app development helps businesses deliver important information to their viewers and enhance the customer experience. That's why app development has become more popular over the years. Businesses across many different industries have turned to app development to enhance their business. Let's take a look at some of the most popular apps in different business industries.
The retail industry has a multitude of apps that allow their consumers to make purchases, track orders, and get push notifications on the latest products. Some examples are Amazon, Zulilly, Walmart, Target, and Lowes.
The real estate industry uses their apps to showcase available properties, deliver information on listings, and even suggest pre-qualification for mortgages. Zillow, Realtor.com, and Trulia are examples.
The transportation industry uses their apps to give customers the ability to check transportation schedules, purchase tickets, and even hail a ride. Popular examples are Uber, SuperShuttle, and Zipcar.
The communication industry gives us the chance to message each other, send meeting notifications, and even engage in live video chats through their app development. Common examples are Skype, Facebook Messenger, and WhatsApp
There's no doubt that app development is a popular service that benefits businesses of all types and sizes. As the popularity of app development continues to rise, so does the availability of professionals with technology skills on the resume. The best way to plan your app development is to know how to hire the best app developers for your project requirements.
Where to Hire Developers for Your Project
With a large talent pool and the availability of a variety of different options to choose your development team, many businesses wonder what is the best approach to choosing a solution. Some businesses utilize in-house development teams or local professionals. But the availability of outsourcing, offshoring, and outstaffing has pulled many away from the use of local developers. One of the main reasons to outsource IT services is that workers tend to be more efficient. Services are also much more affordable.
The best approach to hire a developer for your app project is to research professionals online. You can even enlist the help of a technical recruiter. Evaluate your potential developers' knowledge, experience, and the skills listed on their software engineer resume. Ask for examples of their previous work. Discuss costs upfront and be sure the talent fits within your budget while still providing you excellent quality. When you find a qualified development team with a diverse background, you can benefit from a long-term relationship that gives you peace of mind when it comes to your IT projects.
How to Hire Remote Developers
Since many businesses now take advantage of the benefits of remote workers, it's important to understand how to manage a remote team. When you outsource your IT projects or hire an offshore development team, it comes with many benefits. For example, an agile software development lifecycle model encourages self-organization and motivation rather than the delegation of authority and a seniority hierarchy. This model has shown higher productivity levels. Other benefits include:
Access to a larger talent pool with professionals who might be a better match with your project.
Cost-savings with the more affordable developer and IT project manager salary.
Better turn around as outsourced companies know how to increase team productivity.
Better lines of communication.
High-quality development with talent that carries a stronger work ethic.
It's important to understand that there are some disadvantages to outsourcing your work. Depending on where you outsource to, you may experience language barriers. Even remote workers who speak, write, and understand English as their second language can face challenges when slang or industry-specific business terms are used. To combat this problem, be sure you hire a remote worker who is more proficient in your native language.
Additionally, some project communications may be misconstrued when you engage in internet-based communications. Be sure the scope of your project is clear and identify all your project requirements in detail. If your team doesn't understand something, use online video chat or phone conversation to provide clarification. There is even team management software available to help you avoid project delays and extra costs.
Out of the Box vs Custom Software
Once you find the right development team, talk about the benefits of out of the box vs. custom software. This will help ensure that your app development project works effectively and is efficient in providing your customers what they need. While out of the box software can be beneficial to your app development, custom software development ensures your app performs exactly as you need it to.
Although you may wonder how many developers should I hire, when you find the right team, you'll get everything you need under one roof. Weight the benefits of hiring a dedicated project manager to navigate your project. Product manager salary is now more affordable and the hiring of one gives you the peace of mind that your project is on the right track at all times.
If you want to bring your business to the next level, explore the idea of app development to enhance your customer experience. With the availability of remote developers, app development is more affordable and efficient than ever. Jump on the business bandwagon with custom app development that gives your customers on-demand services at their fingertips. Your customers and your business will that you as you exceed your business goals and move beyond your future expectations.