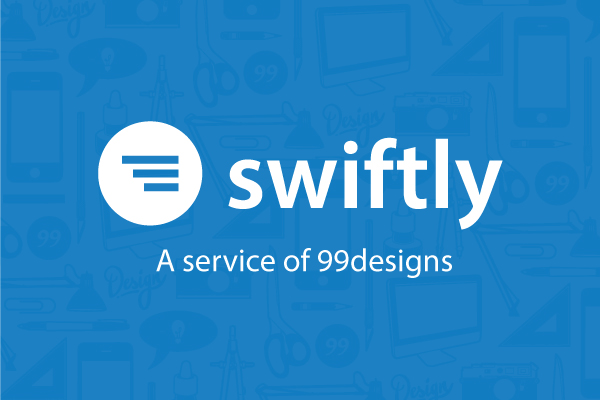 Online graphic design marketplace 99designs, which has paid out more than $60 million to its global design community since 2008, today announced the launch of Swiftly.com, a first-of-its-kind service for small design tasks. Swiftly enables customers to get existing graphic design files altered by professional graphic designers within hours.

"Swiftly is part of 99designs' broader plan to change the paradigm for how businesses worldwide get graphic design work done and how designers earn money," said 99designs President and CEO Patrick Llewellyn. "99designs contests have connected more than 230,000 customers with our extensive community of skilled designers. Now, with Swiftly, we're introducing an entirely different model for businesses to get smaller design tasks done quickly and effortlessly. Swiftly's launch underscores our determination to provide a full spectrum of graphic design solutions for customers and more opportunities for designers."
Typical uses of Swiftly include altering logos, business cards, banner ads, marketing templates and icons; retouching, cropping and resizing photos; and vectorizing images. The process is fast and easy: customers simply upload design files, indicate the modifications required, and pay a flat $15 fee. A member of the Swiftly designer community claims the "task," completes it, and delivers it to the customer within a few hours. After the customer reviews and approves the task, Swiftly facilitates handover of the design files to the customer and issues payment to the designer.
Swiftly designers are a curated group from 99designs' community of more than 240,000 graphic designers in 192 countries. 99designs staff hand-selected these designers based on their design skill and hours of availability to ensure rapid turnaround 24 hours a day, seven days a week.
"Swiftly grew out of our awareness that many people don't know where to turn for a quick graphic design project, either because they don't employ in-house designers or their designers are tied up with more substantial projects," said 99designs Chief Technology Officer Lachlan Donald, who led the team that developed Swiftly. "It's exciting to have the opportunity to develop a totally new service that fulfills a real need for customers and gives freelance designers another way to make money. It's a win-win for everyone."
About Swiftly
Swiftly is a new site and service from 99designs that helps customers get small design tasks done quickly and effortlessly. Customers simply upload a design file they need altered to Swiftly.com, pay a $15 fee, and get their completed project back in 24 hours or less. Each project is completed by an experienced member of Swiftly's design community.
About 99designs
99designs is the world's largest graphic design marketplace, connecting businesses looking for design work with more than 240,000 graphic designers from 192 countries around the world. Businesses can source graphic design work quickly and affordably by launching design contests to the community, working via 1-to-1 Projects with individual designers, or purchasing design templates from 99designs' readymade logo store. 99designs also runs Swiftly, the new design task service that helps customers get small design tasks done quickly and effortlessly. 99designs was co-founded by serial entrepreneurs Mark Harbottle and Matt Mickiewicz (SitePoint, Flippa), and is backed by Accel Partners and angel investors Michael Dearing (eBay, Harrison Metal), Dave Goldberg (Survey Monkey), Stewart Butterfield (Flickr, Tiny Speck) and Anthony Casalena (Squarespace). To learn more about 99designs, including where the company is hiring, visit 99designs.com.
Related articles