If you're a part of a startup, you likely already know that the culture is like no other. From the tech teams to the marketing squad, being a part of a startup environment is all about embracing the sporadic and innovative spirit of carving out your own path. Whether your sales team is brand new and ready to break into the world or you're still in the process of building your sales team, there are a few things you can keep in mind in order to lead the very best department possible! Learn more about sales team leadership with these tips…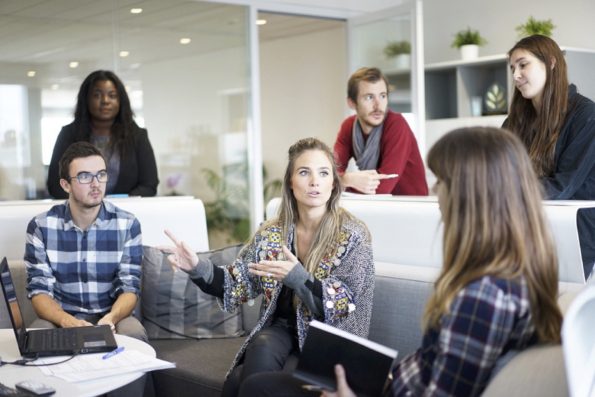 1.   Learn to Sell Before Hiring
In order to teach something, it's important to learn the skill itself. Whether that skill is another aspect of the company entirely or the sales aspects, leading a sales team requires an acute understanding of the practices that the job requires. Essentially, getting involved and understanding how to sell can make you a much better manager and teach you sales team leadership skills.
2.   Find Motivated Individuals
This goes for hiring in any department or any kind of company, but with sales and startups, you may want to pay even more attention to the specifics of this one. As you hire for your sales team, one of the most important things you can do is hire people who are motivated and driven — people who are self-starters — to join your team, so they can push themselves forward while they push the whole company forward.
3.   Keep Channels of Communication Open
Even on a team of self-starters, keeping the consistent contact and communication with your team that many people are used to can help them truly thrive. A good relationship with management is extremely important — in fact, 69% of sales reps who surpass yearly quotas rate their sales managers with high marks. Of course, you don't need to micro-manage, but having regular touchpoints, team meetings and letting them know that they can come to you with questions and concerns is an extremely valuable fixture that can help your team feel more solid and reassured.
4.   Recognize Unique Skill Sets
Not everybody on your team is going to have the same skill set, even when they are all doing the same job with the same job title. Part of helping your team come into its full potential is recognizing the unique skill sets that each individual brings to the table and allowing them to shine.
5.   Create a Focused Environment
Having a productive and focused work environment is one of the best things that you can do to help your sales team succeed. Even if you aren't running a sales team, this trick can work for nearly any department, as people need to be in environments that encourage productivity. As some of your team works remotely, including them in digital spaces that feel unified and productive can be extremely valuable.
6.   Define Both Approach and Process
Plenty of people know how to sell, but do they know how to sell specifically for your startup? Your startup will likely have a unique identity and mission, which is why it's important to define both the approach and the process behind how you want to sell for your company. By understanding the approach that your sales team is supposed to take with clients and having a more unified process for everyone to follow, you can create a sense of identity and community within your startup.
7.   Be Open to Feedback
Having sales team leadership means being flexible. Again, this is a test that can work in many ways, but it could be specifically helpful when you have a newer team who is still adjusting to their environment. Simply make sure that you are open to hearing what your team has to say about their experience and any ideas that they have to make your team better. After all, the reason why you hired them in the first place is for them to improve your business.
Leading a Sales Team for Your Startup
Sales can be an extremely specific and demanding field, which means that it's important that you hire the right people for the job and lead them well. There are plenty of ways that you can come into your own as a start up, and having sales team leadership is definitely one of them.