As a small business, you probably have a pretty tight-knit team. There aren't many of you, and you have to work together to keep things running smoothly. That being said, there are still ways you can boost employee morale. Raising spirits around the office is a great way to increase productivity. Plus, it'll show your employees how much you appreciate them.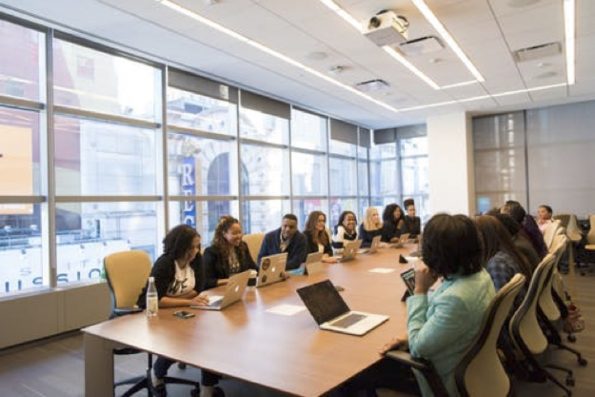 Below are 6 ways that you can boost morale at your small business. Some require you to shell out some money, but others require little investment.
Provide Transportation
There's nothing worse than commuting. No one likes battling the rush hour traffic to get to and from work.
Lessen this burden on your employees by providing them with transportation. Some ways you can do this include:
Provide a stipend for gas, public transit expenses, etc.
Implement an employee shuttle.
Offer tax-free transportation benefits. (This option encourages forms of transportation that reduce pollution and road congestion.)
If you can't afford to go these routes, other ways you can make transportation easier for your employees include:
When your employees don't have to stress as much about transportation, they'll arrive to work feeling refreshed and ready-to-go.
Give Your Break Room a Makeover
Your break room should be the perfect place for employees to recharge.
For a break room catered to their needs, don't be afraid to ask for suggestions. You can conduct an anonymous survey, asking what everyone would like to see added or changed.
Some ideas to get the ball rolling include:
There should be a refrigerator and cabinet so everyone can easily store their lunches. While you don't have to, it's always nice when a boss provides snacks. Keep healthy foods like fruit and nuts on-hand for your employees to enjoy. Also, consider adding appliances like a microwave, coffee machine, water cooler, etc.
Décor. Fun decor will add a little life to the office. Your employees will feel like it's a place where they can truly relax.
Some easy ideas for decor include:
Using a popular TV show, book, etc. for inspiration for a theme
Bringing the outside in (let in plenty of sunlight, add plants, etc.)
Using books, magazines, games, etc. as part of your decor.
Host Lunches
Nothing boosts employee morale like free lunches!
Depending on your budget, you can set these lunches for however often you'd like. Some offices have weekly lunches. Others might hold one every month, opting for fancier options.
Regardless, your employees will greatly appreciate the free food and opportunity to bond.
Social Media Appreciation Posts
Take to social media to show everyone how awesome your employees are. It's a super-easy way to show your appreciation and boost morale. It's also great if you're struggling to come up with good posts for your accounts.
For the post, attach a picture of your employee with their permission, of course! The caption should give a summary of what they do and how much they contribute to the company.
Create an Inclement Weather Policy
Blizzards, hurricanes, etc. can make it difficult to get to the office. Aside from being dangerous, the commute is much longer and more stressful.
You can combat this by creating an inclement weather policy that permits employees to work from home. They will appreciate your understanding and concern for their safety. Those with young children will especially appreciate this policy, as it can be hard for them to find daycare options on such short notice.
Bottom Line
These are just a few ways you can boost employee morale at the office. Be sure to take your employees' suggestions into account, and you will have a much more positive workplace!