Networking is a huge part of business, no matter how you slice it. Whether you're networking online across various social platforms or attending in-person events, you've got to make connections with people networking events.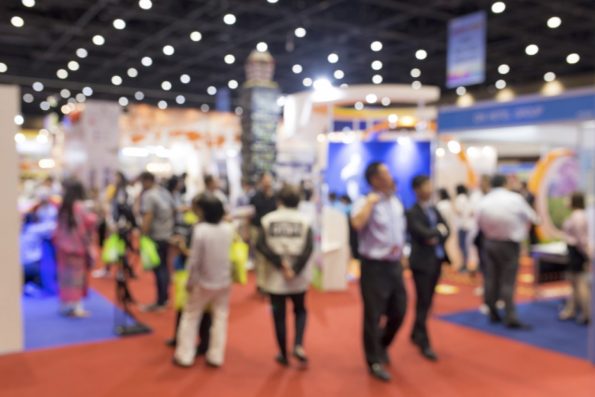 Source: DepositPhotos
Online networking is amazingly powerful, especially given how scalable it is. But for building genuine rapport that could lead to actual business deals in the short term, there's nothing like looking someone in the eye and shaking their hand. That's the true power of non-virtual networking.
But attending the biggest conferences in your niche, or even a meetup a few miles away, requires investing energy – and time that you might have otherwise used for "getting stuff done." Because it takes a lot of time and money to attend in-person networking events, it's critical to make an effort to make the most of every event you attend, so you can maximize your return on investment.
Here are some tips to increase your efficiency as you attend various conferences.
1. Review the Schedule and Plan Your Attack in Advance
Each event you're attending, whether it's a two-hour presentation or a multiple-day convention, should have a schedule available online for review well in advance. Especially if there are multiple tracks involved, it's a good idea to look at the schedule for the sessions, workshops and panels you want to attend, so you know when you can plan breaks and downtime for yourself.
Some conferences may offer an interactive schedule that allows you to indicate which sessions you are planning on attending and when, so you can see who else will be with you. This is helpful when there are two or more sessions you want to attend that are taking place at the same time, because you can connect with others who will be in the other sessions, to ask them to share their notes with you. You can offer to share your notes from one of the other sessions they are interested in but cannot attend, as well.
Oh, and always plan to attend parties and other social events after the day's sessions are over, because these are some of your best networking opportunities.
2. Connect with Attendees on Social Before the Event
Most events provide a hashtag, and sometimes a Facebook Group or Twitter list of attendees as they register, so you can connect with one another and discuss things before the event.
This will help you create a list of people you definitely know you want to connect with in person, so you can make it a point to meet them for dinner, or sit with them during lunch so you can further your relationship and keep the conversation going.
Some conferences even offer "matchmaking" systems so you can search and connect with other attendees and even book meetings with them in advance.
3. Focus on Meeting Fewer People Overall
It's easy to fall victim to the misconception that to make the most of your conference investment you need to meet as many people as possible. It can be overwhelming, particularly for introverts, to feel like they need to talk to everyone they see.
Instead, focus on quality over quantity. Use the relationships you developed on social media before networking events to focus on meeting a smaller amount of people, and think about who among them seem like they have the most potential for a mutual exchange of value. These should be your targets.
Why? Well, if you meet 50 people, but only five of those people have something to offer that you're interested in, and you can offer something that helps them out, then it makes much more sense to focus on connecting with those five people rather than making surface connections with 50+ people.
4. Get Your Elevator Pitch Ready Beforehand
Regardless of the event length and number of attendees, everyone should have an elevator pitch – a 30-second, succinct and persuasive description of what you do, and what you have to offer.
This practiced, pre-planned speech, can be helpful when you're meeting a lot of people. The better prepared you are ahead of time, the easier it will be to build connections with the people who are most interested in following up with you.
Be prepared to hear other elevator pitches, and connect with the people who have pitches that intrigue you, or clearly demonstrate that working together could be beneficial for you.
5. Scan Business Cards with Your Mobile Phone
The point of going to networking events like these is to connect with new people, which generally means giving your business card to new contacts – and leaving with a stack of business cards you received from others.
It can be quite a hassle to not only keep up with the cards, but to enter all the data into your contact relationship management (CRM) system once you're back in your office. But by using a Salesforce business card scanner app, you can quickly and easily snap a photo of each business card you collect, and have the information automatically added to your Salesforce account.
Shake Those Hands
Using these tips can help you get more from the time and money you invest in attending various networking events. If you're introverted or just shy in general, preparing ahead of time so you know where you'll be and who you want to connect with the most will also go a long way toward reducing anxiety about your attendance.