You've heard about that teenager or grandmother or your brother-in-law's co-worker's cousin who invested a little bit of money in bitcoin and struck it rich and you want part of the action. Investing in a cryptocurrency like bitcoin in 2020 makes a lot of sense. The stock market is saturated with day-traders and new investors and it seems like there isn't much opportunity to turn a profit, especially a big, quick profit. Bitcoin investing is the new frontier, the Wild West, a place where the playing field is relatively even and anyone can make some money.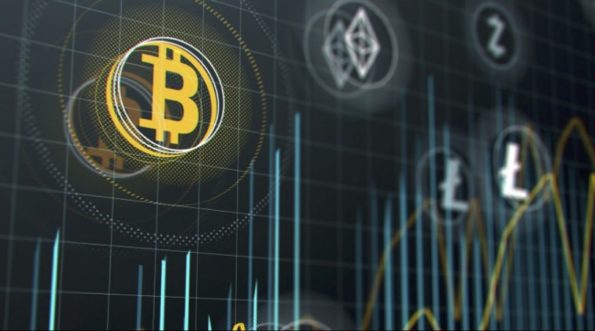 If you think you would like to invest in bitcoin, there are a few points you should know before you take the plunge. Armed with this knowledge, some seed money, and a little bit of luck, you can be the next bitcoin success story. To help you as you get going with your investments, here are five tips for beginning bitcoin investors.
1. Be ready for the ride
For every story of an overnight bitcoin millionaire, there is another story about someone who lost it all investing in bitcoin. Bitcoin investing is not for the faint of heart. It is not a "set it and forget it" investment vehicle that will eventually fund your retirement in 25 years. The bitcoin market is a volatile market place where wild swings are common. It is just as likely that there will be a giant wave of rising prices as it is that there will be a precipitous drop.
This is not to say that volatility is a bad thing. For those with the stomach and disposable cash to ride this rollercoaster, deal with the losses, and hang on for the big profits, the volatility is actually what makes bitcoin investing attractive. If this style of investing sounds interesting to you, then investing in bitcoin is a great idea. If you are not ready for the wild ride, putting your money somewhere a little safer and more predictable is probably better for you.
2. Have a good crypto wallet
Once you've acquired all that bitcoin, where will you put it? Bitcoin is a digital currency so you can't really hold it in your hand like cash. Although traditional banks are starting to be more open to holding cryptocurrency, that isn't the best option. According to Cove Markets, a secure wallet is an essential cryptocurrency tool for anyone who wants to invest in Bitcoin or other cryptocurrencies.
There are several types of bitcoin wallets to consider. Hardware wallets, physical data holders that plug into your computer, are the most secure but also the most expensive. There are a few other types of software wallets you can consider. The three main types have a sliding scale where the more portable and convenient they are, the less secure they are.
A desktop crypto wallet is the most secure but exists only on your computer, so accessing it from anywhere else is impossible. A mobile wallet has a good balance of portability and security while a web wallet can be accessed from anywhere in the world-great for convenience but it can mean opportunity for hackers, too. Before you start investing in bitcoin, do a little research and figure out which crypto wallet will be best for you.
3. Research, research, research
Speaking of research, to become a successful Bitcoin investor, doing your homework is absolutely crucial. There is much hype around bitcoin but there are many facts, too. Avoid the noise and dig into what makes bitcoin work. You should understand the technology behind bitcoin, the underlying factors that drive demand, and how the price has fluctuated historically.
Reading whitepapers, following analysis, using analytics, and other forms of research are all good practices for bitcoin investors, but any research should go beyond these tasks. The cryptocurrency market is relatively new, so institutional information is not baked into other forms of investing. You must go and seek out the information on your own and do as much research as possible. Although this research may be more difficult and time-consuming than researching investments like typical stocks and bonds, it can also give you an investing edge that you could never achieve in those traditional markets.
4. Set a profit target
In 2011, each bitcoin was worth about $0.30. In 2017, bitcoin hit its all-time high water mark of almost $20,000 per bitcoin. That is a fantastic trajectory but it certainly wasn't a straight line from a few cents to tens of thousands of dollars. As mentioned above, the bitcoin market is volatile. For everyone who bought in at a few dollars and sold at a few hundred or a few thousand, there are also people who bought in near that all-time high.
Investors who thought bitcoin would just continue to go up and up and up, were probably shocked when it dropped to under $7,000 less than 2 months later and a year later, was around $3,700. The point is, if you get greedy, you can lose a lot. That is why setting realistic profit targets (and smart stop losses) is key to making money in bitcoin. Sure, you may miss out on a few extra dollars here and there but you will at least walk away with a profit and avoid losing your entire nest egg.
5. Go beyond bitcoin
Bitcoin was the first cryptocurrency.  It is still the biggest and by far the most well-known. If you want to invest in it, great. However, smart cryptocurrency investors know that you should never put all your eggs in a single basket. There are many great cryptocurrencies available that can also give you opportunities for huge profits.  As an added benefit, they won't cost nearly as much to get into as bitcoin, which has been trading roughly between $5,000 and $12,000 in 2020.
This is another situation where research is key but if you find the right cryptocurrency and get in early, you can experience the same profits that early bitcoin investors did. Take a look at altcoin investment options like other mining-based coins, stablecoins, and security or utility tokens. Cryptocurrency investing is a larger tent than you probably realize. Venturing outside of the bitcoin investing comfort zone makes a lot of sense.
Conclusion
These five tips should help any beginning investor get started in bitcoin investing. If these tips sound scary or unmanageable for you, there is no shame in staying out of the bitcoin market. If it sounds interesting and exciting, though, you should be ready to dive in head-first and start trying to make your fortune. Good luck!