It has been a rough few weeks for people with investments made on cryptocurrency but isn't that how it is supposed to be. You cannot just expect crypto to rise all-the-time. Otherwise, what is the fun in trading? Plus, we are all aware of its extremely volatile nature. It is not like any other asset. A few hard weeks or months must not be a reason why you pull out all your funding from this lucrative investment alternative.
In fact, if the graph is falling sharply, you must expect a sharp rise very soon. It is termed as one of the best long term investment opportunities you can build upon.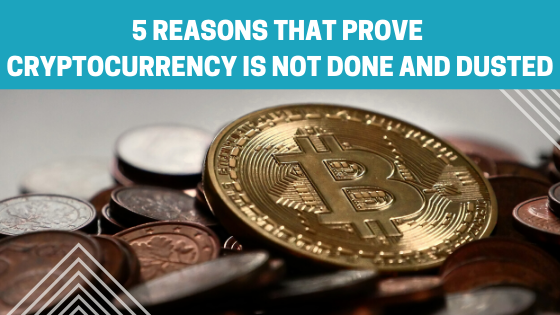 Experts believe that crypto and the people with their investments in crypto have a bright future ahead. Here's why:
It is a non-correlated asset
When you are considering investment as your mainstream of income, it is important to understand the different asset classes you can invest in. That is, you must know the nature of all the investment instruments along with its return behaviour with respect to their asset classes.
Crypto, for that matter, has non-correlated returns. A correlation of zero means that the returns on an asset are independent of one another. Moreover, the price movement on one has no effect on the price movement of others.
No investment can ever be termed as 100% secure. It's usually a game of 'higher the risk, higher the returns' and vice versa. However, Bitcoin, the earliest cryptocurrency has been referred to as a safe haven. Here's why: It doesn't care about trade wars, global dominance, recessions, annual returns or even wars. What makes it all the more fascinating is that it is a non-correlated asset (as mentioned above). Some call the safe haven a myth but no matter what, it still remains to be true.
This is what makes Bitcoin or any other cryptocurrency a class apart from other traditional assets. Investors tend to make their portfolio diverse and crypto will definitely prove to be a great addition to promising lucrative returns.
Benefit your Portfolio
If you analyze some successful portfolios and check low correlation stats, you will reckon that there is no meaningful correlation between cryptocurrency and other asset classes including equities, commodities, and property.
The lack of correlation in crypto proves to be beneficial as a portfolio allocation for all kinds of investors, like, asset managers, retail investors or even traders. You can even prove this statistically. Here's how: If you have an All-Weather portfolio with 60-40 (60% equities, 40% bonds), your returns can rise considerably even with small amounts of crypto-incorporation.
Before we move ahead, you need to understand that there is a difference between a negative correlation of asset classes and uncorrelated asset classes. When it comes to crypto, it is uncorrelated, which means other asset classes have no effect on their prices. However, when two asset classes have a negative correlation, a fall in the price of one can result in a rise of the price of others. Lastly, don't just look at crypto as a diversifier. There is much more to it. Of course, it will diversify your portfolio, but that shouldn't be the only reason why you should consider investing in it.
Highly Volatile
Crypto isn't for the faint-hearted. In fact, it is restricted in some countries also. What makes crypto different from the rest of the asset classes apart from correlation, and a must-have in your investment portfolio is its high volatility.
Inexperienced investors who haven't made it big will always perceive volatility as a negative factor of cryptos. On the contrary, investors who are earning in big numbers know that the higher the volatility, the higher the probability to capitalize on incredible amounts of returns.
In fact, high volatility presents an opportunity for you to earn high returns in a stagnant or even a declining market.
Potential of great innovation
Apart from amazing opportunities to capitalize on returns, high volatility also open doors for great innovation. This can be used to one's advantage.
In fact, a tool will be a massive success, especially if it is using artificial intelligence and machine learning. These tools render help in various ways ensuring big returns. For instance, some trading platforms can help you analyze the volatility of the crypto market, thus enabling you to utilize it for your advantage.
You are never short of opportunities for innovation with crypto.
Stay Independent
Crypto is free of any impact from other traditional currencies and it is another star-fact about it. The world we live in is highly affected by aspects like politics, international relations, trade wars, and political tensions. This indirectly affects a citizen's well being and moreover his monetary state.
Here's one example for you: Turkey's Lira fell by 20% overnight as the USA imposed additional set of sanctions. Likewise, the US dollar is getting stronger day by day, while the Indian rupee is getting weaker.
Amidst all the mess, when you get a currency that is free from all this – why would you not bank on it? Cryptocurrency is a very safe and secure alternative since it is not tied to the government's ability.
It is saddening to say, 30% of the entire globe lives in a country that has experienced significant currency depreciation in the last 5 years. Call it the country's central bank's inability to stabilize the country's own currency and never-ending suffering of the commoners. If you want to rescue yourself from this situation, cryptocurrency is a stunning option to rely upon, irrespective of what the economies might suffer in the future. It's a combination of anonymity and ease of conversion to crypto along with the ability to move funds overseas that make it such a lucrative investment option.
Wrapping up!
How should you generate wealth? If this question has been in your mind since time immemorial, your answer is right here: start trading in crypto.
If you haven't yet started, learn about it, and then trade. If you are already trading, don't stop, improve along the way. It is a shark-like investment opportunity among various other fishes in the sea. Whenever you feel like giving up, remember two things: everything written on the list above and that crypto is a process, not an overnight journey. That is, to reap benefits you, have to wait and pour consistent efforts for some time and not just blindly expect unprecedented results within 24 hours of functioning.