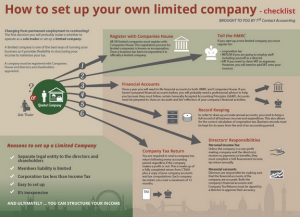 If you are considering registering a Limited Company or an LLP, here are 5 essential differences to consider when making your decision.
 1. Number of members
A Limited Company only needs one member (you)
A Limited Liability partnership needs two.
2. Liability of Members

In a private Limited Company, the liability of members is limited to the unpaid amount on shares.
In an LLP, liability is limited to the amount of capital agreed to be contributed by the partners in the event of winding up of the partnership.
3. Investment into the business                 
With a Limited Company, outside investors may contribute loans or share capital and take an equity stake, without having to become a director of the company.
With an LLP, outside investors may only contribute loan capital. Only members may take an equity stake; outside investors may not.
4. Taxation
Corporation Tax is applicable to a Limited Company, while individual members are taxed in a Limited Liability Partnership.
Capital Gains Tax is to the company and shareholders in a Limited Company, while in an LLP, CGT is applicable to members, but only applicable to the company in the case of insolvency.
PAYE is applicable to directors in a Limited Company, but not to members in an LLP.
5. Changes
Making certain changes, for instance the alteration of the capital structure or the transfer of shareholding is much easier with a Limited Company, compared to an LLP.
Related articles