It's important to do research on successful consignment businesses when creating your own business plan. What are the common denominators among the businesses that you admire? Which are most like the business you would like to run? When determining how you can maximize revenue, consider these suggestions for optimizing your potential.
Don't Get Stuck in an Online Rut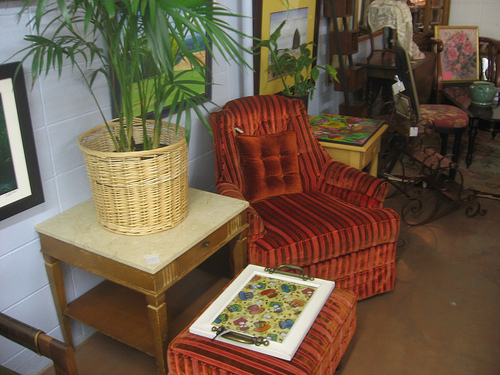 Image via Flickr by TheLivingRoominKenmore
Don't be afraid to branch out beyond the virtual realm. While many businesses have shifted promotional focus to the internet, don't forget to augment your online presence with clear community engagement. Think of the internet as a way to popularize what's going on with your "real" world business. Then share that with the world.
Show your engagement by posting pictures from a local fair or expo, table at an event with overlapping market audiences. Or take part in a donation drive. Getting your name and branding out in the world, even at a local level, is a verifiable way to generate larger buzz around your company.
Accept a Variety of Payment Types
Offering a myriad of payment options will broaden your customer base, given clients convenience and ease of mind. It's important, however, to know what to look for in a merchant services provider when considering broadening your payment options. Crucial considerations include evaluating your cash flow, estimating the number of transactions you'll be performing on a daily, monthly, and yearly basis, how many credit card types you would like to accept, and the processing fees that each services provider will charge.
Aesthetics Matter
Design your website, marketing materials, and social media profiles with care. The overall feelings and impressions that your pages engender will set the tone for the shopping experience and product selection. Ask yourself how you want your customers to feel and choose colors, designs, and verbiage with your target impressions in mind. Customers should know what to expect from your product selection even before logging on to your website. When it comes to your social media pages, adhere to the signature look you've created for yourself. Your marketing, colors, and verbiage should all match in an overarching theme.
Curate Your Consignment Inventory 
While your business plan, aesthetic, and approach are integral to the success of your consignment business, remember that your product must live up to the hype. Consignment is a unique business with a myriad of approaches available to the entrepreneur.
Capitalizing on trends is a great approach, but make sure you're prepared to quickly change your strategy as you adapt to new fads.  If you are limited by space and size of physical objects, then consider only taking used luxury or name brand products. These can sell for a higher premium, so selling fewer items can earn you plenty of profit. Maybe you want to focus on smaller items like jewelry. On the other hand, if space is not an issue you could get involved in an uncommon niche like handmade furniture or clocks.
Optimizing your inventory, marketing, space, and customer options will keep customers satisfied. It will ensure your startup makes the revenue it deserves.