As a new business owner, you have so much on your plate, the way that your warehouse is set up may understandably be very low on your list of priorities. However, just as you want to have a well-organized garage at home with your holiday decorations stored towards the back and the tools you use regularly in easily accessible locations, you want to devote some time to ensure that your new warehouse design and layout is efficient and logical.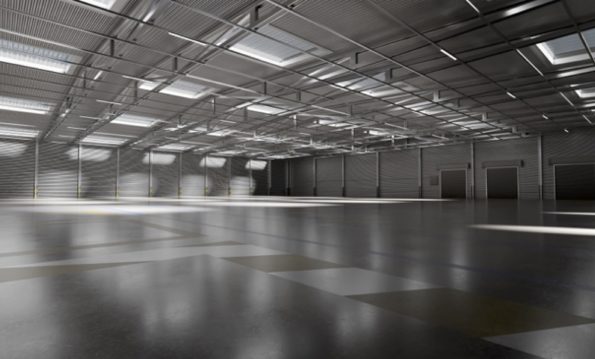 With this goal in mind, check out the following ideas and tips that will help your warehouse design, and in turn your business, be as efficient as possible.
Measure the Space and Watch for Obstructions
Prior to ordering shelving or other needed equipment for your warehouse, WH1.com suggests carefully measuring the entire space, including the distance between the floor and the ceiling. Also, take note of any obstacles like columns, sprinklers, doors and heating units. Once you have an accurate assessment of this info in your warehouse design, you can select and purchase the shelves, bins and other storage areas you need for your inventory warehouse, knowing that everything will fit correctly the first time around.
Next, Consider What You Will Access the Most
Now that you have a solid idea of how much space you have to work with and the shelves are in place, it's time to set up the inventory in a way that makes it easy to find and access what you and your team needs. The main goal, the Houston Chronicle says, is to speak with your employees and determine what goods you predict will be accessed the most — early orders might give you a reasonable idea about this — and also which items are the heaviest. By placing these parts, supplies and products close to the shipping/receiving and/or door closest to your main work area, you will reduce the amount of time your team needs to gather needed items, as well as save their backs.
Label Everything Clearly and Concisely
Any inventory that is in bins, boxes and shelves should be labeled. For added help for your team who is accessing the goods, you can also take a color digital photo of each item and put it in the space where it goes; this will help ensure that everything is returned to its correct spot. Don't worry about using shorthand for the labels — use a large all-capital font and spell out exactly what is in the box without abbreviations or nicknames you may forget later on. Once you have everything in its place and well-labeled, create a map of the entire warehouse and give it to all of your employees as well as post it throughout the space. This way, no one will waste valuable time hunting for something in the warehouse or be unsure what is in each box.
Protect Everything With a Security Camera System
As you are organizing your warehouse, it may strike you how many valuable pieces of equipment, supplies and products will live there, including important data and documents. Unfortunately, thieves also know this and may decide that they want to steal from your new business. To help add a layer of security to your warehouse, you should invest in a security camera system; for instance, Lorex sells a variety of security cameras that are ideal for business use. They take extremely sharp footage in 4K resolution, and feature the ability to practically see in the dark with their innovative Color Night Vision technology. This way, if some bad guys manage to get into the warehouse at 2 a.m. and are sneaking around with flashlights, the cameras will see everything.
This Will Get You Off to a Good Start
Once you have your warehouse up and running for awhile, you will undoubtedly make some tweaks to what is stored where — and that's perfectly okay. But the aforementioned warehouse design tips will get your warehouse in really good shape, which in turn will help your new business and your team to work as efficiently as possible.