If you're an aspiring entrepreneur or an active entrepreneur, chances are that you already know that social media is important. However, when we think of social media, we often think of Facebook and Twitter, forgetting about what might just be the most important network for entrepreneurs from a professional perspective.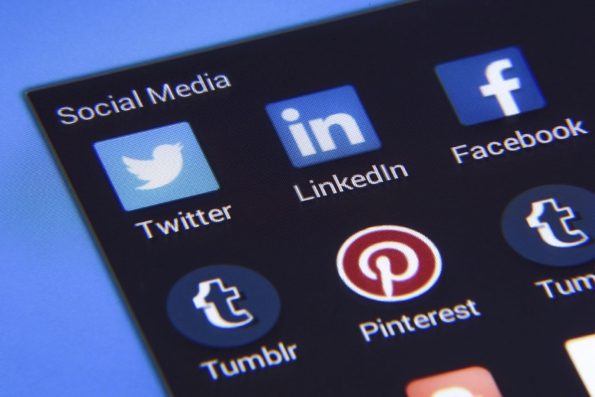 That network is LinkedIn, and if used properly, the connections made through LinkedIn can propel your level of success to the top. However, it all starts with having a solid profile. Today, we'll take a look at 3 LinkedIn profiles that entrepreneurs and aspiring entrepreneurs can learn from.
Profile #1: T. Harv Eker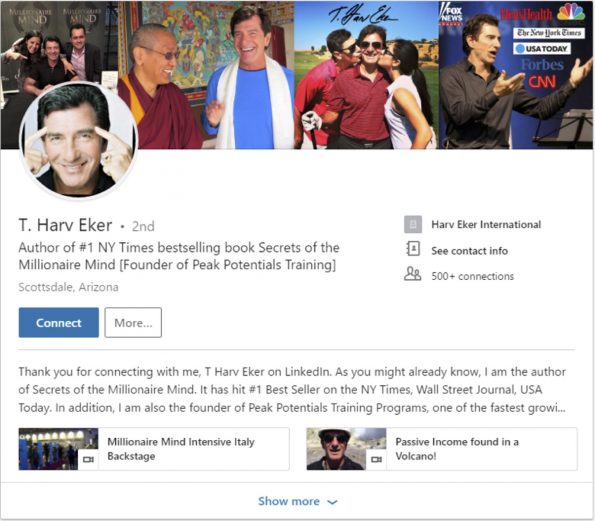 T. Harv Eker is a multi-millionaire entrepreneur, author and public speaker that made it to the main stage with the book "Secrets of the Millionaire Mind." His LinkedIn profile tops the charts with more than 500 high value connections. Here are some tips that can be learned from browsing his profile:
People Love To See People Happy – T Harv Eker's profile is filled with pictures of him and others smiling. The reality is that smiles are contagious and tend to act like magnets in the world of social media. So, make sure that your profile contains as many smiles as you can.
Create A Compelling Tag – T. Harv's tagline is "Author of #1 NY Times bestselling book Secrets of the Millionaire Mind [Founder of Peak Potentials Training]." As you can see, the tagline is very clear, concise, and shows a tremendous amount of value. The key here is clearly providing your value in as few words as possible.
Video Content – T. Harv Eker shares quite a bit of video content through his LinkedIn profile, giving visitors yet another source of valuable insight into who he is.
Profile #2: Nihal Mehta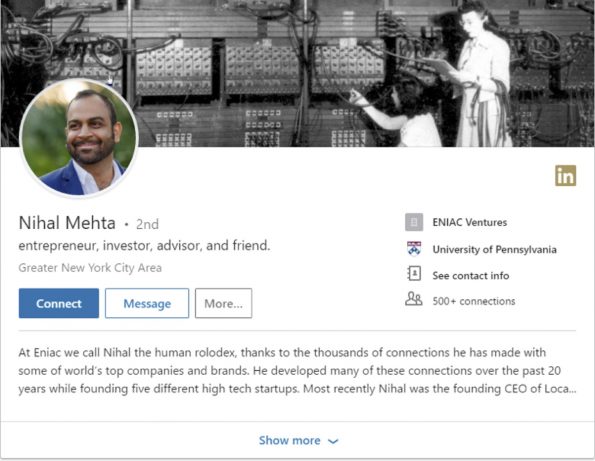 Nihal Mehta is another multi-millionaire entrepreneur. Nihal is the founder of ENIAC Ventures and due to his countless connections with high-level professionals, his colleagues call him the human rolodex. His LinkedIn profile is also one worth taking note of. Here are some tips that can be learned from his profile:
Don't Forget To Think Outside The Box – Like T. Harv, Nihal has a profile picture that shows him as a smiling, generally likable guy. However, his background picture is a more contemporary black and white image that will catch attention. While going with whatever comes to mind may not work, Nihal pulled it off with an out-of-the-box background image.
Short And Sweet – In his tagline, Nihal kept it short and sweet. His tagline reads, "entrepreneur, investor, advisor, and friend." While this is very short, the tagline provides a tremendous amount of value while giving plenty of insight into an overview of who Nihal is.
Endorsements – It's also a good idea to reach out to friends and colleagues for endorsements. Mr. Mehta has a ton of them and they really enhance his profile!
Profile #3: John Knific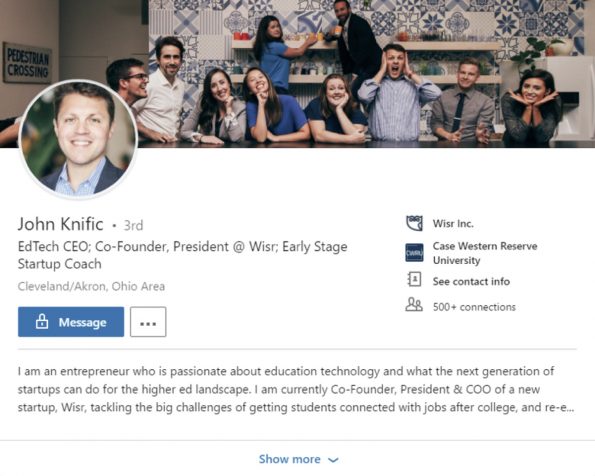 Finally, we have John Knific, the entrepreneur behind EdTech. Once again, when you take a look at his profile, you'll find something that is truly impressive. Here's what we can learn from John's LinkedIn Profile:
Smiling Yet Again – I think the first lesson that all of these profiles can teach entrepreneurs is that there is high value in a smiling face. Yet again, Mr. Knific's profile picture shows a smiling guy that seems like he would be well-liked.
Be Active – John is very active on LinkedIn, and it seems to be paying off well for him.
Experience – Finally, John does a great job with offering a detailed experience timeline. His experience is not only impressive, it's outlined well, showing that he took some extra time in showcasing his skills.
Final Thoughts
When you think about social media marketing, make sure that you remember to create and maintain a LinkedIn profile. If you're not sure where to start, take a look at the profiles above for some inspiration!