Blockchain technology is the new buzzword in the FinTech industry. Its development is fascinating the imagination of developers, investors, corporations, governments.
On April 6th, Fintech Storm, a meetup group founded by Arifa khan, hosted a great event to discuss about Blockchain technology. The event aim was to hear FinTech experts- investor, entrepreneur, regulatory expert and Business user of the technology- discuss about the issues and key challenges of this disrupting technology.
Speakers included:
Eddy Travia – CEO Coinsilium, Chief Startup Officer of Block Chain Space.
Coinsilium Group is a London-based blockchain investment, development and education company; targeting capital uplift through investments and in-house projects, and sustainability through revenues from professional and educational services.
Scott Riley- BlockChain Business lead- Kynetix
Kynetix is Commodities Blockchain Consortium. It is a provider of the industry standard software for commodity inventory management.
Vic Arulchandran – Quantitative & Operations Director,-Crowdaura
Crowdaura uses blockchain technologies and a crow funding interface to provide a platform solution for marketing, issuing, trading, settlement and administrating and decentralized financial securities.
Rayan Goutay- Regulatory Consultant, Goldman Sachs
Rayan has extensive experience advising well-known financial institutions and the UK Financial Conduct Authority on new European and US regulations.
Key highlights:
What is blockchain?
The word blockchain is made up of transactions grouped into blocks and posted sequentially in a chain to the ledger. Blockchain is a decentralized transaction database shared by all network nodes, owned, updated and monitored by everyone, controlled by no one. In others terms it is like a massive interactive spreadsheet everyone has access to and updates to confirm that the digital transactions are unique 
Investment overview in Fintech space
Investment is Fintech space has skyrocketed since 2014 as shown below.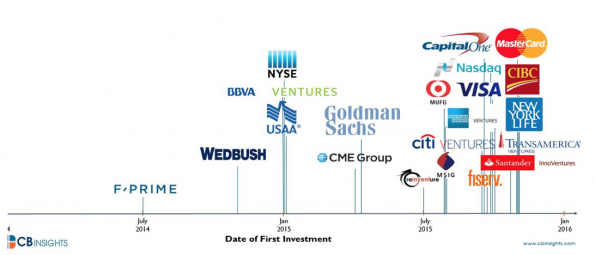 Key regulatory challenges
The basic AML & KYC
Privacy & Security
Operational & Legal risk
Dispute resolution
Risk of having an unfettered oversight of all financial transaction
Takeaways:
Important to work with regulator on the chain.
Storage of talents in the implementation of blockchain technology.
Blockchain technology can reduce the financial inclusion
Computation issues on the current version of the Blockchain technology
Some quotes from the panel