Virtual reality is no longer science fiction—here, it's, it's catching on quickly. Virtual reality is predicted to grow steadily, with a compound annual growth rate of 15% over the next ten years, with market size of more than USD 21 billion in 2021. (2022 to 2030).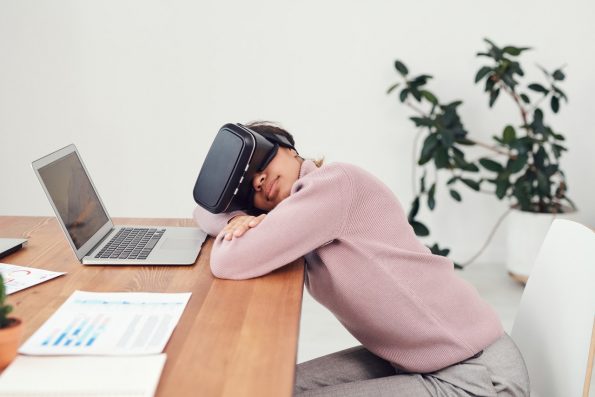 Image Source: Pexels
What Is Virtual Reality Marketing?
As described, virtual reality marketing is a marketing approach that uses virtual reality technology in marketing initiatives. It can help you connect with your target audience and improve brand engagement. Customers, for example, can interact with a virtual persona instead of reading content on a screen.
Virtual reality marketing, also known as immersive media and augmented reality, provides a significant opportunity for businesses to advertise their brands, generate sales, and improve consumer loyalty and retention.
Virtual reality (VR) creates a realistic, immersive simulation of a world that engages many senses and may be accessed via VR headgear or apps. VR can be used to apply a filter to a photo or video. Consider the filters on Instagram and Snapchat. Meanwhile, virtual reality headsets can "transport" users to a 3D virtual environment, increasing the simulation experience. The headset reacts to the user's movements, allowing them to see the virtual environment (360-degree view) and interact with the many digital elements within the simulation.
How Can Virtual Reality Aid Business Growth?
Virtual reality enables businesses to reach out and connect with potential clients in ways beyond traditional media such as television and magazine advertisements, opening up a world of promotional possibilities.
Given that customers' wants and expectations are continuously changing, virtual reality technology, or new technologies, can help organizations bridge the gap and respond to their customers' changing pain points.
According to Giga Works VR company businesses can use virtual reality marketing to construct branded digital environments to display their products or services. Digital experiences can be substituted for physical ones by brands. This allows customers to virtually try out a product or service in the comfort of their own homes. In addition, consumers may connect with your brand by creating a realistic digital environment, which can help with brand awareness and retention. 
Using virtual reality to communicate your narrative
Traditional media, such as television and movies, are excellent narrative tools. However, virtual reality takes the narrative to a new level.
Businesses may utilize virtual reality to develop more compelling brand stories and advertise their solutions. In The Displaced, the New York Times, for example, uses virtual reality to illustrate the narrative of how wars affect children.
Users were given an in-depth look into the devastation produced by wars and what it's like to be a youngster uprooted by such life-changing events through this multimedia experience. In addition, the experience enables readers of the New York Times to see what's going on, making VR and documentaries powerful storytelling tools that empower readers with emotional intensity and a connection to the brand.
You may also utilize VR to build unique experiences that allow customers to see your business differently. You can, for example, employ virtual reality to take consumers on a virtual tour of your facilities, giving them an up-close look at what goes on behind the scenes. You can demonstrate how you work or what happens during the product development or design. This provides your brand and what you're doing a more human face while also establishing trust and openness, which can inspire customer loyalty.
Additionally, because virtual reality logs a user's motions, businesses may use it to learn how customers might engage with their brands or products in real-world scenarios. As a result, VR can be a tremendous data resource for marketers, allowing them to tell more engaging brand stories.
Increasing the number of unforgettable experiences
Virtual reality allows customers to imagine your items and how they can benefit them. Instead of looking at samples, customers can utilize virtual reality to enter a digital environment that you've created, allowing you to demonstrate what you have to offer in real-time and how it might be a solution to their problems. 
You can create immersive environments using VR that give unforgettable experiences for your target audience, which can help convert them into warm leads or devoted customers.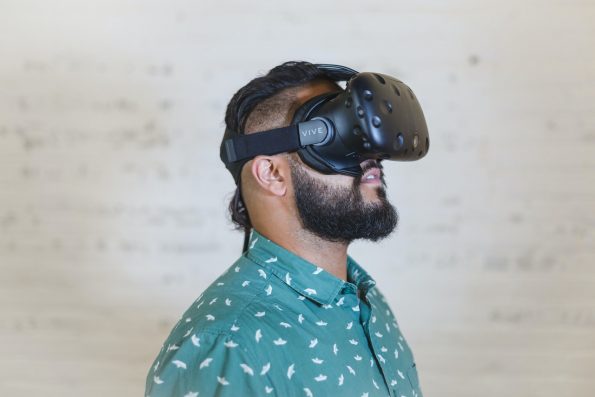 Image Source: Pexels
Virtual Reality Marketing Possibilities
Virtual reality marketing can assist marketers in creating compelling, engaging campaigns that effectively express your brand's story and capabilities.
You may use virtual reality to show off existing products and how new ones are being produced. This allows customers to have a closer look into the creative process and serve as a vital source of feedback.
Emotional engagement can be aided by virtual marketing.
Improved content marketing methods and the creation of more intuitive and immersive content are also on the horizon with VR. Marketers may use virtual reality to revolutionize how they deliver experiences by allowing customers to try on things before buying them virtually.
The real estate sector is one popular virtual reality application in the real world. Virtual tours allow real estate companies and agents to transport buyers to a home and inspect it for themselves, giving them the impression they are there. VR can also be used to exhibit a still-under-construction home, allowing purchasers to see what it will look like once it is finished and equipped.
VR is also making its way into the metaverse with virtual real estate. Sandbox and Decentraland are metaverse platforms that allow people to buy a virtual property and gain early access to the metaverse.
Now is the time for virtual reality marketing
Virtual reality isn't simply for amusement and gaming. Instead, it's a powerful and adaptable tool that's found its way into the marketing world. Early adopters are already using virtual reality to offer new ways of promoting material, allowing companies to generate interesting and memorable content for their audiences. While we have yet to see virtual reality's full potential, how various businesses and industries are already employing it can provide a glimpse of what this developing technology is capable of.
Conclusion
As more businesses adopt VR technology, we can expect to see even more innovative and effective virtual reality marketing campaigns that take advantage of this immersive medium. VR provides an unparalleled opportunity for companies to tell their stories and connect with their customers on a deeper level. With VR, the sky's the limit when it comes to creating unforgettable experiences that engage and inspire.