Since launching in London in January 2013, the start-up has gone from 0 to 20,000 restaurant listings, from 700 to over 700,000 unique monthly visits and from 0 to 12,000 restaurant reviews
London, 2 October 2013: London is believed to be one of the most competitive markets in the world, when it comes to consumer internet. Although a number of services cater to consumers in the 'deals' and 'delivery' space, there is no one market leader in the information and restaurant discovery space. Zomato launched operations in London with the intent to bridge this gap. That was exactly 10 months ago. As of today, Zomato provides in-depth information for more than 21,000 restaurants across London, Manchester and Birmingham, caters to over 700,000 unique monthly users and has over 12,000 user reviews.

Headquartered in New Delhi, India, Zomato's founding team comprises two Bain & Co. consultants, who started scanning lunch menus in an attempt to save their friends and themselves time, while looking for restaurants to dine at. This soon snowballed into an idea for a business and Zomato germinated from that idea in 2008. 4 years and 11 Indian cities later, Zomato had raised four rounds of funding totaling 16.5 million USD. International expansion was a natural next step and the firm launched operations in the UAE in mid-2012. In less than 12 months from Sep 2012, Zomato expanded to 7 new countries including the UK, South Africa, Philippines, UAE, Qatar, Sri Lanka and New Zealand. Currently, the firm lists over 120,000 restaurants, caters to over 15 million consumers and employs over 350 people worldwide.
The London Story:
A world-class product: The firm has always believed that product is king and it was important to ensure that the expectations of UK consumers were met. New and relevant sections like rooftop venues, weekend brunches and afternoon teas were added to both the UK website and mobile apps, which helped build the user base to a large extent.
Expansion in the UK: London was Zomato's first foray into the UK, but within 6 months, the firm launched operations in Manchester and Birmingham, covering over 2000 and 1500 restaurants in the two cities
respectively. Leeds and Newcastle are now being considered along with Edinburgh and Glasgow scheduled
for a launch in the next two months.
Industry tie-ups: day one, Zomato started working closely with local groups like the London Chamber of Commerce and London & Partners to make the right connections and leverage local networks to introduce the product. They recently partnered with toptable in the UK on reservations and table bookings and are looking to collaborate with top delivery platforms to offer consumers the best value for their time on Zomato.
September 2013 was a big month for the firm. A massive outdoor campaign targeted towards consumers was commissioned. The focus was on personalised messaging via tube ads and ads in national and trade publications. The campaign struck the right chord. Users and merchants alike approached Zomato directly, signed up on the website and downloaded the mobile app. In under a week, the website traffic showed an increase of over 5% day on day, of which over 75% comprised new visitors. User reviews increased by 200%. Mobile app downloads in London increased to over 2000 per day and the app jumped to amongst the top 10 free iOS apps in the food and drink category (from slot 84) in less than a week!
Pramod Rao, CEO, Zomato, UK, commented: "There is a definite need for a product in the restaurant discovery space and our growth in London and the UK is testimony to this. Our strength lies in the fact that we don't leave anything to chance. We believe in a completely 'do-it-yourself' approach. Zomato's reception and success in London has given us the confidence to invest further in the market. We're looking forward to the next phase, which is strengthening our presence in the UK with an expansion into Edinburgh and Glasgow."
Zomato is currently focusing efforts on product development, ensuring that the offering continues to reflect the needs of the market. They have just launched v3.1 of their mobile app and their website has been recently redesigned to include features relevant to UK consumers.
Zomato's journey in the UK: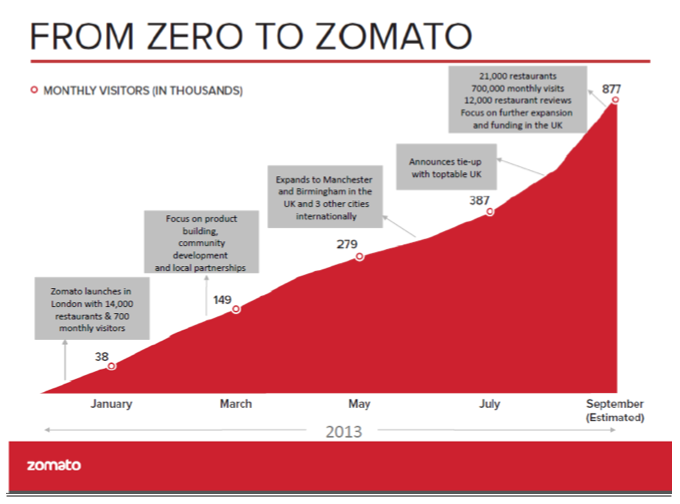 Related articles