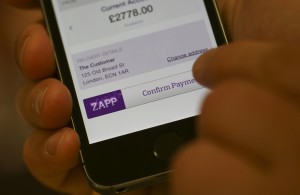 Elavon becomes the latest company to support Zapp. Elavon will work with Zapp to make Zapp available to millions of consumers through thousands of Elavon merchants
Elavon joins the already announced payment providers who are partnering with Zapp: WorldPay, Realex, Optimal Payments and SagePay. In total this gives Zapp access to hundreds of thousands of UK merchants
The UK's leading mobile payment innovation Zapp, today announces that Elavon has signed up to offer Zapp mobile payments to merchants and consumers from 2014. Elavon will work with Zapp in 2014 to provide a secure, convenient and simple way for customers to pay, instantly, for goods and services using just existing bank accounts and mobile devices.
The news follows the announcement in January of Zapp's lead financial partners – HSBC, first direct, Nationwide, Metro Bank and Santander – who are all supporting Zapp. Elavon join already confirmed Zapp payment partners WorldPay, Optimal Payments, Realex and SagePay who will help roll out Zapp digital payments to millions of consumers later this year.
Delivering innovation for merchants and retailers
Zapp enables merchants to benefit from higher conversion, lower cost and more secure checkouts. Zapp is integrated into existing high-street banking apps so consumers will be able to use their mobile device as a seamless payment tool, both in store and online, with no need to download any new app or transfer funds into different digital wallets. Zapp gives consumers and retailers a convenient, lower cost, alternative to cash and cheques.
Speed is crucial to retail success, Zapp enables money to be moved faster, providing instant settlement, and customers will move through the checkout process incredibly quickly. Zapp can also work with many technologies a retailer has in place at the point-of-sale, including NFC, Bluetooth or existing pin-entry devices.
Industries coming together to give consumers a new payment choice
Financial institutions and payment providers are all supporting Zapp due to the opportunities that mobile payments will unlock for UK business and the UK economy. According to the Centre for Economic and Business Research (Cebr)1 20 million adults will use their mobiles to pay for goods and services by the end of the decade, with the value of purchases tripling from current levels by 2018.
This announcement means Zapp is approaching near total coverage of UK payment providers. These innovative payment providers are committed to integrating Zapp into their payment systems and will also assist in launching Zapp to consumers from autumn 2014.
Payment Innovators partnering with Zapp
Elavon is a leading global payments provider, each year processing 3 billion transactions worth $300 billion (USD), with 1.3 million customers worldwide.
Peter Keenan, Chief Executive of Zapp, commented, "Momentum is increasing as Zapp moves towards market launch. This announcement means that thousands more merchants and millions of checkouts can use Zapp's best in class check out experience. I'm delighted to welcome Elavon into our growing ecosystem of partners. Zapp is an open and inclusive platform and it is hugely encouraging to see the industry coming together for the good of consumers."
Andrew Rush Head of Product Innovation at Elavon said, "Elavon is focused on payments innovation and continually extending the range of new services available to our customers. Offering a range of payment options at the checkout is crucial for retailers today; Zapp represents the leading UK mobile payment facility with the broadest financial services industry support."
Related articles