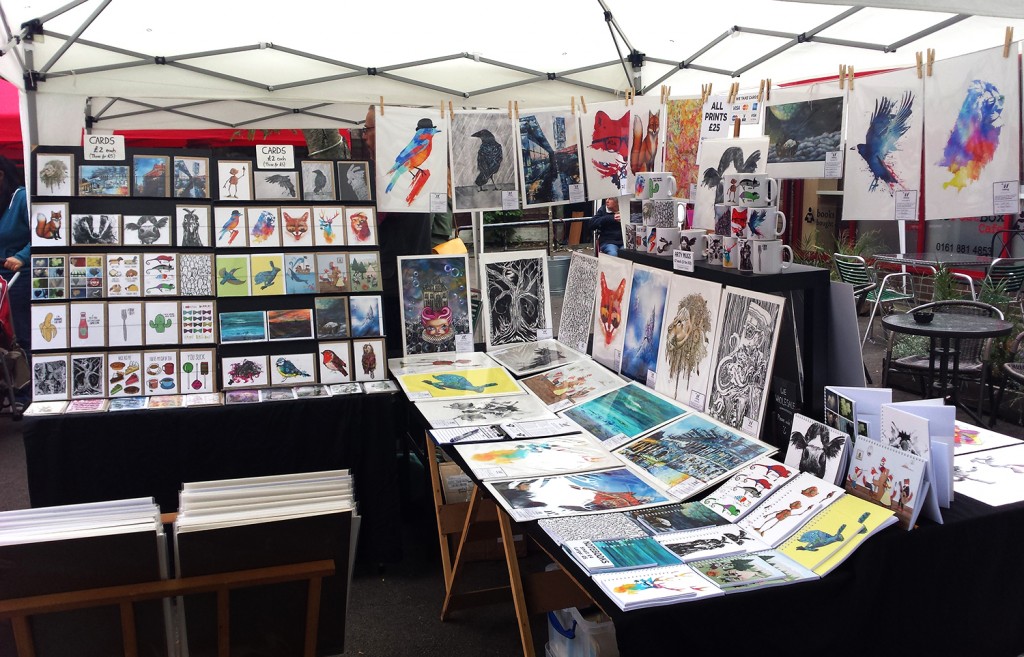 Wraptious is a growing community and shop of over thirty artists (Wraptees) who love to create and share innovative, awesome art. Essentially, Wraptious provides a platform that supports emerging contemporary artists and illustrators, in getting their work noticed to a wider audience as cards, homewares and stationery.
Who is Wraptious aimed at?
Anyone looking for something that little bit different. To brighten their or their friend's day with original, fun and contemporary homewares and gifts, while knowing they're making a difference to artists. From the perspective of the artists, anyone who is starting out and looking for new avenues to promote their work. They may still be at university, have just graduated or even be doing something very different and don't have the time, money or know-how to sell their work themselves.
Where did the idea for Wraptious come from?
Quite randomly actually. I was scribbling away on some post-it notes during a dull office meeting, and colleagues exclaimed my doodles would make great gift wrap! So for fun I thought I'd give it a go. But I soon realised that it's not as easy as it sounds – support for startup artists in the UK is extremely limited. It's inherently difficult for anyone creative to make a name for themselves – time, money, skill, opportunity, even confidence can all act as a barrier. There is a lot more talent than opportunity in this world! So what started out as a bit of fun, developed into a business plan for a new art platform – which ultimately led to me quitting my career and launching Wraptious.
How does wraptious stand out against its competitors?
The greetings and gifting industry in the UK is hugely competitive. Yet if you look around, how often do businesses actually promote the artists?! Our motto is 'Putting Artists First'. Our vision and every decision we make comes back to this – we want to bring all artists along with us on this journey and even seek out new artists via competitions voted on by the public! It's scary as we have no say on what gets chosen, but it's exciting and, we think, refreshing that it's our fans who get to decide what work we share. Other companies sell work often by 100s of artists – but you hardly ever know the stories behind the work. We think it's about time the artists shared a piece of the limelight! And in so doing are showcasing awesome work that's refreshingly different to what you will discover elsewhere.
Did you have any concerns when starting your busines, if so what were they?
There's always concerns when starting any business, and I could list them off for hours – financial woes, practicalities of digitising artwork, entering a competitive market space etc. If there weren't concerns and it was a low-risk venture, then everyone would be doing it. For us, it's been about solving one challenge at a time – that's the fun bit!
What is your business background, and what got you interested in startups?
Before launching Wraptious I worked for The John Lewis Partnership for 7 years, initially starting on the Waitrose Graduate Scheme and ending up as their Commercial Business Analyst. This was great for me as it gave me a foundation in both understanding analytics and business strategy, and in working with and getting the best out of others. People are the lifeblood of every business. Though further back than this, I was the MD of a Young Enterprise company that made it to the Regional Finals. It was this at the age of 16 that really inspired me into knowing that I wanted to launch my own business.
How did you initially raise funding for your company?
I haven't needed to raise any funds for the business yet. Instead, I've been living off my savings for the last year, which has allowed me to plough every penny of profit back into Wraptious. It's important to me that we grow organically too – rather than spend a fortune on a model that hasn't been tested, I wanted instead to stay lean – get product to market quickly and cheaply. There's no one better than Joe Public to let you know if you're on the right track! Finally, I'm fortunate to have a lot of talented friends who have been incredibly supportive – voluntarily building our website, doing our photography and branding, that has allowed me to spend funds instead on other areas of the business.
How have you built a community of strong artists?
Initially I would attend grad shows and exhibitions, or contact artists online whose work I really admired. I retrained as a graphic designer, which helped build up contacts within the industry too. Now we're more established, we are fortunate to have artists seek us out and emailing us their portfolios, or approaching us at events we attend. We would like to say yes to everyone! Instead, as I hinted at earlier, we run competitions biannually, inviting anyone to upload work to Wraptious.com. The artists with the most points, as voted on my the public, then joins us. It's a lot of fun, and much fairer than us deciding!
Do you still illustrate for wraptious?
I wish I had the time! I still get involved in graphic design work for friends, but as for Wraptious, I leave the artwork to far more talented individuals than myself! :p
Is there anyone else in the team behind the business?
Absolutely! Wraptious wouldn't be here today if it wasn't for the incredible support we've had this past year. Not least of course the artists themselves! We've just taken on someone who's now responsible for B2B, with the title 'Distribution Ninja, and another starting in February to manage our social media and marketing. Very exciting times! Finally, my good friend John-Paul built the website from scratch and has been my rock, picking me up during the lows and always questioning and challenging me to do better. Wraptious is nothing without his support.
What has been your biggest challenge so far as a startup owner?
The hardest challenge by far, has been deciding what not to do. There are so many routes we could take the business in and we're grateful to everyone who shares their ideas too, but for reasons of cash flow and time we can't do everything that we'd like to. Jack Dawsey, CEO of Twitter, once said that CEO should really stand for Chief Editing Office. The biggest challenge is to take on board all available options and then edit these down to the one or two ideas to follow through and do well. That's hard.
In the coming year, what would you like to achieve with your business?
2014 was about building up a strong foundation of artists, artwork and product. Going into 2015, for us it's now about shouting loudly about our community, and building a following all over the UK. We're going to be pushing marketing and B2B in a big way, as we promote our artists and tell their stories.
What are your thoughts on taking the illustrations submitted and printing them on clothing like T-Shirts? 
Definitely. Clothing is firmly in our sights and we're researching suppliers as we speak. What this space!
What has been your most valuable lesson so far since starting your business?
Cashflow is king! You could have the best business idea ever but if you have no cash you're dead in the water.
If you could give one piece of advice to someone thinking about starting a business, what would it be?
Get out there and give it a go! Start small and grow organically. Don't waste time and money developing something complex – get product quick to market, iterate often and listen to your customers. Oh, and if you haven't done so already, read The Lean Startup by Eric Ries.