The phrase 'Internet of Things' or IoT is being used a lot these days but do you actually know what it means? No? Don't worry,
Zenzero IT Solutions
have broken it down it's quite a simple concept really…

It is all to do with connecting any device with an on and off switch to the internet and/or other devices. The list of 'things' is endless and already includes everyday items such as your mobile phones and wearable devices to coffee makers, fridges, washing machines and lamps. It can also apply to components of larger products, such as the engine of an aeroplane or the drill of an oilrig.
According to Gartner, there will be over 26 billion connected devices by 2020, meaning that the internet of things is going to be a giant network that will affect a number of relationships including people with people, people with things and things with things. It has the potential to completely revolutionise the world as a whole but rather than explore the wider impacts, we thought we'd take a look at how the internet of things will impact small and medium businesses.
Internet of things is already here (how it is used?)
Although you may be new to the internet of things, and the term IoT is relatively new, the concept has been around for many years now. One of the earliest examples was vending machines were fitted with a SIM card to send data back to the office when stock levels reached an agreed level. No longer were delivery drivers sent to restock machines that had not been used when they should have been filling up empty units in other locations.
Last year, Milton Keynes became the first city in the UK to introduce a city wide internet of things network. A dedicated network was created by placing base stations across the city that would pick up signals from sensors installed on thousands of objects such as bins (signalling when collection was required) and car parks (informing how many parking spaces were available).
Car insurance companies have also been using the internet of things and the data it provides to encourage better driving and fewer claims pay outs. By installing devices in cars that collect data on things like speed and use of breaks, the car insurer can assess driving behaviour and reward good drivers with better premiums.
Some businesses are also using the internet of things to assess the efficiency and capabilities of their transport. Placing sensors in vehicles provides data on everything from engine function to tyre pressure and can alert operators to any issues, helping to prevent accidents.
How it impacts forward thinking businesses
If utilised correctly, the internet of things has the potential to offer a wide range of benefits to SMBs in the form of boosted productivity and competitive advantages.
One way forward thinking businesses could use the internet of things is to track behaviour for real-time marketing. By collecting data on consumers' behaviour, interests and lifestyles, SMBs can effectively tailor their marketing strategies to meet their needs. Not only that but with access to information such as where a person is or what they are doing, they could send through marketing notifications that are relevant to them at that very point in time.
An organisation with a mobile workforce (for example service engineers) could use vehicle tracking to know in real time the location of staff to optimise travel time when allocating jobs. If every engineer was able to make one more service call in a day the system would soon pay for itself.
Forward thinking businesses can also use the internet of things to optimise their processes and reduce excess consumption, leading to improved efficiency and lower costs. Data provided by devices can determine the best way of doing something, which will allow businesses to gain a significant advantage over their competitors.
This brings us nicely onto decision making, which again is something that the internet of things can impact positively. With access to more data, SMBs can make wiser and more informed decisions that lead to a brighter future.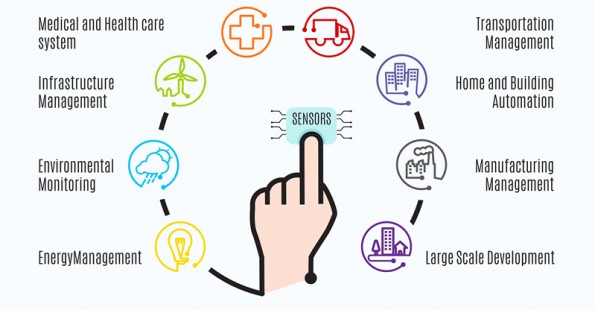 How the future looks for the internet of things
As it currently stands, the future is set to be dominated by the internet of things, with plans to connect every device that can possibly be connected.
Whilst some could possibly see the internet of things as a breach of privacy, there's no denying the efficiencies it offers. From a business point of view, it's probably one of the best things that could happen, as it gives them access to information about their products, services, operations and consumers that allow for better decision making. From a consumer's point of view the internet of things is also beneficial, as it will allow them to benefit from tailored marketing from brands and more personalised products that help to make their lives that little bit easier.
Source: http://www.zenzero.co.uk/how-will-the-internet-of-things-iot-impact-smbs/