A new, hot trend gaining popularity is university-sponsored business accelerators.  With more than 172 U.S-based accelerators identified across the country, universities are embedding these programs into local communities.  
Accelerators provide an ecosystem to support startups because they are a source of economic growth. www.brookings.edu/researchaccelerating-growth-startup-accelerator-programs-in-the-united-states/. Ideas, talent, capital and a culture of open collaboration are resources that are vital to start-up communities and are the bases of that entrepreneurial ecosystem of an accelerator.
Cultivating innovation and entrepreneurship is different than small business training.
Startup entrepreneurs need education and intensive coaching on how to execute business strategies. Mentoring is often provided and is sometimes offered by university alumni.  The processes can culminate into a demo-day pitch tied to gaining sources of capital from banks, angel investors or a fund.   
Some entrepreneurs receive an investment and access to resources valued at thousands of dollars, including legal and other services.
Business accelerators differ widely in offerings, structures and the availability of capital Participants are community entrepreneurs working on a second or third career, or students of a host university that want to start a business.  Accelerators tend to be fixed-term (often from six to ten weeks), with groups, between 5 – 25 participants, working on common goals and structured activities.
Confusion abounds between the concepts of incubators and accelerators. Researchers Susan Cohen from the University of Richmond and Yael Hohberg of Rice University help clarify the differences as shown in Table 1 below: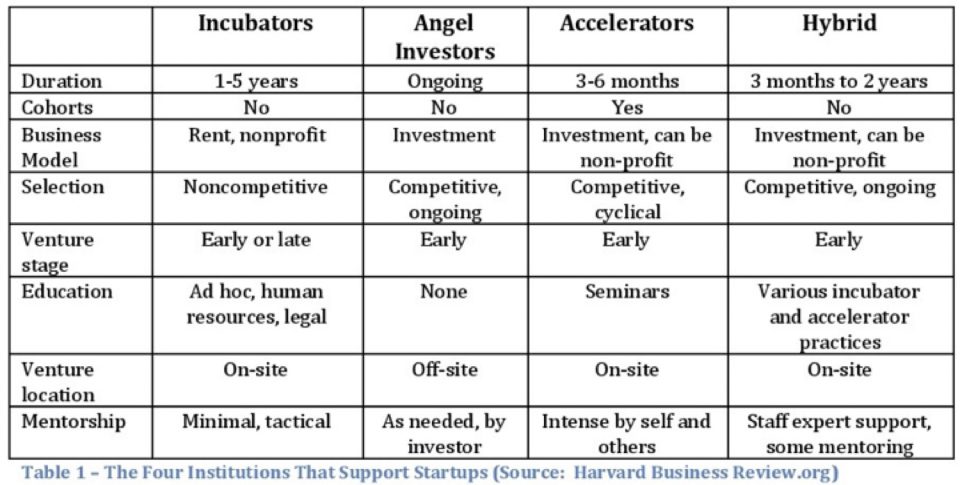 There are, however, some accelerators do not put a timeline on involvement. This model is more attributable to no-cost incubators or co-working space. Incubators, in general work to provide entrepreneurs tools and skills to help avoid failure before too much capital is involved.
Researchers imply that incubators may often shelter startups from the harsh realities of the world and may perpetuate a failing business.
Conversely, the accelerator process exposes startups to business realities more quickly. The fixed-term component is an important part of their efficacy. The inclusion of a business pitch day creates a deadline to evaluate the viability of a business venture. It is suggested that the fixed-term aspects of an accelerator tend to produce more favorable outcomes.
Contributed by Martha Carney, Executive Director of the Chicago area North Central College, Converge Center for Entrepreneurship and Innovation.