Venture Summit | West, presented by youngStartup Ventures, is one of many upcoming events helping both startups seeking capital and exposure, and investors seeking new deals. In its effort to advocate and be a resource for the startup community, The Startup Magazine is sponsoring this leading venture capital gathering in the heart of tech hub Silicon Valley.

This exclusive venture summit is bringing together over 700 VCs, Corporate VCs, Angel Investors, Investment Bankers and top founders of venture backed, emerging and early stage companies and will feature a distinguished line up of more than 130 VCs as speakers and judges, presentations by more than 100 Top Innovators seeking funding, and high-level networking opportunities.
Here are the four presentation tracks available to attendees:
Track I: Technology
Track II: Life Sciences
Track III: Clean-tech
Track IV: Seed Pitchfest
Event Details:
The event will be held March 13th-14th at the Santa Clara Convention Center in Santa Clara, California.
Click Here to Register Now and Secure your Place, or to offer to present as a startup or venture capital investor.
Use discount code "TSUMVIP" and save an extra $100 off the current rates OR $400 off the at-the-door rates. 
Particularly note the diverse participation including an influential group of leading women venture capital leaders.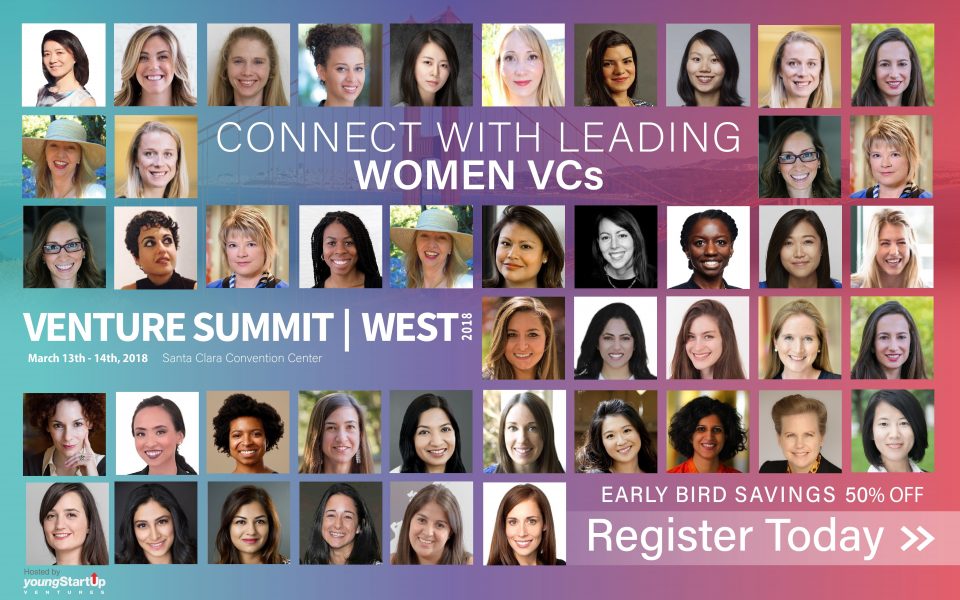 Partial List of Confirmed Venture Capital Attendees:
Sign up today to solidify your space.

Shan Aggarwal | Greycroft Partners

Shawn Ahdout | Alsop Louie Partners

Grant Allen | ABB Technology Ventures

Dan Altschuler Malek | New Crop Capital

Seth Bannon | Fifty Years

Ethan Batraski | Venrock

Andrew Beebe | Obvious Ventures

Jacques Benkoski | U.S. Venture Partners

Ashley Bittner | Owl Ventures

Kris Bjornerud | Wavemaker Partners

Ryan Bloomer | Kairos Fund

Edouard Bulteau | Total Energy Ventures

Gareth Burns | Statoil Energy Ventures Fund

Terri Burns | Google Ventures

Leah Busque | FUEL Capital

Alicia Castillo Holley | Sand Hill Angels

Bryan Chang | Collaborative Fund

Amit Chaturvedy | Cisco Investments

Sunil Chhaya | NextWorld Capital

Asha Collins | Pipeline Angels

Kathleen Collins | Industry Ventures

Rafael Costa | Vulcan Capital

Heather Crawford | Band of Angels

Sanjit Singh Dang | Intel Capital

Marianne De Backer | Johnson & Johnson Innovation

Angelo Del Priore | HP Tech Ventures

Lidiya Dervisheva | G2VP

Cong Ding | Comcast Ventures

Dan Doble | SABIC Ventures

Yizhen Dong | 11.2 Capital

Vijay Doradla | Verizon Ventures

Tim Draper | Draper Associates 

Tom Eggleston | Charmides Capital

Jeff Ellington | FUEL Capital

Laura Evans | Wildcat Venture Partners

Michael Fanfant | Runa Capital

Banafsheh Fathieh | Naspers Ventures

Curtis Feeny | Silicon Valley Data Capital

Zoe Feldman | Almanac Investments

Victoria Fram | VilCap Investments

Lea Freeman | Qualcomm Ventures

Ann Gaddy | BioPacific Investors

Shruti Gandhi | Array Ventures

Alicia Garabedian | SamsungNEXT Ventures

John Giannuzzi | Sherbrooke Capital

Yael Gilboa | DBL Partners

Andrew Goldberg | Vivo Capital

Zach Gonzales | Norwest Venture Partners

Rashmi Gopinath | Microsoft Ventures

Rich Grant | Touchdown Ventures

Kanu Gulati | Khosla Ventures

Baris Guzel | BMW i Ventures

John Hartnett | SVG Partners

Yash Hemaraj | Benhamou Global Ventures

Scott Horner | Middleland Capital

Carolina Huaranca | Kapor Capital

Wally Hunter | EnerTech Capital

Villi Iltchev | August Capital

Noel Jee | Illumina Ventures

Jennifer Kaehms | Canvas Ventures

Ansaf Kareem | Lightspeed Venture Partners

Eylul Kayin | NEA

Eva Khoo | Vertex Ventures

Maxwell Kim | Interwest Partners

Jocelyn Kinsey | DFJ

Howard Ko | Morpheus Ventures

Lauren Kolodny | Aspect Ventures

Gabriel Kra | Prelude Ventures

Shrina Kurani | Better Ventures

Michael Lavin | Germin8 Ventures

Rob Leclerc | AgFunder

Lisha Li | Amplify Partners

Robin Li | GGV Capital

Shripriya Mahesh | Omidyar Network

Lisa Marrone | August Capital

Susan Mason | Aligned Partners

Tom Mastrobuoni | Tyson Ventures

Melina Mathur | Asset Management Ventures

Katie McCann | Mighty Capital

Brad McManus | Motorola Solutions Venture Capital

Irem Mertol | McKesson Ventures

Ben Metcalfe | Ridge Ventures

SC Moatti | Mighty Capital

Alex Morgan | Khosla Ventures

Stephanie Mui | NEA

Ravi Mulugu | Next47

Ami Naik | Radical Impact

Ben Narasin | NEA

Suman Natarajan | Citi Ventures

T.T. Nguyen Duc | Pearson Affordable Learning Fund

Marlon Nichols | Cross Culture Ventures

Anita Nunes | Pipeline Angels

Jay Owen | DOM Capital Group

Luke Pappas | NEA

Preetha Parthasarathy | Intel Capital

Heidi Patel | Rethink Impact

Lauren Michelle Pfeifer | Maschmeyer Group Ventures

Ulrich Quay | BMW i Ventures

Aanand Radia | University Ventures

Vivek Ramaswami | Redpoint Ventures

Brandon Reeves | Lux Capital

Bill Reichert | Garage Technology Ventures

Lucas Rocha | JetBlue Technology Ventures

Michael Rose | Better Food Ventures

Praveen Sahay | WAVE Equity Partners

Priya Saiprasad | Microsoft Ventures

Maria Salamanca | Unshackled Ventures

Parsa Saljoughian | IVP

Uday Sandhu | Presidio Partners

Shrikant Sathe | Vedanta Capital

Ken Sawyer | Saints Capital

Carol Schrader | Astia Angels

Reese Schroeder | Tyson Ventures

Abhishek Sharma | Nexus Venture Partners

Ajay Sharma | JetBlue Technology Ventures

Lindsay Sharma | Industry Ventures

Han Shen | iFly.vc

Abhishek Shukla | GE Ventures

Monica Simo | Chan Zuckerberg Initiative

Richard Simoni | Asset Management Ventures

Ajit Singh | Artiman Ventures

Ishan Sinha | Point72 Ventures

Tanya Soman | 500 Startups

Pedro Sorrentino | ONEVC

Michael Stewart | Applied Ventures

George Straschnov | Bisk Ventures

Li Sun | Bessemer Venture Partners

Rajesh Swaminathan | Applied Ventures

Sydney Sykes | NEA

Chuck Templeton | S2G Ventures

Sydney Thomas | Precursor Ventures

Leigh Thompson | Dow Ventures

Esther Tricoche | NewSchools Venture Fund

Jeff Truong | Altos Ventures

Marc van den Berg | DBL Partners

Anarghya Vardhana | Maveron

Kamal Vasagiri | GE Ventures

Sophia Viklund | Golden Seeds

Phoebe Wang | BP Ventures

Tim Wang | Westly Group

Dea Wilson | Tech Angels

Jen Wolf | Initialized Capital

Matthew Wukasch | Charmides Capital

Brandon Yahn | Convivialite Ventures

Chris Yeh | Wasabi Ventures

Elizabeth Yin | Hustle Fund

Kevin Zhang | Bain Capital Ventures

Lu Zhang | Fusion Fund
 Is this article helpful? Please leave feedback and comments.