Social proof may be a popular marketing buzzword nowadays, but the concept extends way back in our evolutionary past. The ancestors of all primates existing today learned important survival skills by emulating and imitating each other, using mirror neurones. Our brains are still running on the same 'monkey see, monkey do' software as early humans. Whether it's preventing us from going into an empty restaurant, compelling us to read product reviews before purchasing, or encouraging us to dump a bucket of ice water over ourselves  – social proof exerts a powerful influence on us.
Social proof can even be more motivating than a financial incentive. Consumers, like email marketers, are looking for a high ROI from their purchase. You can leverage social proof to win their trust and sell the added value of your product. But how should this be applied in an email campaign? Here are a few tips to steer you in the right direction.
Let your customers do the talking
Your greatest brand advocates are not on your marketing team. They are your loyal customers, who share your product or service through word-of-mouth (WOM). A referral email campaign relies on the same principle but simply adds momentum, helping you grow your customer base organically and quickly. You can draw inspiration from brands such as Uber and Graze when designing your referral program, but the fundamental ingredient is to make it easy for customers to introduce you to their friends. You should emphasise the call-to-action (CTA) with lots of white space and keep the copy short and sweet.
As well as gaining exposure, you can also use social proof to fuel engagement. A glowing testimonial is a great example. After all, you may have a good insight into why your customers love you, but who better to put it into words than them? Include a high-quality photo of a real customer to add an authentic, human element. Relate to every individual by sending relevant testimonials to different segments of your customer base.
There are several ways you can optimise how you collect testimonials or reviews. Amazon keeps it simple, using a star rating system which is clickable within the email: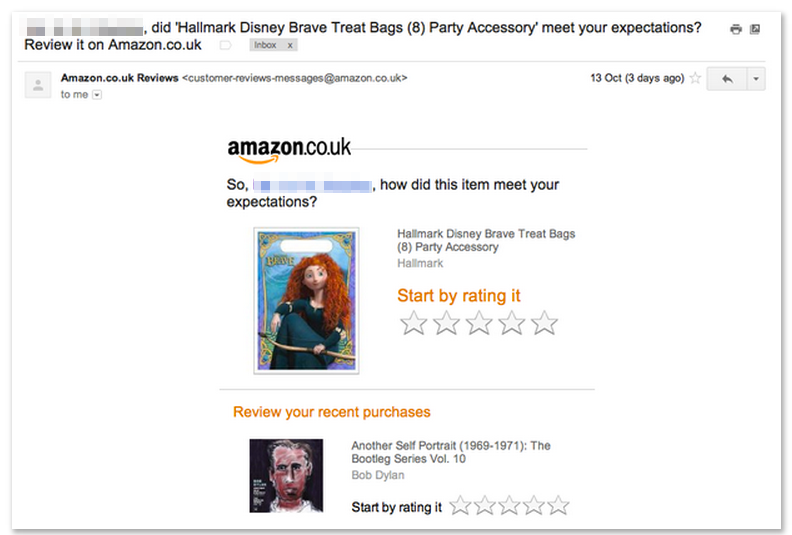 Again, incentives always help. You could use a system where customers who leave a review are entered into a prize draw. This may also persuade customers to leave more positive reviews. Timing is also important here; capture a customer's initial enthusiasm about your product by asking for a review a week or two after they've received it.
Collecting feedback also helps you to make your email marketing more relevant to each individual, as you can combine it with your analytical insights to tailor content to different users. Your subscribers will then be less likely to complain about you, either online or offline.
Blow your own trumpet
Prove to your customers that you're a first-class brand (even if they already know it). Showcase any industry recognition you receive in your emails, e.g. place your awards in a small badge next to your logo or header. Dedicate a campaign to any positive press mentions, and make your customers feel included by inviting them to like/share the news on social media.
There's safety in numbers
Include the number of email subscribers you already have next to your signup form. Problogger does this well: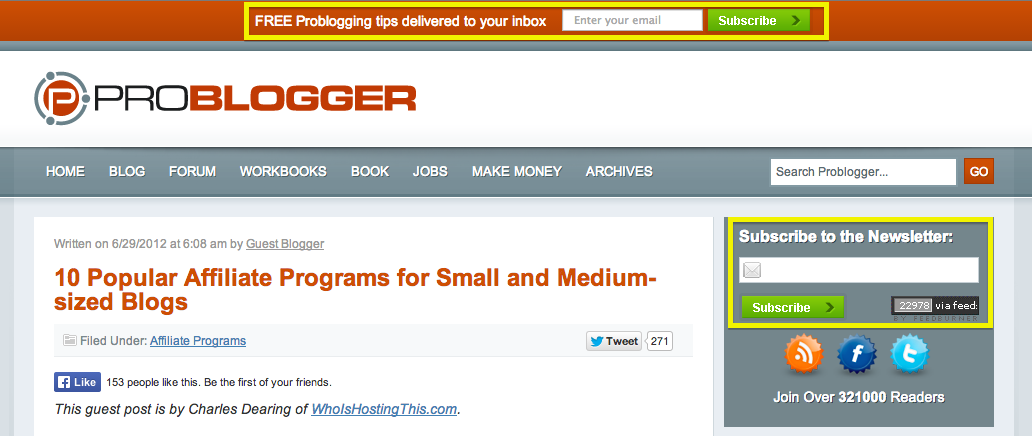 Improve your shareability
Integrating your email and social media strategy is important for driving more exposure to your brand. An email subscriber who becomes a social media follower has two channels through which to spread your message, amplifying your reach. Encourage subscribers to get involved with your social media community by including links to these in your emails. If you run a Twitter chat, send an email encouraging new subscribers to join in the fun as part of your welcome-series. Include an email newsletter signup button on your social media pages.
You should also cross-share content between email and social, to leverage it to its full potential. Here is a great example by Coca-Cola: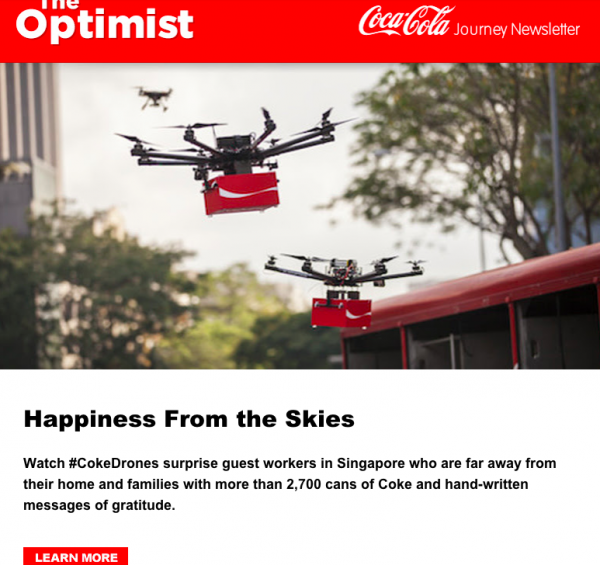 Also, some customers may not interact with email as much, so social platforms are a great way to gain extra exposure for each piece. Use a tool such as Klout to measure your social influence and get tips on how to create shareable content.
Try using these tips to add social proof to your emails. Not only will you get more customers onboard, but you'll also engage your existing ones by showing that you value their opinions and contribution. So why not get started straight away? After all, all your competitors are doing it.
What have you found from using social proof in your email marketing? If you have any advice to improve the wisdom of the crowd, leave us a comment below!