It takes only seven seconds of meeting someone for them to have a solid impression about you and your business venture, according to Forbes. Making a great first impression matters a lot in business. Your attitude, behavior, and personal presentation influence your clients' decisions from the moment they meet you. Customers will likely gain confidence in your brand if you project an impressive image.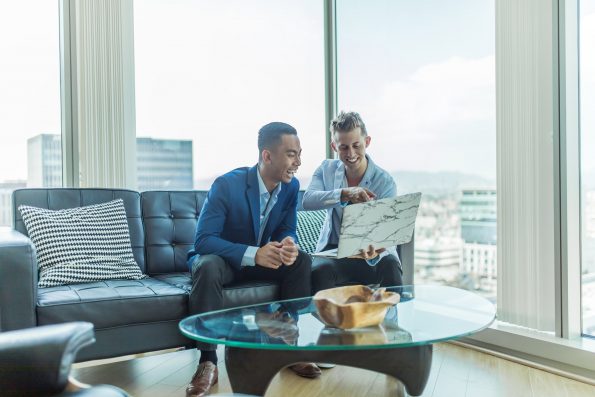 Suggested image: https://unsplash.com/photos/jpHw8ndwJ_Q
 Whenever you approach target consumers or even investors, make sure you create positive first impressions that inspire them to do business with you. While it can be difficult to impress people within a few seconds, there are several ways to accomplish this goal. Here are simple tips for creating professional first impressions for your business.
Provide Excellent Customer Service
The quality of customer services in your company can turn prospects into loyal customers or stop them from interacting with your brand. If you're looking to give clients a positive perception of your organization, start by improving your customer service. There are plenty of ways you can achieve the best results. Consider creating memorable customer experiences, give irresistible offers, personalize customer services, and provide reliable customer support. Simple practices like greeting customers with a warm welcome and answering queries promptly go a long way in creating a positive first impression for your business.
Improve Aesthetics In Your Premises
The appearance of your business premise is crucial, as it can make or break the brand image. Ensure your facility looks well maintained by installing custom roofing and adding a fresh coat of paint. Dressing your windows is also a great way to make your business stand out and encourage customers to walk in and make a purchase. When it comes to the interiors, comfort and cleanliness are vital for giving a first great impression. Fitting comfy seats in the reception is one way to impress clients. Also, make sure the restrooms, floors, and high-touch points like doorknobs and handles stay clean always. While you and your employees can clean the workplace, it pays to hire professionals. For example, if you want to give your floors a beautiful, shiny appearance, consider hiring professional floor polish services. Experts will clean, wax, and polish floors using advanced techniques to keep your premise clean, attractive, and welcoming.
Punctuality and Presentation Count
As an entrepreneur, you should strive to build a reputation for being reliable. A rule of thumb is to arrive for meetings as scheduled, right from the first meeting. Doing so gives the impression you're committed to deadlines and satisfying customer needs. It is also advisable to prepare your presentation days ahead. You want to make a good first impression that you have the knowledge and expertise on the topic you'll discuss. Preparing for a meeting entails researching details about the person you're meeting and what you'll be discussing. You need to understand the objectives of the meeting and determine the obstacles and possible outcomes beforehand.
Creating a first positive first impression in your business shouldn't be difficult. All it takes is some improvement in your customer service. Also, create a comfortable atmosphere in and outside your premises. If you meet clients often, be punctual and come prepared with excellent presentations.