Starting a new business can be an exciting venture and one that toxic links to your newly acquired domain should not dampen.
You may be starting a fresh with a domain that you are registering or you could be buying a domain from somebody else. If that's the case it's really important to check that the domain hasn't previously been spammed beyond belief.
Here are some quick things that you can do before you purchase your new domain:
Search for the domain using 'site: domain.com', if there are no results it could be a bad sign. However if the site is currently parked, Google does try to take these out of its results
Search for domain name (minus the '.com') to get a feel for the reputation of the domain. Establish where people are talking about the domain and the overall sentiment
Use archive.org to see what the previous versions of this site looked like. On the face of things, did it look like a spammy website?
If you are buying the domain off the current owner ask to see the analytics or web master tools console to check for any messages. This should give you an insight into the traffic over time, allowing you to determine if there were any significant drops in traffic
Keyword-stuffed content, link cloaking and bought links are just a few of the tactics that once helped website owners and SEOs to drive their sites up Google's search engine results pages (SERPs).
It is these tactics that are considered black-hat in contemporary search engine marketing, and it's links generated by these unnatural schemes that link auditing, removal and recovery helps you to conquer, as they could be detrimental to your start up business. It is a process that detects unnatural links, removes them and helps you to build fresh, credible links.
The advice from Google's Head of Webspam team, Matt Cutts, is if you believe that the previous site owner was spamming, you may consider disavowing the links on that domain to try and get a fresh start when you are ready to take the domain forward.
The method of removing unnatural links does differ slightly depending on what type of penalty Google has issued: manual or algorithmic. The following infographic illustrates the link removal process followed by digital marketing agency, Click Consult.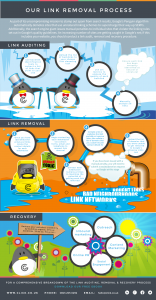 Further information is available within their recent Link Auditing, Removal & Recovery eBook, designed to help website owners overcome Google penalties.
Related articles