Office kitchens require the necessary tools in order to maintain a professional and comfortable atmosphere for their employees. Without a good office kitchen, employees may not be inspired to work as well, especially when you're a startup trying to attract hip, young talent. Meetings, meals, and breaks take place in this space, which is why it's important for your startup to make sure this room has all the necessary tools and features. Here's our list of the most essential kitchen tools to keep on hand that will ensure a happy and energetic staff.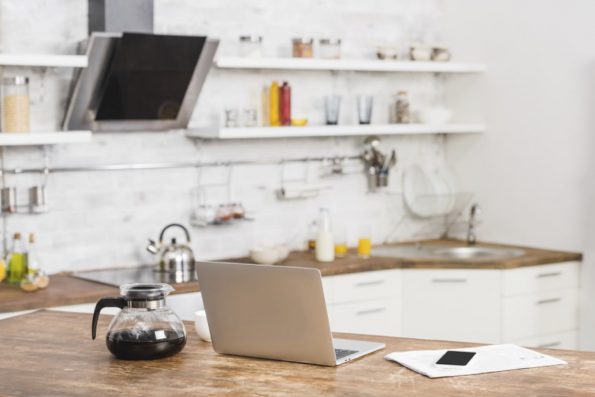 Refrigerator
Be it a beverage-sized or regular-sized fridge, you'll need it not only for drinks, snacks, and the occasional after work beer, but also for all staff meals that they bring in themselves. If you're a small startup of ten people or less, then a massive double-doored fridge may be a bit excessive. Consider your staff size before buying one. However, having a proper-sized fridge in the kitchen shows your employees that you want to take care of their nutritional and/or budgeting needs when they bring in their own lunches. A few of the finest office refrigerators are the Coolmed Staff Room Table Top – CMS 50, the Icepoint Undercounter Chiller Cooler Fridge, or the Frigidaire Gallery.
Coffee/Espresso Machine
To cater to the highly caffeinated generation of millennials, it's a must for every startup to have coffee and/or espresso machine. Some employees wait until they get to work for that first fresh, eye-opening cup of coffee, while others like to drink it all day to keep their stamina up to par. There's a very good chance that many of your employees are going to be coffee lovers — and they'll want it piping hot, fresh, artisanal, and tasting delicious. Investing in a top-quality machine is worth the boosted production you will receive from your happy employees. Take a look at these perfect office kitchen choices to brew your best cup of java. Our favourite brands include Rocket, Nuova Simonelli, FRANKE, Quick Mill, La Pavoni, FRANKE and La Spaziale and can be found at Majesty Coffee and all other high-end coffee machine retailers.
Tea Kettle
Of course, not every single one of your office employees is going to be a coffee lover, even if you have a superb coffee machine that pours the best cup of joe on the block. Plenty of people prefer a warm cup of tea, so keeping a nice selection of teabags is always a good gesture — black teas like Earl Grey and Darjeeling to green teas like Jasmine and Matcha to herbal teas like Chamomile and Fennel. You could force your employees to heat their water up in a microwave, but most tea drinkers prefer a steaming kettle, and this kitchen item doesn't have to break the bank. Some of our favorite brands include the Cuisinart Aura, Breville, and Bosch.
Water Cooler
Now here is a necessity for every office kitchen. Despite having your coffee machine and tea setup, water is a major essential for every employee on your staff throughout their working day. Tap water nowadays can contain all sorts of issues and supplying your staff with a quality water cooler shows you care about their well-being. Many water coolers these days also include a sparkling water option that adds bubbles to your basic glass of water. The following list of popular water cooler suppliers is not exhaustive. Aquahot, AquAid, Brita, BWT, and Cactus Water Systems. If a water cooler isn't an option, then aim for a water filter you can add directly to the kitchen sink tap.
Ice Maker
If you really want to impress your staff, having a decent ice maker in the office kitchen is a huge benefit, and although it's not a necessity, supplying this kitchen tool will guarantee happy workers on a hot summer day. Look online for these stainless-steel ice makers we think are top dog – EdgeStar IB120SS, NewAir Clearice 40, or Luma Comfort IM200SS.
Microwave
This is a no-brainer essential tool for any office kitchen. Microwaves are now a business office staple, and employees will use one for multiple reasons such as reheating lunch, soups, snacks, or even some may even want a quick cup of tea. You need a trustworthy microwave to get your money's worth. Primarily, it is necessary read product reviews like the Toshiba microwave review. This will help you gauge on the item you are buying. Just about everyone on your staff will use one, and it's affordable and easy to maintain. A few quality commercial microwaves that can get the job done daily are the Samsung CM1099XEU, the Sharp R-21AT, and the Sharp R-22AT.
Toaster
This is a key item for those wishing to grab a quick snack through the day. Having one in the kitchen may also mean that your employees who are running late can still enjoy a quick breakfast before getting to work. Keeping a toaster on hand is a good choice for your kitchen, and it's almost guaranteed that it will be used quite often. Pick up one of these larger toasters to maintain a classy look – Waring Commercial Toaster WCT708, Toastmaster TSM-TP409, and Cadco CTW-6M220.
Waste Bin
It may seem silly to mention this, but not supplying a covered large can for trash removal will make for a messy office kitchen. But there's no need to spend much time looking into these items — here are some sensible waste bins to consider: iTouch 13 Gallon, iTouch Softstep, and the Homelabs Automatic Motion Sensor. All found on Amazon.
Plates/Bowls/Cups/Glassware
While not essential to a company kitchen, keeping a handy amount of each of these serving tools will go a long way in creating a kitchen environment that is well thought out. Why not have them personalized with your startup office's logo to create an inclusive feeling?
Spoons/Forks/Knives/Serving Utensils
It really goes without saying that if you want to round out your office kitchen, each of these utensils are a must have and will probably be the most used tool by staff. Make sure you have a good supply of these on hand, and possibly even a stack of plastic utensils for employees who want to take their food on the go.
So if you're putting together your startup office space, then these are the ten essential office kitchen items your employees will want to see and use the most. A decent investment will guarantee long use out of each of them as well as a comfortable and cosy work environment for your staff.