It is known that successful business people act as such in their daily life. So, to learn from the best (and because we were curious), we went out to check what the life of marketing expert David Galperin looks like, one of the leading and most well-known personas in the Haredi marketing niche. We will look at his inspiring workday and try to understand: What is the secret to maximizing the potential of your day?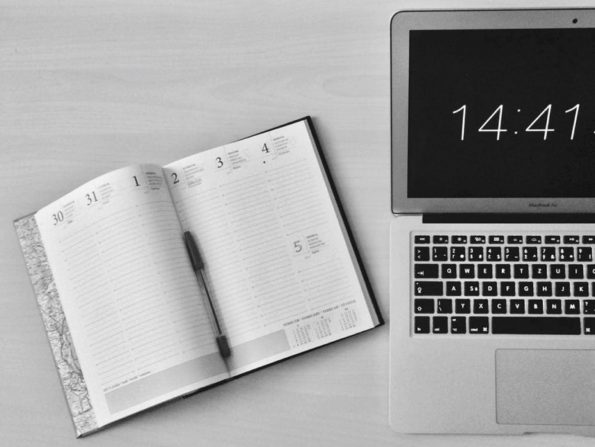 4:45 a.m. – Start your day by controlling it
I start my day off as early as possible. I truly believe in the quiet hours of the beginning of the day, this is my chance to thank Hashem for what I have and to stock up on some positive energy. In the past, I would work nights and get up very late, but I reached a conclusion that when you wake up early in the morning, you can reach a state of control of your day, instead of reacting to circumstances. Nobody calls you or bothers you at 5 a.m.. there is no traffic holding you back. On your way to work, you can enjoy some serenity before everything starts. 
6 a.m. – A healthy mind in a healthy body
Another thing that helps me start the day off on the right foot is exercising early in the morning. To stay fit and to be persistent, I use the help of a personal trainer every morning. That way I know I, David Galperin, have no choice but to get up early for my morning exercise. Other than the fact that I work out, I like to diversify with aerobic activities and ping pong. Each one of these sports provides me with a different thrill. After my workout, I often go to the sauna or the jacuzzi at my gym, get ready, eat a good breakfast and go to work.
8 a.m. – First at the office
One thing I realized over the years that is right for me to do as an employer and a business owner is to get to work first. I am the CEO and the owner of "Gil Group" – an advertising firm for the Jewish orthodox sector, which provides media solutions and extensive packages to large- and medium-scale businesses. Some bosses allow themselves to arrive late, but I like to meet people who come in and not to be "greeted" by issues. During this time, I plan my day ahead, check what tasks I have left from yesterday and raise ideas for business strategy and development.
10 a.m. Status update
Mostly, at this hour, the office starts coming to life. I like to dedicate this time to my employees, with staff meetings and them sharing essential things that have happened this week, whether it is things to be proud of (such as company achievements) or challenges and things that need fixing. Generally I, David Galperin, believe in open communication with my staff, because when an employee feels that they are part of the process, they comprehend their role in the system and their motivation rises. That is the reason why when I recruit new employees, I also focus on picking those who share the same vision and values as the company, and not those who are manipulative and over-competitive. The human texture of the staff is one of the most important factors in my point of view.
2 p.m. – Status update
Usually I postpone my meetings with clients to as late as possible, not because I don't like them. On the contrary, I enjoy them a lot and find them comforting. Meetings with clients can sometimes extend longer than planned, and if I set up an early meeting, it can affect the rest of the day, as well as make it dependent on the meeting's results.
Nevertheless, despite the fact that I like going into meetings, at the end of the day it is the managers who take care of clients, and I as the boss bring my experience and train of thought. I try hard not to take the spot of the manager and to only join these meetings when it is a very important client or when there are complex circumstances.
4 p.m.  – Guide to life
Mostly I spend the late hours guiding the staff of my clients. Gil Group's vision is not only to provide the marketing solution to the client, but also to provide a full package which will help the client sell the product. As far as I see it, explaining the sales theory to staff of businesses such as real estate, education, finances, etc. is part of that package. I sit with these salespeople and show them how to improve their selling process, so it will be more effective and result-driven. When I first started my career in advertising, I did it not out of love for the industry but rather out of sympathy with the client. I wanted to find a solution that will help the client sell the product. I like helping people make money and that is the most important thing I want to provide my clients with – results.
6:30 p.m. – David Galperin's quality and learning time
I like to take full advantage of the 'after work' time. I either spend it with my son or by learning new things. Saying that learning something new each day is a cliche, but I truly believe in it. All of my life I have been consecutively learning, until the age of 31: marketing and advertising, personal training, mediation, negotiation, stock market investments, price appraisal and more. In fact, you can say that my work revolves around two things in life that fascinate me: money and people. This type of learning inspires me and helps me develop my business non-stop. When I am not with the child or learning, I tend to meet my senior employees, large-scale clients or potential strategic partners at a restaurant for dinner. I believe that you can achieve a lot of things during 'quality time', that you probably won't be able to achieve at other times.
9 p.m. – Using the drive for conversations
After my evening plans, I come home and within 45 minutes I am asleep. Since I get up very early, I try to go to bed by 11 p.m. Sometimes I clear my head with a TV series or a book, but my phone gets switched to silent mode once I get home. As far as I am concerned, the drives are a good time for phone conversations. I find myself most efficient that way and I get home after all of the tasks and phone calls on my list have been checked off. At this phase, I prepare myself for the next day, so I can get up full of energy. Don't forget, I have an early workout tomorrow…