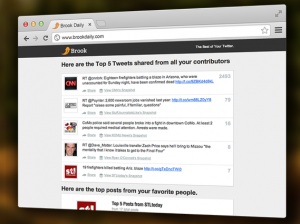 Brook is a social media tool that emails users daily with the top five tweets from the Twitter users they select. It's designed to cut through the clutter while making sure users don't miss out on important updates from friends, co-workers, publications, competitors, and more.

Brook aims to save Twitter users time by showing them only the most important tweets, so they can move on with their lives and waste less time on social media.
Unlike other social media tools that focus on constant connectivity, monitoring and pesky notifications throughout the day, Brook is truly a "set it and forget it" resource. You simply select who you want to keep tabs on, and Brook does the rest.
Brook was started and worked on by a number of people from it's parent company, AdVentures, who tired of filtering through Tweets to find what is important to them. They started Brook as an in-house solution but it became popular outside the office, so we decided to take it public.
Before starting Brook, Mark Hodges – Founder, was the Director of Web Development at a startup called Influence & Co. Brook has been in the making for about a year. The company was originally started by Brent Beshore, Jamie Stephens, Dave Oster & Brian Null.
So far Mark believes his biggest challenge has been to get users in the door so we can get additional feedback and consistently improve our service.
Brook are planning to release a mobile app in addition to improving the algorithm we use to determine the top tweets.
Related articles