Did you slip and fall at work? Click here to learn the steps you should follow and how to get an attorney if you are seriously injured. Slip and fall workplace accidents are no joke. As the Center for Disease Control and Prevention points out, such accidents even led to 798 deaths in 2014. Given the severity of the situation, it's important to know what to do if you find yourself injured at work.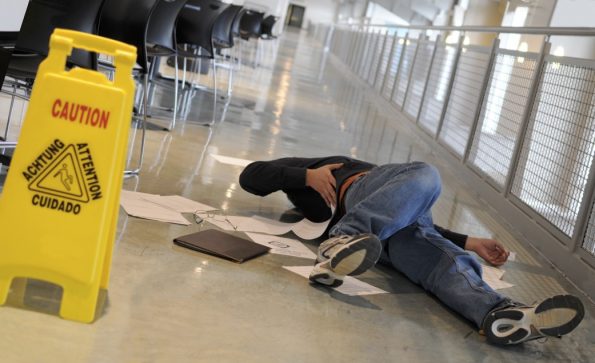 Don't wait until it's too late! Keep reading to learn about four essential steps you should take after a slip and fall accident.
Seek Medical Attention
In the immediate moments following an accident, your wellbeing takes priority. Take a few moments to catch your breath and see how you feel. If you have so much as a scrape, seek first aid and visit a healthcare professional as soon as possible. You might feel fine, but you're running on adrenaline. There may be serious injuries that will only become apparent in the coming days or weeks.
Gather Evidence at the Scene of the Accident
Once you're feeling up to it or while you wait for medical attention, assess the accident scene.
As you're looking around, ask yourself a few questions:
Were there any external factors like unlevel concrete or ice that led to the accident?
If so, how long have these factors been an issue and has anyone reported them?
Who was around when the incident took place?
Is there visible evidence of your fall, like blood or broken glass?
Don't hesitate to take photos, too, or gather testimonies from anyone who saw the accident. You may also ask to see your workplace's security footage. Also, check if there have been other workplace accidents at your location.
Report the Incident
Next, you'll need to make an appointment with your company's human resources department to go over the details of the accident and fill out a report. Be careful here. HR's purpose is to protect your employer, not you. As such, they might leave out certain details or downplay your injuries.
This is never okay. Ask to double-check the report before the submit it to ensure clarity and accuracy. You'll want to request a copy for yourself, as well, so you can submit it to your insurance company and lawyer.
Consult a Lawyer
Slip and fall workplace accidents can be quite serious. So much so that you could find yourself out of work temporarily with medical bills piling up. Don't be afraid to explore your legal options. You shouldn't have an issue finding a slip and fall attorney in your area, and most offer free consultations.
Be sure to bring the evidence you've collected to the consultation so your potential lawyer can determine the strength of your case. Don't be afraid to shop around. Speak with multiple lawyers before coming to a final decision so you can feel confident that you're getting the best representation.
We hope this article shows that you're not as powerless after a slip and fall as you might think. With the right evidence and a great lawyer, you can get the compensation that you deserve.