Self-employment is on the rise. More people than ever have taken the plunge to go self-employed; the number of self-employed workers has been increasing in the UK since 2001 — and they now account for around 15% of the working population.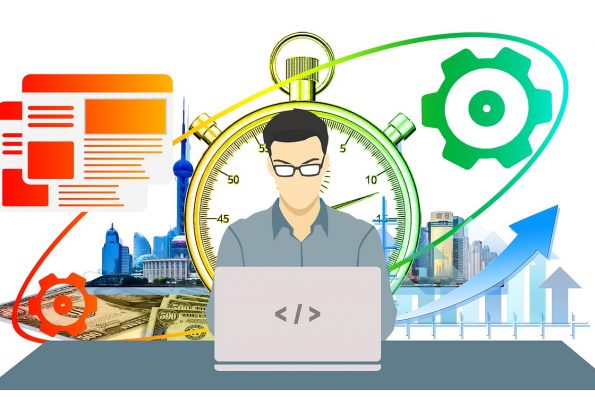 The number of self-employed workers aged 65 and above has tripled — and a younger generation of self-employed workers aged 16 to 24 has almost doubled since 2001.
Have you thought about making the leap to self-employment? Here's the top things you need to consider if you like to try out being your own boss.
Decide what to do
The first (and probably most important) thing you need to consider is deciding what you'll actually do as a self-employed individual. While this might seem obvious, it's something that needs to be well thought out; it will be your primary source of income, after all.
Your new career needs to be something you feel comfortable with, as well as something that you're naturally good at. If you're struggling for inspiration, think outside the box, go for something which you have a passion for and enables you to earn money if you're good at it. Of course, the dream option is to use your skill while not having to sell a service or product, however this option is only really viable for supremely talented people. For example, following the dream of becoming a poker pro takes a special kind of person – someone who's ready to put it all on the line and dedicate an extra ordinary amount of hours to their career.
On the other end of the scale there are manual jobs, which of course you will require plenty of dedication, but aren't quite as risky. If you're after a steady income and a few less risks, consider something which is always in demand, such as a plumber or an electrician. The freedom to pick and choose your hours is a key factor in the decision-making process of going self-employed, something which you aren't likely to get as a poker player (although it's considerably more lucrative).
What are you going to be offering people? More importantly, will someone pay for it? You need to have this clearly outlined before you start out. Being clear on what services you provide will help potential clients understand why they need you to do work for them.
Update your website
Once you're clear about what you'll actually be doing as a self-employed individual, you need to make sure it's reflected online. This includes updating your portfolio with any relevant work, writing a CV and making sure your online presence — including LinkedIn, Twitter and Instagram — are consistent in promoting what you do.
You should also consider getting a website, or if you have one, upgrading it with a new design and content. A website is like an internet business card; it's an easy way to showcase your services and start to garner interest from clients for your new business.
Organise your contacts
As a self-employed person, you'll not only be doing the work you're offered, but sourcing it. Once you've decided what your business will be, you'll need to start making connections — there might be people you already know from previous employment, or friends and family who could utilise your sources. Go through old contacts and start making new ones. Make some calls, write those emails and start getting your name out there. You never know where work will come from, but it can't hurt to try.
And who knows? Even if someone doesn't need your skills at the moment, they might one day. Keep track of everyone you've spoken to in and note down what they say. So much of self-employed business comes by word-of-mouth or recommendations.
And if you've done work for a client, be sure to ask them for a testimonial! Nothing promotes you better than what someone else has said.
Think about your workspace
One of the challenges people face when first going self-employed is deciding where they'll actually work from. Do you have a home office? If not, you might want to consider creating one — or at least a workspace in your house that's dedicated for work. Ideally it will be separate from the rest of the home, as without an office, many self-employed people find it hard to unplug after work.
An alternative to working from home is the various spaces offered for freelancers or new businesses. Co-working and hotdesking has risen in popularity over the years. It offers self-employed individuals a place to work outside the home; and the social benefits of working with other people help to reduce some of the loneliness and isolation that can come from being self-employed.
Think through your finances
Your finances are one of the most important things to get right when you go self-employed. Ideally, you'll have saved three months wage into an emergency fund that you can dip into should there be a quiet month — which is always a risk, especially when you're just starting out.
It might be worth getting an accountant, or at least some kind of accountancy software, that will help you track all the financial incomings and outgoings of your business. Being self-employed means you need to do all your own taxes, so having a solid report will make sure you're not over or underpaying.
Also, think about your pension options. As you'll now be responsible for sorting it out yourself, it's definitely something to get right, right away.
Contributed by: Laura Vasquez