Agriculture isn't a sexy word amongst us twenty somethings. We think of bulky tractors, dirt-covered potatoes and high seasonality risk. We think quiet, rural lifestyles, intense physical labour and average income levels. But entrepreneurs in the Valley are changing that. I recently got back from FoodBytes, a food and agriculture ('ag') tech conference at the Bluxome Street Winery in San Francisco and I met some AgTech companies that absolutely blew my mind.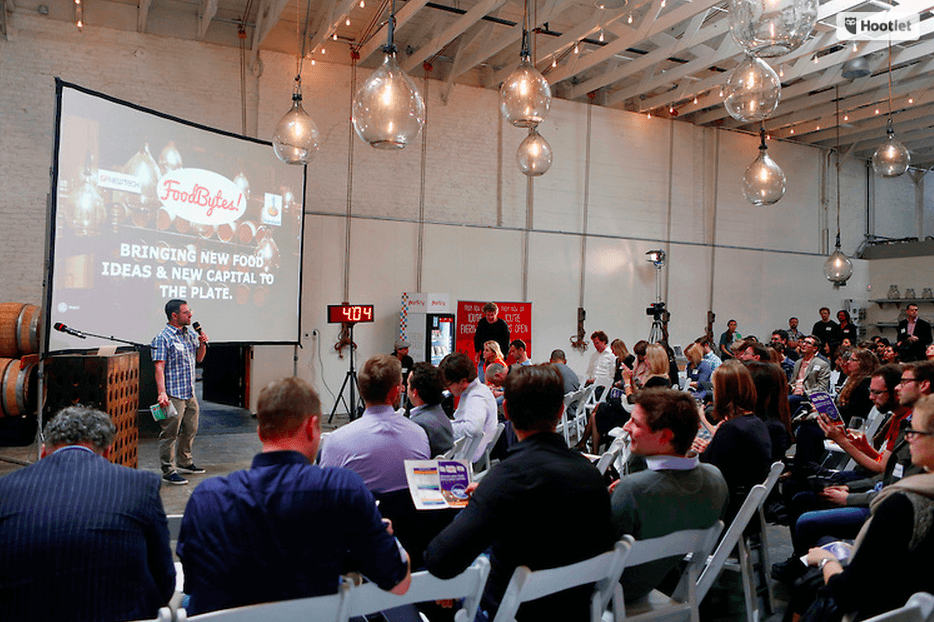 The way FoodBytes works is a bit different from other events I've been to – two speakers kicked us off; Manuel Gonzales, MD at Rabobank and Myles Weissleder, Founder of SF New Tech. The gentlemen were followed by 12 startups, pitching for 5 minutes each, followed by up to 5 minutes of Q&A. The companies ranged from Algae farming to soil control tech and from cricket flour to Pantry's smart fridges.
Farm X, for example, develop and deploy technology, both hardware and software, that connects plants and animals to the internet in new ways. Their approach decreases the mortality of animals & allows baseline savings of water by greater than 30% in outdoor soil fields and greater than 90% compared to soil in closed-loop hydroponic greenhouses. Yup. And I'm just growing my basil at home.
And then there was AGERPoint, a startup that combines 3D laser scanning, survey GPS, and multiple HD video cameras. They have developed a cutting-edge system that allows growers to capture the critical growing data they need from their holdings to make informed decisions moving forward. These game changers are bringing sexy back to farming.
My (non-techie) favourite was the Problem Solver Beer. Perhaps it's my love for clever marketing that got me hooked; the Danish founder of The Problem Solver bases his branding and marketing on a research-supported theory that a certain amount of alcohol can bring creativity to an optimum level. And as we all know, problem-solving requires creative capacities. That makes so much sense. I'm sure beer solves other problems too, but perhaps in slightly larger quantities.
Another great rediscovery was Bitty, an American cricket flour cookie company. I say rediscovery because I'd already overcome my irrational cricket flour aversion back in Dublin at Web Summit, where I first encountered Bitty's chocolate orange and chocolate chip cookies. Whereas in London eating crickets is still a bit "out there", everyone in San Francisco seems to have fully embraced eating insects. Are crickets the new quinoa? I even met someone at FoodBytes who consults people in setting up their own cricket farms. Londoners, get on it!
A further highlight was Blossom Coffee, a high-precision temperature coffee and tea brewing machine. Jeremy, the Founder, is an MIT Graduate who decided it was about time to give each coffee and tea the perfect brewing and drinking temperatures they deserve to allow them to fully unfold their flavour. His machine isn't cheap, but certainly an impressive piece of machinery and if you run a hipster coffee shop in London or any other metropole, this could certainly be your center piece. Jeremy and I actually ended up bumping into each other again at the Seeds & Chips Conference in Milan. It really is a small world!
But the audience's winner via the People Choice Awards – all run via an app and a virtual voting budget of $5 million per attendee – was Patrick's Fine Sodas. The beverage startup specialising in healthy, probiotic sodas received $27,350,000 in virtual funding and beat the other 12 pitches at FoodBytes Summit hands down.
Food Bytes wasn't a big event but it didn't need to be. From my experience, intimate events make for great networking opportunities and, in turn, tighter connections and a stronger industry. There was an excellent focus on the investors' side of things at FoodBytes and were I an investor, this is definitely an event I would go to; The pitches saved time and efforts to get individually acquainted with the new startups, the beautiful investors lounge served free wine and champagne, the atmosphere of the event was very fun and welcoming. For the startups, it was a fantastic exposure opportunity.
Having been to several dozens of tech and startup events in the past months, in London I am always under the impression that investors prefer to be as far away from entrepreneurs as possible. But the attitude in the Bay Area is just a different one. People are more accessible, connections can take you further, entrepreneurs and investors think bigger. San Francisco just has a different vibe; more crunch.  Investors are actually hungry for investment deals and actively seek innovative companies in food & ag tech, at least far more so than in London. FoodBytes was truly dedicated to helping investors in the food industry meet new companies that are disrupting and/or innovating in food-related software and applications, distribution, manufacturing, production and more.
I left FoodBytes with some great connections and inspirations for my upcoming London events. And the insight that food tech has a long way to go in Europe. Let's see if we can't change that…