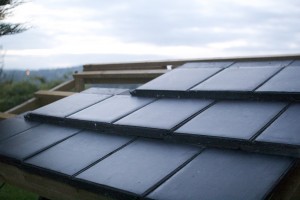 Lightweight, low cost and stylish solar power tiles to go into production in 2014.
This year a British firm is set to turn the solar panel industry on its head when it puts its revolutionary new photovoltaic (solar) panel tiles into production, after raising £120,000 on equity crowdfunding platform Crowdcube in less than 10 days. Solarmass, founded by a design engineer has now become one of the fastest fundings ever on Crowdcube.
The Solarmass pitch raised money from 96 investors with an equity of 11.96% and brings Crowdcube's total funding since launch to over £16 million for more than 80 businesses.
Set up by Paul Cropper and his co-founder, David Stirling, Solarmass delivers an alternative to the large and often ugly glass and metal solar panels that adorn the roofs of houses and other buildings across the country.  Highly efficient, easy to fit and stylish, the Ergosun solar roof tile was developed to provide a low cost alternative for the construction of new domestic and commercial properties, as well as refits.  It has the same weight as thin film photovoltaic (PV), but with 16% efficiency, making it the lightest and most powerful solar panel available for mass production.
Made from patented technology, the tiles once they have gone into full production will have a manufacturing carbon footprint 136 times lower than traditional solar panels, saving money, resources and the environment.
The funds raised will enable the company to complete product testing and certification to meet the standards of the UK Microgeneration Certification Scheme, purchase machinery and set up a production facility in Sheffield.  Once manufactured, the panels can be shipped anywhere in the world for local assembly.
Paul Cropper, co-founder of Solarmass, says: "We were very impressed but a little surprised that our pitch reached its funding target in less than 10 days and that it overfunded by 20%.  It shows that the renewable energy sector is strong and that a simple idea, like a low cost, lightweight solar panel can make people sit up and take notice.  Our plan now is to take the tile into production and roll it out across the world where interest has been extremely positive."
Luke Lang, co-founder of Crowdcube, adds: "Solarmass not only hit and overachieved on it targets but in record time.  It's a fascinating product and one that will go global as the demand for solar energy increases year on year, both domestically and in the commercial sector.  The renewables market is a great opportunity and we're delighted to support a new entrant into the market."
In just two years solar power-generating capacity has gone from almost zero to around 2.5GW, with government targets for 20GW of photovoltaic generating capacity by 2020.
About Crowdcube
As the world's first equity-based crowd-funding platform, Crowdcube enables everyday investors to fund British businesses in return for a share in the company. Since February 2011, 48,000 savvy investors have registered with Crowdcube, helping to raise more than £14.5m for over 70 UK businesses. The ground breaking model lets entrepreneurs showcase their investment opportunity online and bypass the traditional business angel, venture capital or bank route, giving them more control and access to more investors.
Investing in start-ups and early stage businesses involves risks, including illiquidity, lack of dividends, loss of investment and dilution, and it should be done only as part of a diversified portfolio. Crowdcube is targeted exclusively at investors who are sufficiently sophisticated to understand these risks and make their own investment decisions.
About Solarmass
Solarmass Ltd is a UK based solar energy company and is focused on the UK market. The company has designed and developed a unique lightweight, highly efficient solar panel.
Related articles