How to change password in Windows 8? This is the most common question asked these days because many people have to face forgotten administrator password Windows 8 issues. Resetting your password can be a tedious task because most of the time you have to face data loss problems. Hence if you are looking for a simple method to handle this issue, then you have landed on the right SEO Blog – paularoloye.com..
We have two simple methods that you can try to reset Windows 8 password. Each method has different steps, so make sure to choose the one which suits you the most.
Method 1: Reset Windows 8 Password if Forgot Using Windows Password Reset Software
I forgot my Windows 8 password. What should I do now? There is no need to panic when you forget your Windows 8 password. You can use a simple tool that can help you to get your password back in no time.
Yes, I'm talking about Windows Password Remover. It's a comprehensive application when it comes to resetting Windows 8 password. Not only does it allow you to reset the password of Windows, but it also makes sure that you can change the password of Microsoft account, domain, and much more. If you want to change password in Windows 8, choosing this software is a reliable choice.
Pros:
You can change password without losing any data.
It is compatible with all Windows versions.
You can reset the password without facing any technical issues.
This software comes at affordable price
Cons:
For beginners, it can be hard to choose the right version as on their site; they have 5 Editions available.
Here are the detailed steps.
Make sure to follow the first 2 steps on the reachable device.
Step 1: Install the Setup
There are five different versions available on the site, choose the version according to your requirements, and click the Download button.
Step 2: Create a Password Reset Disk
You can choose two different devices for creating a password reset disk. The first one is a USB device, and the other is a CD/DVD. Choose the appropriate option to create Password Reset Disk.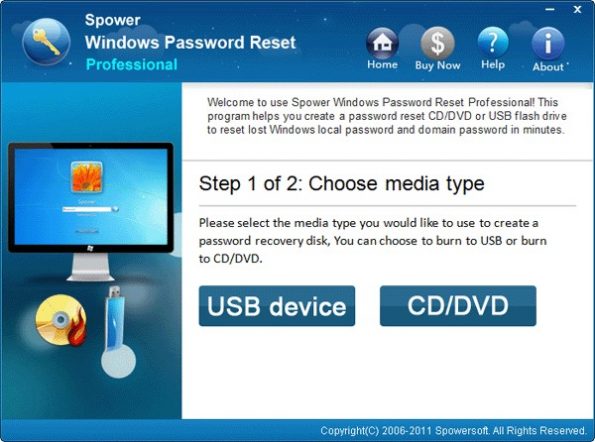 Password Reset Disk
Once you are done with choosing the media type, click the "Begin Burning" option to start the process.
Note: In case if you have chosen a USB device, make sure to format all the data present in it. And if you have chosen a CD/DVD, make sure it's writable.
Perform the below steps on the computer of which you want to reset the password.
Step 3: Set your Computer to Boot
Insert the disc for the boot process, restart your computer, and wait for the vendor page. Press F12 or ESCkey to open the Boot Menu. You'll see different options on the screen, so choose the option to boot from. Now, wait for the program main screen.

Choose the option to boot from for resetting Windows 8 password
Step 4: Reset Windows 8 Password
On your system, you'll see the main screen of the application that you downloaded before. You have to follow 4 steps to change the password of Windows 8 mentioned on the dashboard.
Choose Windows Type, then select the Username of which you want to change password. Select the "Reset" option, and after that, click "Reboot" to reboot your computer. Finally, you have successfully reset the password of Windows 8.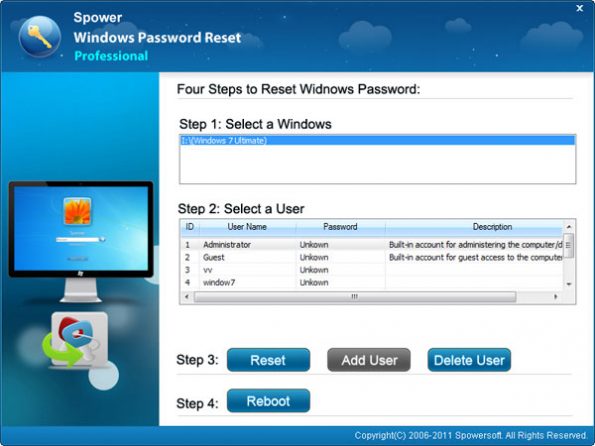 Main screen to change windows 8 password
In case if the password hasn't changed yet, you repeat the steps again.
Method 2: Reset Windows 8 Password if Forgot Using Safe Mode with Command Prompt
No matter how hard you try, it's difficult to remember your password after you have forgotten it. If you have forgotten administrator password Windows 8, you can use the safe mode with Command Prompt which is a simple and efficient method that allows you to reset Windows 8 password .
Below is the complete procedure of how to reset Windows 8 password that you can follow.
Turn on your computer, hold the Shift key, and click the "Restart" option simultaneously.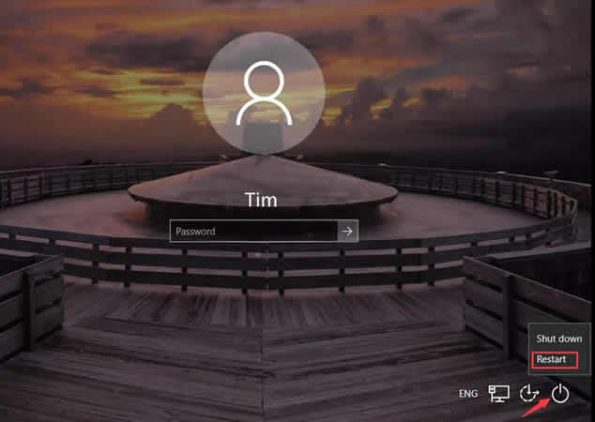 click restart in Windows login screen
You will be directed to a page where you can see different options. Choose "Troubleshoot" option.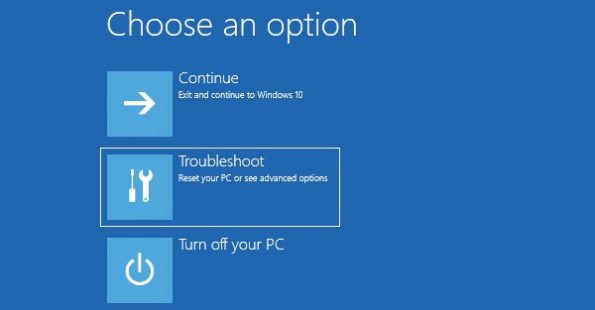 Troubleshoot Option
From the Troubleshoot screen, select the "Advanced Options" and move to the next step.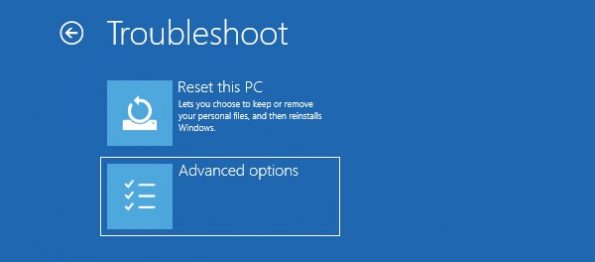 Advanced Options
From the Advanced Options, choose "Startup Settings" option.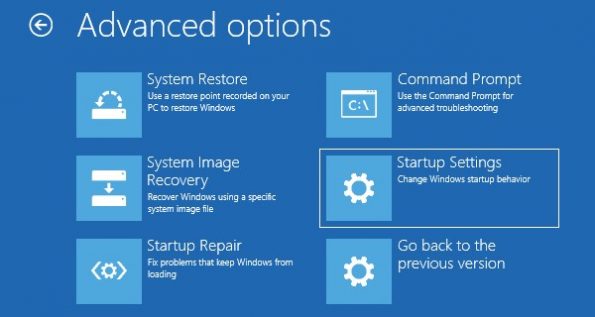 Startup Settings
To change the Windows options, you have to restart your computer. On the blue screen, you can see different reasons why you need to restart your computer.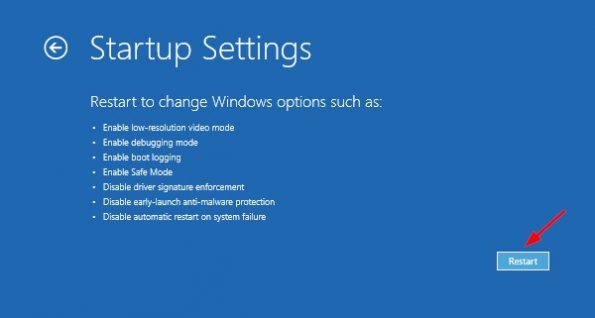 Change Windows Settings
You'll be asked to press a number from the options, so you can select the appropriate option. As we want to reset the password using safe mode, choose the 6th option to start the procedure.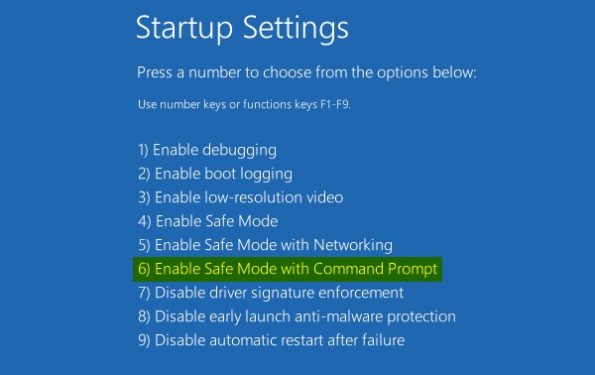 You will see a Command window where you have to type "net user" and after that press Enter key. This command will help you to see all the local accounts that you have on your computer.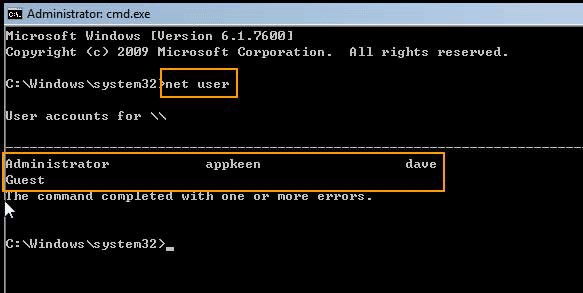 Local Account List
If the username is Mike, type net user mike 112203 and press enter. Your password will be reset. Make sure to choose the right username of which you want to change the password. Now, you can effortlessly sign in to your Windows 8 with the help of a new password.
In our case, the new password is "112203," so you can write anything here.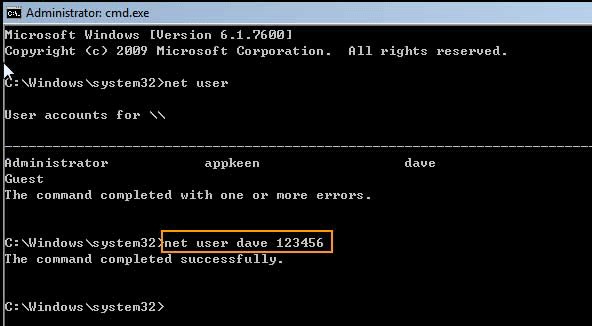 Reset Windows 8 Password
Conclusion
If you forgot the administrator password of Windows 8, don't worry because the methods above will help you to reset password in no time. Undoubtedly, resetting a password is considered to be the most difficult task if you don't have the right techniques. Either you have to lose your data, or you end up being irritated. But you don't have to worry anyone more because Windows Password Remover will help you to get a password easily. Also, if you want to use the safe mode method, you can try method 2 as well. Do tell us which change password method worked for you. You can also go the IT service route which can also help you in all things technology (BCA being our choice).