When it comes to pushing a product, service, or website online, it doesn't get much more important than SEO marketing. Search engine optimization is the beating heart of any online business, without it, your services are extremely hard to find, sometimes nigh on impossible. Pushing your business up the Google rankings is something that should be looked at early on in the life of any business, and it is something that needs to be continually revisited and updated throughout the lifespan of the company. Neglect this area of your business, and watch how potential customers slip away, turning instead to far more digitally visible rivals.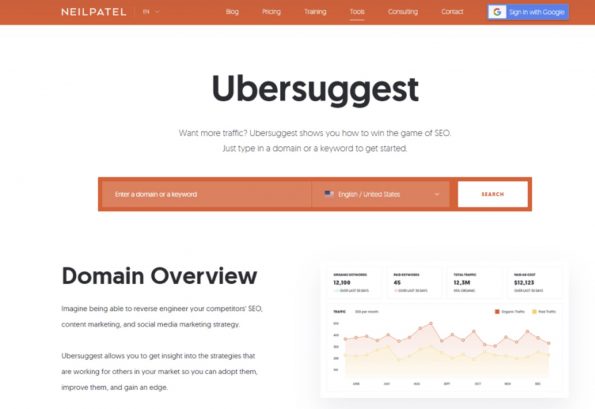 So what exactly can be done about this? What would help digital marketers identify keywords to target, or understand what particular backlinks work well for a given site? How can they see exactly how a website is performing against rivals? Well, there are a plethora of services out there that can perform these tasks, as any digital marketer would know, but is Ubersuggest, which boasts a multi-faceted approach to SEO marketing, worth any consideration? Let's take a look.
Key features
Identify and target keywords
The first aspect of the SEO functionality in Ubersuggest we will look at is the 'targeted keyword' section. At the moment, with more than a billion websites that are active on the web, making your website more visible to those searching for similar services or products is not easy. It is a deep ocean of similar-looking companies, all vying for attention in an extremely crowded marketplace. Just using the usual keywords that all your rivals use won't necessarily mean you leapfrog them in the search rankings (especially when they are more established), but using Ubersuggest can allow users to see just what keywords are useful to employ, how popular they are with rivals, and how much it might cost to outrank these rivals (should you wish to try).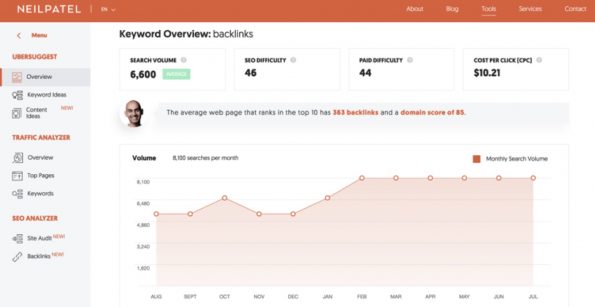 Simply type your keyword into the query box, and Ubersuggest will provide clear and easy to understand data that helps you choose the best keywords to use for your particular business, how likely you are to be able to outrank your rivals, and whether any other options may be more sensible.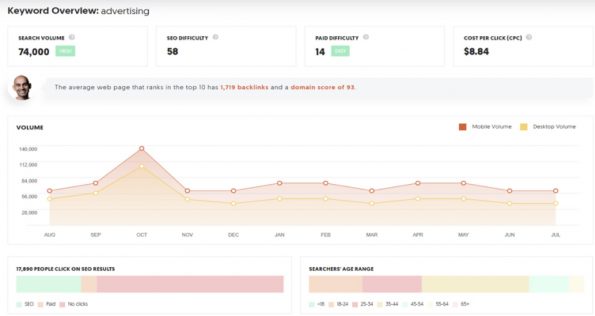 Ubersuggest will also show you a list of websites that are ranked highly using the keywords you provide. This sort of data is hugely powerful for those looking to climb the ranking ladder. 'Knowledge is power', as the saying goes, and Ubersuggest gives you ample, in a very clean interface. If your particular keyword query looks to be extremely popular with your rivals, you may want to try a different one. Ubersuggest lays out all this information, allowing you to see quickly and easily what keywords you should be targeting.
Full site audits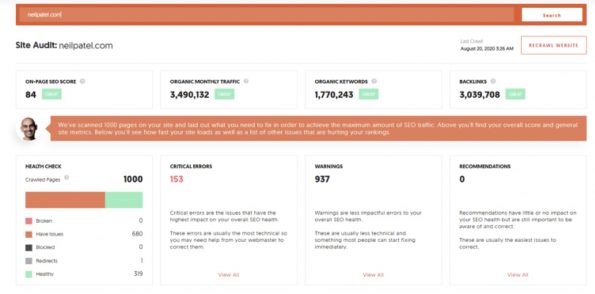 When it comes to auditing a site, Ubersuggest again provides a wealth of information. From SEO scores, to the number of backlinks, organic keywords, and monthly traffic. Not only can you vet your own site, but also that of your rivals, providing vast amounts of useful data for anyone looking to gain a leg up in their particular digital space, and is provided in such a clear manner, that some rival services can look rather cluttered and basic in comparison. Ubersuggest not only gives users the usual SEO-centric information, but also some interesting data on things such as whether most views come from desktop or mobile devices, and page loading speeds on each platform. This allows users to not only see how well their current SEO marketing is working for them, but also whether their site is, in general, giving visitors a good experience.
Content Ideas Tool
Ubersuggest also has a hugely useful Content Ideas Tool, that shows users just what sort of content they should be producing for their sites. Type in some keywords and phrases, and let Ubersuggest point you in the direction of popular articles and blog posts that garner the most traffic. This aspect of the service can serve as a great inspiration guide, showing you where others are succeding and perhaps how you can aspire to replicate their success. There is no substitute for learning from the masters in any given area of life, and Ubersuggest helps you identify the 'top dogs', and learn from their SEO marketing experience. Type in your keywords, and simply peruse the top webpages and blogs on those topics.
Pros and Cons
Pros
Ubersuggest is a very interesting product. It has a lot going for it, and only a few drawbacks. Amongst the most visible upsides are:
Clean and easy to understand UI
Deep dive into extremely useful data for SEO
Access to additional useful information that other SEO services ignore (website health check)
Being browser-based, you can log in from anywhere
Multiple functionalities in one simple service
Cons
When it comes to drawbacks, there isn't much to say, however:
Some users may like the option of a dedicated standalone downloadable app alongside the current browser-only access.
So, if you are sitting on the fence about whether or not to give Ubersuggest a go (although frankly, it's hard to see why anyone wouldn't at least try out the free tier), it is worth considering what all this valuable data can do for you. Well firstly, it can stop you wasting your valuable time. If you are finding yourself writing content that is rarely looked at, and doesn't seem to interest any potential visitors, SEO marketing data gleaned from Ubersuggest can show you where you are going wrong.

Finding it difficult to think of useful, suitable keywords? Ubersuggest can help you with that too. Keywords are suggested by seeing what works well for your rivals, so you can decide to either go head-to-head with them, or direct your customer's searches in a different direction. You will even be privy to seeing how certain keywords perform during certain seasons, allowing you to set out your SEO plan months in advance.
Lastly, Ubersuggest can give you ideas about what sort of content will gain you the most backlinks and social media shares. If a subject or content piece is likely to garner interest, Ubersuggest can show you exactly what is likely to work with a given keyword. And when it comes to backlinks in general, it will show you the content in your particular digital space that people are linking to more readily than others, allowing you to plan out your strategy when deciding what to add to your website or blog.
In Conclusion
All in all, Ubersuggest is a hugely powerful service that will aid the vast majority of businesses from its freemium tier alone. For the bigger businesses out there, the paid service is cheap, and has a hugely impressive array of facets when compared to the vast majority of rivals, that once you try it, you may decide that you don't need any other complimentary SEO service. There are other services out there that do similar jobs to Ubersuggest, but having all the functionality under one roof really is what sets this service apart. If you are in the market for an SEO marketing tool that not only provides the usual information, but much more besides, it is hard not to recommend at least giving Ubersuggest a try.