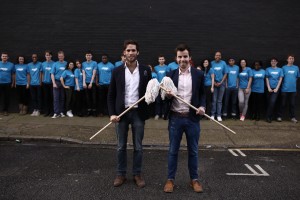 Mopp make it simple to book a brilliant cleaner online. Through our easy to use platform customers just enter their postcode, pick a date and time and we send one of our fully vetted, insured and background-checked professional cleaners direct to their front door.
Who is your startup aimed at?
Mopp helps busy customers who simply don't have the time to search for a cleaner they can trust to look after their home the way they want.
All Mopp cleaners are experienced domestic cleaners, and must received consistently high feedback scores from customers to work with us. This way we can assure a really high quality service across the board.
How does your startup stand out against it's competitors?
I think the biggest difference between us and other cleaning companies, is how we care for our cleaners. If you have happy cleaners, you have happy customers. We work hard to provide great support for our cleaners so they can do a brilliant job in your home. All our cleaners are fully vetted, insured and background checked, and once they start working with Mopp they're given additional training, a dedicated cleaner manager, help working on their customer feedback support, even socials to meet other local cleaners. By doing all of this we make sure we're working with, and training the best cleaners in the area, so we can always provide a great customer service.
Where did the idea for the startup come from?
Put simply, we had a seriously hard time trying to find a cleaner! Tom and I threw a party a couple of years ago and spent over 2 hours online the next day trying to find a cleaner, without success. Once we started looking at the industry, we saw a multi-billion market that was completely off-line and had shied away from any sort of innovation over the last 20 years. We saw a market letting down both sides of the marketplace with customers and cleaners. We launched our MVP in April 2013. 2 weeks later we'd quit our City jobs to grow Mopp!
Did you have any concerns when starting your business, if so what were they?
I'm sure we had the same concerns that every startup founder has when starting out when beginning a startup e.g. what if we run out of money, will we get demand, how do we raise funding etc. However, the bigger risk for us was the 'what if' that would have followed us had we not taken the plunge! The cleaning industry is one of the worlds oldest industries and we knew demand was there, it was just getting the service right. The hardest challenge has been what every marketplace business experiences: scaling liquidity on both sides of the marketplace at a rapid pace.
What is your business background, and what got you interested in startups?
Both of us have always had a strong entrepreneurial streak. We worked on a couple of business ventures together before starting Mopp (One venture, a crowdfunding platform for US college funds, got down to the finalists for the DreamIt Accelerator programme).
How did you initially raise funding for your company?
Our initial seed funding came from friends and family, but we quickly reached out to Venture Capital funds once we were confident we had traction, knew the KPIs that drive the business and a clear bottom-up Model showing how we planned to execute over the next 12 months against plan.
What has been your greatest achievement so far?
Watching Mopp grow in the last year has been a real highlight and makes us very proud. A year ago, it was just me and Tom around our kitchen table in our Whitechapel flat and now we now have a team of 35 awesome employees as well as hundreds of cleaners working with us in 20 cities across the UK. We have gone from doing 10 hours of cleaning last April to tens of thousands per month just a year later. That is pretty cool to us!
How do you keep your business relevant, and engaged with your audience over the last 3 years?
Customer feedback is a major part of how we operate. We track every clean and feedback rating and get a daily view of our NPS (net promoter score) so we can see how each market is performing and quickly identify any issues with cleaning quality, arrival times etc. In addition to customer satisfaction, cleaner happiness if also huge for us as they are the ones that make this business possible so we work hard to make them feel valued.
How long has the your startup been in the making, and who is the team behind the business?
We officially launched the site on 1st April 2013 and at the beginning it was just the two of us. Now we've got a growing team of great, enthusiastic, energetic people (who joined us from companies like Yammer, Apple, Accenture, Bloom.fm) helping scale the business at the pace we have been.
What has been your biggest challenge so far as a startup owner?
The biggest challenge so far has been growing so quickly. We've had phases where we simply can't recruit fast enough and we've grown out of our office space. It's been an interesting challenge to adjust to the new needs of a larger team.
In the coming year, what would you like to achieve with your business?
Rapid scale across the UK to become the leading online home services brand. After that, there are certain international markets that we are very keen to bring the Mopp experience to.
What has been your most valuable lesson so far since starting your business?
Give people a real challenge and you'll be amazed at the results. We've made a point of hiring, energetic, enthusiastic people who really believe in what we're doing, even if they didn't have a huge amount of experience. We've learnt that if you find the right personalities and give them a real challenge to take on, they'll often run with it and make a really positive contribution to your team.
If you could give one piece of advice to someone thinking about starting a business, what would it be?
Just get on and do it. A lot of people come up with ideas but separate yourself out from the crowd by giving it a shot. It has never been cheaper to start a business. Just go for it!
Related articles