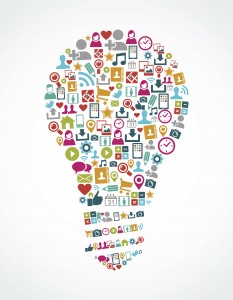 As the CEO of an SME, I know how important it can be to feel inspired. Keeping your idea fresh and finding that unique selling point is vital to give the business the boost it needs against the bigger competitors, but it can be a difficult thing to find.
Even when your basic business model is outlined, there is usually something missing that makes you think: "that's it! That's the winning factor!" If you're spending your days feeling frustrated and confused about what that factor can be, there are a few ways to get the creative juices flowing and to help you find the eureka moment.
Talk to people who inspire you
Whether they're people you know in the business or are just your friends, it always helps to have a conversation with someone other than yourself! Rather than drilling them for ideas, just have a friendly, relaxing conversation and see where the conversation takes you.
Watch how the adverts do it
While SMEs are hoping to compete against the big players in the market, it is incredibly helpful to check out their material to see what makes a successful business so popular. Adverts are an underappreciated format in these modern times, which is why many are so forgettable.
However, some still appreciate that they can often engage with an audience most successfully in this form; watch some successful ads and take notes about how they connect with an audience within such a limited space of time.
Get your hands dirty
Spending some time being hands-on creatively, especially if you're business-minded, will help you to get lost in the moment and take a break from actively searching for that one brilliant idea.
Making a mood board, painting a picture and even whiling away the time by doodling can help to distract you for long enough that your mind starts to wonder through unknown territory, which could very well be where the spark of that idea is hidden.
Read about people you like… and those you don't
We all try and model ourselves on our idols, whether they're an international pop star or, in the case of small business owners, the start-ups that went on to become global businesses. Take the time to read about their life, their inspiration and, most importantly, their beginnings.
However, don't just stop at the people you most admire, instead take some time to look at the successful people you don't particularly like and learn about what they did to get to the top. Sometimes it's a good idea to learn from other people's mistakes before making our own.
Write a blog
Chances are that you already have a blog for your website, but what about for yourself? A blog is the ideal place to plan out your ideas and make sense of just what is going on in your head.
You'll be forced to structure your thoughts into an understandable and cohesive style as they're open to the public, whilst also helping to shape them into making sense for yourself. Just don't reveal that illusive idea too clearly!
Paul Lees, Founder and CEO of Powwownow
Related articles