Yes, it's true that word-of-mouth marketing has always been important to business success, but today, online reviews serve as potent extensions of this phenomenon. In the mobile, digital era, we're more connected than ever.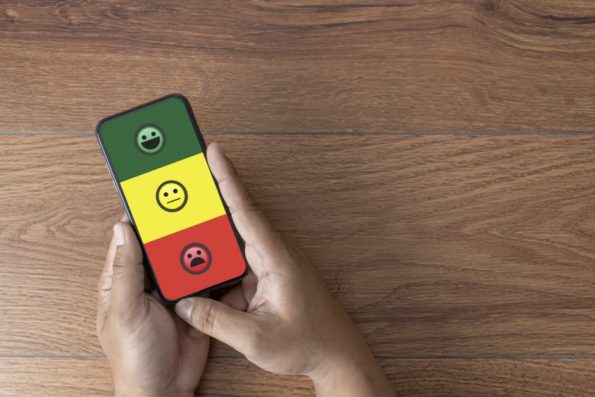 Source: DepositPhotos
When people are looking for something – whether it's a product, a service, a company or a place to visit – they turn to online reviews to help them decide where to spend their money. And studies show that people trust online reviews as much as they do recommendations from personal friends. What's perhaps more shocking is that only 54% trust the information they find on company websites.
Every type of business needs to leverage reviews the right way to enhance business and marketing efforts. It's just as true about General Electric as it is about the pizza joint around the corner. And for businesses that depend on the personal brands of their executive leaders, the stakes are even higher. For example, take a look at some of the most authoritative reviews of Neil Patel's products, and consider what kind of impact they might have on audience members' impression of his agency, Neil Patel Digital.
Let's take a closer look at the reasons why you should be encouraging your customers to write and publish reviews of your business online.
Reviews Help Search Engine Optimization Efforts
The search engines pay attention to review signals, such as the number of reviews for the business (across multiple platforms), the diversity of reviews, and review velocity. The more reviews, and the more positive reviews you have, the better your official site will rank.
Google knows people want to see what others think of a company, product, or service, so the search results will surface reviews whenever and wherever possible. And if you've got a lot of positive reviews, Google is more likely to show your content pages, because it will be helpful and useful for the audience.
According to the Google My Business support resources, businesses should be interacting with customers by responding to online reviews they leave about your business. This shows you value your customers and their feedback.
Positive Reviews Can Increase Sales
Even if you have a limited number of reviews, they can still move the needle. Studies indicate that just one positive review has the ability to convert the curious into customers, increasing your odds of closing the sale by up to 10%. Your first 50 positive reviews can increase conversion rates by 30%.
Other research shows that 85% of customers need to see at least 10 positive reviews about a business before they are willing to become a customer, but there's a growing number of customers who say they need to read more reviews than that.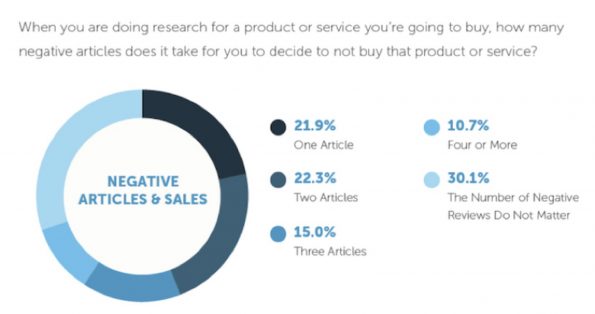 Source: https://moz.com/blog/new-data-reveals-67-of-consumers-are-influenced-by-online-reviews
Now, let's take a look at the flipside of that –how negative reviews can affect revenue – just so you can see the importance of making an effort to provide top notch service to all your customers. Businesses risk losing 22% of business when a potential customer sees just a single negative article on the first page of their search results. Two negatives, and you risk losing 44%, and when that number hits three, more than half of business is lost, at over 59% of potential customers. If it hits four, you're likely to lose 70% of your potential customers. That's why it's important to be proactive when it comes to managing your online reputation.
Build Loyalty by Giving Customers a Voice
When you ask your customers to post reviews about your business, or the products and services you offer, you're giving them a great deal of trust, which helps to strengthen the relationship.
It helps to hold you accountable, ensuring that you'll do your best to give them your best service, and it also helps them feel like they have a voice. They want to post a good review, then share it with their friends and family.
That's relationship marketing in a nutshell. It's a value exchange just like whatever product you're selling is. If they feel good about the product, then they'll be happy they paid for it. If they feel good about their experience, then they'll be happy to point others in your direction.
Build a Marketing Team for You
If you've got a wonderful product or service and you're really going the extra mile with your customer service, chances are you've got some happy customers. And those happy customers are likely already engaged with your business and posting positive reviews for you.
When this happens, they're helping out with your marketing, for free, just because they love your brand. When you consider that most people trust those reviews just as if they came from a personal recommendation, it doesn't take much imagination to envision an army of people out there championing for you.
Harnessing the power of customer advocates means you can either save some of your marketing budget, or redirect it to other campaigns – or another part of your business.
Reviews Generate More Reviews
When you take the positive reviews customers are giving you, and you share them as far and wide as you can – on your website, social media, and throughout your other marketing efforts – you're increasing the likelihood that other customers will post reviews, too.
People are more inclined to do something for your business when they see others are doing it too, because of the psychological desire to fit in with the crowd.
It encourages other customers to participate in the conversation, brings in new sales, and encourages repeat customers, too.
Make Sure They Sing It
Roughly half of U.S. adults say they have Googled someone before doing business with them. Some 45% of them said they found something as a result of their search that made them decide not to do business with the company or the person. The good thing is, however, 56% reported finding something that solidified their decision to do business with the person or company.
If you're just getting started trying to gather online reviews for your business, reach out to past customers via email with a simple request to leave a review. Leave links to your Google My Business listing, Yelp profile, or anywhere else you're trying to build. Make sure you've claimed your business profile in these directories so you can reply to any and all reviews so your customers know you're paying attention to what they have to say.
With your new review management program underway, you're likely to find it all the more easier to attract and convert new customers, and to keep existing ones around for longer.